These Three Prominent Stocks Have Doubled in 2012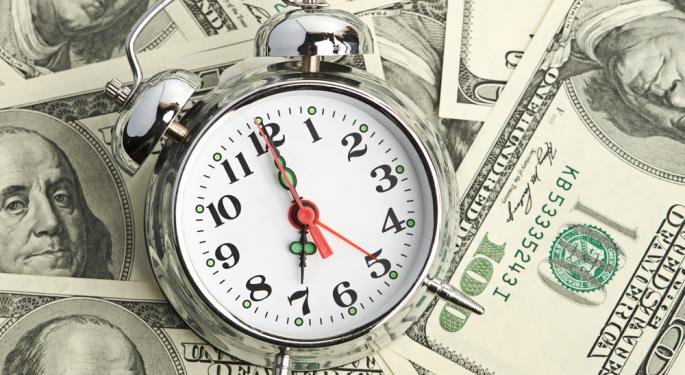 With the New Year closing in fast, now is a good time to take a look back at the year that was for the U.S. stock market. While it hasn't always been smooth sailing, stocks have performed very well in 2012. The market started out on fire at the beginning of the year before a sell-off which culminated around the July 4 holiday. Stocks then rallied until around mid-October before another steep pullback that came to an end in mid-November, just above 1,350 on the S&P 500.
Since that time, the market has been moving aggressively higher and could potentially close out the year near its highs. On Wednesday, the S&P 500 was trading at around 1,440 and would need to rally roughly another 34 points by year end to finish on the highs.
At current levels, the S&P has gained around 14.50 percent in 2012 and the Dow Jones Industrial Average has added a respectable 9 percent. The best performer has been the Nasdaq, which was last up around 17 percent in 2012 after big gains in large-cap tech stocks such as Oracle (NASDAQ: ORCL) and Apple (NASDAQ: AAPL).
The three best performing stocks with market caps over $10 billion have been Bank of America (NYSE: BAC), Regeneron Pharmaceuticals (NASDAQ: REGN) and Sprint Nextel (NYSE: S). In fact, each of these names has more than doubled in 2012. Below, Benzinga takes a closer look at these three market leading stocks.
Bank of America - As is often the case with huge market winners, Bank of America's success in 2012 is due in large part to prior terrible performance. Thankfully, this is irrelevant to investors who bought in around the beginning of the year. Although many Bank of America investors have been battered and bruised, those with impeccable timing have been rewarded by this stock. Year-to-date, shares have risen a little better than 102 percent. In order to achieve those gains, however, you had to be willing to buy when things looked the very worst for the bank.
After being devastated by the financial crisis, with the shares falling from above $50.00 to as low as $3.14, BAC rallied sharply in the second half of 2009. By April 2010, the stock was trading back above $18.00. At this point, it looked as if the bank was turning itself around and had cleaned up the wreckage wrought by the crisis.
Legacy mortgage issues at Bank of America, however, sent the stock into a tailspin for the rest of 2010 and all of 2011. The lows in the stock coincided fairly closely with the turn of the year, allowing BAC to be a top performer in 2012. Despite the rally in the name, the stock remains below levels seen in late 2009 and throughout 2010. In fact, even after doubling in 2012, BAC has only made it back to levels seen in mid-2011 just before the big plunge in the stock.
Regeneron Pharmaceuticals - This biotech stock has exploded in 2012 as investors have become increasingly excited about the company's marketed products and drug pipeline. In July 2011, Benzinga did an extensive profile on the company advising readers that this was a stock to watch. Regeneron has three marketed products and a robust pipeline of product candidates that are currently in clinical development.
Year-to-date, the stock has soared around 217 percent and is currently sitting near new all-time highs. Regeneron also had a very strong 2011 and the shares are now up 691 percent over the last five years with most of the gains coming over the last two years. The company's three marketed products are ARCALYST, EYLEA and ZALTRAP.
ARCALYST gained FDA approval in 2008 and is indicated for the treatment of Cryopyrin-Associated Periodic Syndromes (CAPS). EYLEA injection is indicated for the treatment of Wet Age-related Macular Degeneration (AMD), a condition which effects vision. The treatment was approved by the FDA in 2011. ZALTRAP is used in combination with other drugs for the treatment of patients with metastatic colorectal cancer that is resistant to or has progressed following an oxaliplatin-containing regimen. ZALTRAP was approved by the FDA in August 2012.
Sprint Nextel - Similar to Bank of America, Sprint's performance in 2012 has largely been a function of poor performance in preceding years. The stock was punished during the financial crisis and has never recovered. Over the last ten years, Sprint shares have lost around 60 percent and over the last five years the stock is down more than 61 percent. Heading into 2012, Sprint was sitting at multi-year lows. Year-to-date, however, the stock has surged more than 133 percent on the back of a company turnaround.
Last January Sprint was trading at roughly $2.30 which compares to today's price of $5.46. Interestingly, Sprint did not really take off until June of 2012. Most of the year's gains in the stock came between mid-June and mid-September. Sprint is a perfect example of how it is possible to make money in a company's stock even if its business is struggling.
In the fourth-quarter of 2011, Greenlight Capital, the hedge fund run by famed value investor David Einhorn, made Sprint one of its largest holdings. Investors who were paying attention and bought the stock along with Einhorn have done very well in 2012. At the time, Einhorn wrote "We think S is now showing the early signs of a promising turnaround."
The hedge fund manager added that "We believe S has a significant margin expansion opportunity as it consolidates two networks." At the time of his purchase, Einhorn said that he valued Sprint at over $10.00 per share on a discounted cash flow basis "if management delivers on its targeted savings from network modernization." If Einhorn's calculations about Sprint's true value prove to be correct, 2013 could be another good year for the stock.
Posted-In: Long Ideas News Short Ideas Hedge Funds Technicals Movers & Shakers FDA Economics Best of Benzinga
View Comments and Join the Discussion!