Benzinga's M&A Chatter for Wednesday December 19, 2012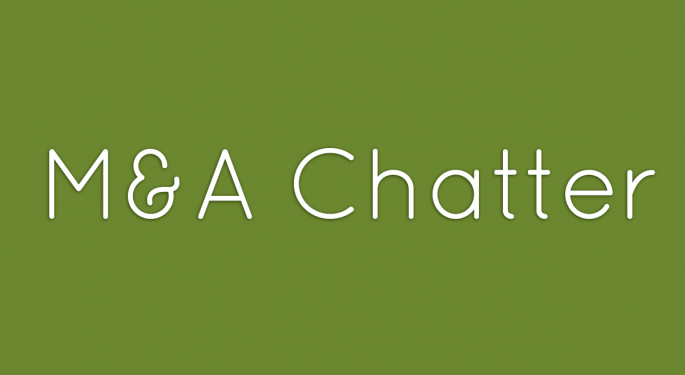 The following are the M&A deals, rumors and chatter circulating on Wall Street for Wednesday December 19, 2012:
Knight Capital Group, GETCO to Merge
The Deal:
Knight Capital Group (NYSE: KCG) and GETCO Holding Company, LLC announced Wednesday they have entered into an agreement for a strategic business combination whereby GETCO and Knight will be combined under a new publicly traded holding company. Under the agreement, existing Knight shareholders (other than GETCO) will have the right to elect to receive $3.75 per share in cash or one share of common stock of the new holding company.
The transaction is expected to be completed in the second quarter of 2013, subject to shareholder and customary regulatory approvals.
Knight Capital Group closed at $3.51 Wednesday, a gain of 5.4% on 5.5 times average volume.
American Railcar Raises Bid for Greenbrier $22/Share
The Offer:
American Railcar Industries (NASDAQ: ARII) issued an open letter to Mr. William A. Furman, President and Chief Executive Officer, of The Greenbrier Companies (NYSE: GBX) on Wednesday.
Under the terms of the proposed offer, American Railcar would acquire Greenbrier in a cash deal for approximately $20.00 per Greenbrier share, setting a value for the Company at approximately $543 million. The proposed offer price represents a five percent premium to the previous day's closing price.
American Railcar will hold the proposal open until 2:00 PM ET on Friday, December 21st. If by such time Greenbrier's Board provides notice to American Railcar that it wishes to proceed with a transaction at $22 per share, American Railcar will initiate its due diligence immediately and concurrently commence negotiations on a definitive merger agreement. If Greenbrier's Board does not wish to proceed on this basis, American Railcar will abandon any efforts to complete a transaction.
Greenbrier closed at $20.61 Wednesday, a gain of 1% on twice average volume.
Markel to Acquire Alterra for Approximately $31/Share in Cash and Stock Deal
The Deal:
Markel Corporation (NYSE: MKL) and Alterra Capital Holdings (NASDAQ: ALTE) announced Wednesday that their respective boards of directors have each unanimously approved a definitive merger agreement. Under the terms of the agreement, the aggregate consideration for Alterra is approximately $3.13 billion, based on a closing price of $486.05 for Markel common stock on December 18, 2012.
At closing, each Alterra common share will be converted into the right to receive 0.04315 Markel common shares (with cash paid for fractional shares) plus a cash payment of $10. Following the merger, Markel's existing shareholders will own approximately 69% of the combined company on a fully diluted basis, with Alterra's shareholders owning approximately 31%. Completion of the transaction is contingent upon customary closing conditions, including shareholder and regulatory approvals, and it is expected to close in the first half of 2013.
Alterra Capital Holdings closed at $28.18 Wednesday a gain of almost 22% on 36 times average volume.
Rocky Mountain Chocolate Factory Finds Numerous Issues Related to PST Capital Offer of $13.50/Share
The Offer:
Rocky Mountain Chocolate Factory (NASDAQ: RMCF) announced Wednesday that it is aware of a Schedule TO filed with the U.S. Securities and Exchange Commission by PST Capital Group after the close of market trading on December 18, 2012. The Schedule TO claims that PST has made an offer to RMCF's Board of Directors to acquire all outstanding shares of RMCF's common stock for $13.50 per share.
There are numerous issues that RMCF has discovered with respect to the Offer. First, while the Schedule TO claims that an offer has been made to RMCF's Board, in fact RMCF previously received an unusual letter from PST addressed to RMCF's shareholders. The envelope in which the letter was received was handwritten and addressed to RMCF's Chairman of the Board, Franklin Crail, though Mr. Crail's name was misspelled as "Krail". Furthermore, the return address listed a well-known law firm. However, this law firm confirmed by email that they do not represent PST.
RMCF has notified the SEC, FINRA and Nasdaq regarding the unusual nature of the Offer.
Rocky Mountain Chocolate Factory closed at $10.95 Wednesday, a gain of 3.3% on 8 times average volume.
DC Capital Partners Offers to Acquire Michael Baker Corporation for $24.25/Share
The Offer:
Shareholder DC Capital Partners/Thomas J. Campbell, in a letter to the Board of Directors of Michael Baker Corporation (NYSE: BKR) Wednesday, proposed that Gladiator HoldCo subsidiary, KS International, purchase the company in an all cash transaction at $24.25 per share outstanding. That price represents a 26% premium over the stock's thirty-day trailing average closing price on December 18, 2012. DC Capital Partners is in discussions with investment banks and other financial institutions and expect to have fully executed, underwritten financing commitments in the near future.
Michael Baker Corporation closed at $21.85 Wednesday and traded around $22.60 after-hours.
Posted-In: Long Ideas News Short Ideas Rumors M&A After-Hours Center Movers Trading Ideas
View Comments and Join the Discussion!