Benzinga's M&A Chatter for Tuesday December 18, 2012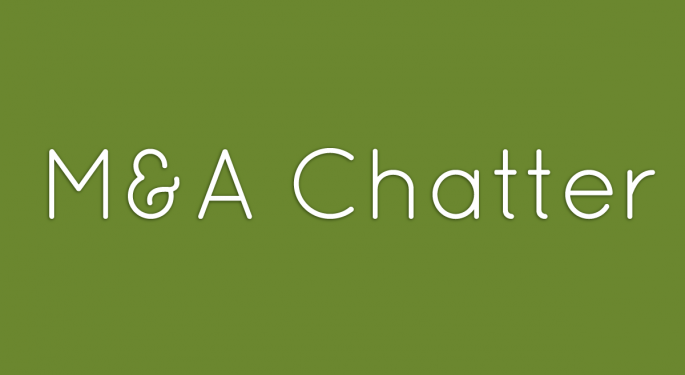 The following are the M&A deals, rumors and chatter circulating on Wall Street for Tuesday December 18, 2012:
Nielsen to Acquire Arbitron for $48/Share in Cash
The Deal:
Nielsen Holdings (NYSE: NLSN) announced Tuesday that it has signed a definitive agreement to acquire all of the outstanding common stock of Arbitron (NYSE: ARB) for $48 per share in cash, representing a premium of approximately 26 percent to Arbitron's closing price on December 17, 2012. Nielsen has a financing commitment for the total transaction amount. The transaction has been approved by the boards of both companies and is subject to customary closing conditions, including regulatory review.
Arbitron closed at $47.03 Tuesday, a gain of 23.63% on 140 times average volume.
American Railcar, Carl Icahn Propose Acquisition of Greenbrier for $20/Share
The Offer:
American Railcar Industries (NASDAQ: ARII) and investor Carl Icahn, offered to buy rival railcar maker Greenbrier (NYSE: GBX) on Tuesday.
Under the terms of the proposed offer, American Railcar would acquire Greenbrier in a cash deal for approximately $20.00 per Greenbrier share, setting a value for the Company at approximately $543 million. The proposed offer price represents a five percent premium to the previous day's closing price.
Greenbrier closed at $20.37 Tuesday, a gain of 7% on 4.5 times average volume.
UPDATE: Late Tuesday, Greenbrier's Board determined Icahn's $20 per share bid was inadequate and grossly undervalued the company.
Hearing Getco to Acquire Knight Capital for Up to $3.75/Share
The Rumor:
Knight Capital (NYSE: KCG) has reportedly agreed to be acquired by Getco for as much as $3.75 per share, according to sources. Getco had previously offered $3.50 per share. Virtu Financial has offered $3.20 per share for Knight.
Reports circulated Tuesday that Knight's Board was meeting to review the bid and the winning bidder would be announced late Tuesday.
A Knight Capital spokesperson earlier Tuesday had declined comment on the rumored Getco bid.
Knight Capital Group closed at $3.33 Tuesday and traded around $3.50 after-hours.
PST Capital Offers $13.50/Share to Acquire Rocky Mountain Chocolate Factory
The Offer:
PST Capital Group announced Tuesday that it has submitted a letter to the board of directors of Rocky Mountain Chocolate Factory (NASDAQ: RMCF) proposing to acquire all of the Company's outstanding common and preferred stock, and outstanding options to acquire such shares, in a recommended cash tender offer at a price per share of $13.50.
The Proposed Offer is subject to satisfactory completion of due diligence, the redemption or termination of the rights plan, or "poison pill", that the Company has adopted, and negotiation and execution of a definitive written agreement.
Rocky Mountain Chocolate Factory closed at $10.60 Tuesday, but traded around $13.00 after-hours.
Dell to Acquire Credant
The Offer:
Dell (NASDAQ: DELL) announced Tuesday it has reached an agreement to acquire Credant Technologies, an industry-leading provider of data protection solutions to control, manage and secure data sent from endpoints to servers, storage and the cloud. The addition of Credant technology strengthens Dell's computing solutions and improves the manageability, reliability and security engineered into its enterprise computing portfolio.
Dell closed at $10.56 Tuesday, a gain of almost 3% on lower than average volume.
Posted-In: Long Ideas News Short Ideas Rumors M&A After-Hours Center Movers Trading Ideas
View Comments and Join the Discussion!