Benzinga's M&A Chatter for Monday December 17, 2012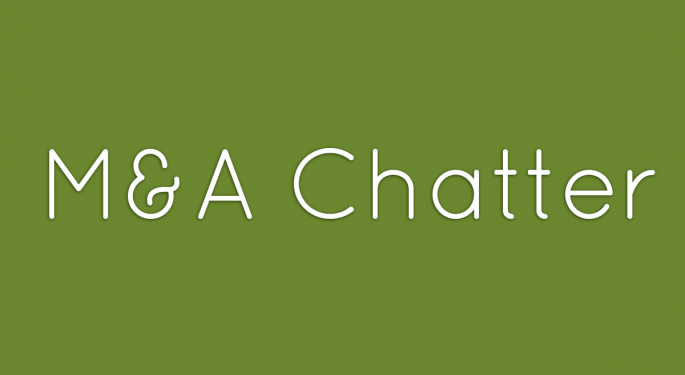 The following are the M&A deals, rumors and chatter circulating on Wall Street for Monday December 17, 2012:
Sprint to Acquire Remaining 50% Stake in Clearwire for $2.97/Share
The Deal:
Sprint (NYSE: S) announced Monday that it has entered into a definitive agreement to acquire the approximately 50 percent stake in Clearwire (NASDAQ: CLWR) it does not currently own for $2.97 per share, equating to a total payment to Clearwire shareholders, other than Sprint, of $2.2 billion. This transaction results in a total Clearwire enterprise value of approximately $10 billion, including net debt and spectrum lease obligations of $5.5 billion.
The transaction consideration represents a 128 percent premium to Clearwire's closing share price the day before the Sprint-SoftBank discussions were first confirmed in the marketplace on October 11, with Clearwire speculated to be a part of that transaction; and, a 40 percent premium to the closing price the day before receipt of Sprint's initial $2.60 per share non-binding indication of interest on November 21.
Clearwire closed at $2.91 Monday, a loss of 13.65% on 7 times average volume.
Caribou to be Acquired by Benckiser for $16.00/Share in Cash
The Deal:
Caribou Coffee Company (NASDAQ: CBOU) and the Joh. A. Benckiser Group announced a definitive merger agreement Monday, under which an affiliate of JAB will acquire Caribou for $16.00 per share in cash, or a total of approximately $340 million. The agreement, which has been unanimously approved by Caribou's independent directors, represents a premium of approximately 30 percent over Caribou's closing stock price on December 14, 2012, the last trading day prior to the announcement of the transaction.
Under the terms of the merger agreement, an affiliate of JAB will promptly commence a tender offer to acquire all of the outstanding shares of Caribou's common stock at a price of $16.00 per share in cash. Following successful completion of the tender offer, JAB will acquire all remaining shares not tendered in the offer through a second-step merger at the same price as in the tender offer.
Caribou Coffee closed at $16.10 Monday, a gain of over 30% on 37 times average volume.
MIPS, Imagination Agree to Revised Merger for $7.94/Share or $100M
The Deal:
MIPS Technologies (NASDAQ: MIPS) announced Monday that it entered into a new amendment to its merger agreement with Imagination Technologies Group originally announced on November 5, 2012, and all amendments thereto. The latest amendment provides for a purchase price of $100 million (U.S.).
As a result of the amendment, the net proceeds to each holder of MIPS common stock, following the consummation of the previously announced proposed patent sale transaction with Bridge Crossing, LLC and proposed recapitalization, has increased to approximately $7.94 (U.S.) per share in cash. The Merger Agreement is otherwise in full force and effect.
MIPS Technologies closed at $7.83 Monday, a gain of $0.06 on higher than average volume.
Judge Rules Ancestry.com Can't Proceed with Sale to Permira
The Ruling:
Shares of Ancestry.com (NASDAQ: ACOM) spiked lower initially Monday, after Judge Leo Strine ruled that the company can't proceed with its sale to Permira for $1.6B, until it discloses more information about the deal, prior to a shareholder vote on December 27.
Ancestry.com and Permira announced on October 22, a definitive merger agreement whereby Permira would acquire Ancestry.com for $32.00 per share in cash. Tim Sullivan, Ancestry.com's President and Chief Executive Officer, and Howard Hochhauser, Ancestry.com's Chief Financial Officer and Chief Operating Officer, would maintain a majority of their equity stakes in the company as part of the transaction.
Ancestry.com closed at $31.87 Monday, a loss of $0.04 on 3 times average volume.
Elliott Management Offers To Acquire Compuware for $11.00/Share In Cash
The Offer:
Elliott Management Corp., affiliates of which own or have an interest economically equivalent to 8.0% of the common stock of Compuware Corporation (NASDAQ: CPWR), sent a letter Monday to the company's Board of Directors offering to acquire the company for $11.00 per share in cash, or an aggregate of $2.3 billion.
Compuware confirmed that its Board of Directors received the unsolicited, conditional, non-binding proposal from Elliott Management. The Board said it will review all aspects of the proposal in consultation with its financial and legal advisors in due course. The Board emphasized that shareholders need not take any action at this time.
Compuware closed at $10.76 Monday, a gain of almost 13% on 6.5 times average volume.
Enzon Hires Lazard to Review Asset Sales, Sale of the Company
The Strategic Review:
Enzon Pharmaceuticals (NASDAQ: ENZN) announced Monday that its Board of Directors has retained Lazard to act as financial advisor in a review of the possible sale or disposition of one or more corporate assets, or a sale of the Company. Based on clinical data on the androgen receptor program, Enzon plans to suspend clinical development with a goal to conserve capital and maximize value returned to shareholders. A special committee of Enzon's Board of Directors was established to oversee the review. There can be no assurance that the review will result in the consummation of any transactions.
Enzon Pharmaceuticals closed at $4.71 Monday, a gain of 3% on 3 times average volume.
Posted-In: Long Ideas M&A News Short Ideas Rumors Global After-Hours Center Movers
View Comments and Join the Discussion!