Five Stocks to Buy Before the New Year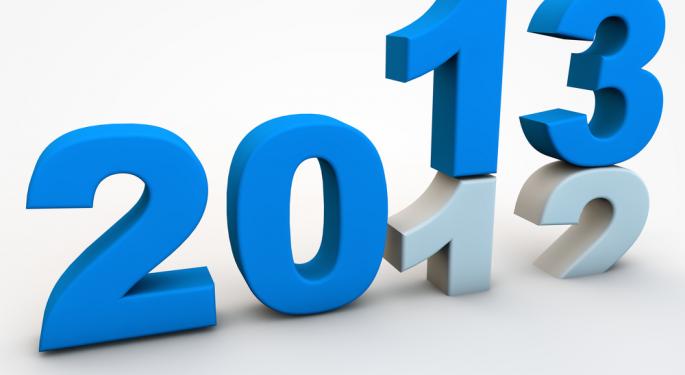 With 2012 rapidly coming to an end, investors will be wondering what some of the top stocks for 2013 might be. Historically, stock prices do well at the beginning of the New Year as fund managers pour money into the market. In searching for possible opportunities at the end of 2012, investors may be interested in high quality names that are trending higher to end the year and are trading at reasonable valuations.
The five stocks detailed below all fit this criteria and also pay a dividend. Although it is impossible to know where the market is going in 2013, investors can benefit from upside while managing risk by focusing on quality, dividend-paying names. This strategy never goes out of style, and should be a good approach once again in the coming year.
Deere & Co. (NYSE: DE) - This stock was recently acquired by Warren Buffett's holding company Berkshire Hathaway (NYSE: BRK-A)(NYSE: BRK-B) and is a solid stock pick for a number of reasons. First, the company has an excellent brand moat around its business and Deere is widely considered to be the premier agricultural equipment manufacturer in the world.
The stock has been trending higher in recent months and is set to close out the year strong. In the last three months, Deere has risen better than 11 percent, accounting for almost all of the stock's gains in 2012. Deere also pays a respectable dividend and is trading at a reasonable valuation.
Currently, shares are yielding around 2.20 percent and the stock trades at a P/E ratio of 10.16 versus the industry average of 16.09. Investors who want to place on a bull market in agriculture in 2013 should be well served with Deere.
Energizer Holdings (NYSE: ENR) - This stock has come storming back in recent months after a Summer sell-off. Over the last three months, shares have risen better than 15 percent and the stock is likely to close 2012 near new highs for the year. Furthermore, in recent days Energizer has broken out above a multi-year trading range. The stock has been consolidating since the fall 2010 in a tight range and now that it has pierced the $80.00 level to the upside it may be ready for a big rally in 2013.
While most investors associate the company with the battery business, it actually owns a number of other leading consumer products brands. In addition to the Energizer and Eveready battery lines, Energizer owns shaving brands such as Edge and Schick (among others), the Playtex brand and sun care brands Hawaiian Tropic and Banana Boat. In many ways, Energizer is like a much smaller Procter & Gamble (NYSE: PG).
The company only has a market cap of $5 billion so there is plenty of room to grow the business. The stock also pays a dividend of roughly two percent and trades at a seemingly cheap forward P/E multiple of 10.75. Overall, Energizer is a high quality and conservative way to play a strengthening consumer environment in 2013.
Phillips 66 (NYSE: PSX) - This company was spun off from Conoco Phillips (NYSE: COP) in the Spring of 2012. In terms of unlocking shareholder value, the spinoff has been explosive with shares rising nearly 64 percent since beginning to trade publicly. Momentum in the name shows no signs of abating as the stock is currently sitting at new highs after surging 20 percent over the last three months.
Although revenue at the company has been falling in recent quarters, its profitability is on the rise. Any uptick in sales in 2013 could continue to propel the stock. Phillips 66 is a well-known brand and operates in the midstream petroleum market along with its 10,000 branded marketing outlets.
Due to sluggish revenue trends, the stock is trading at a forward P/E of under nine and a PEG ratio of under one. This valuation would seem to leave room for more upside in the stock price from current levels. In addition to its other attractive qualities, Phillips 66 is also currently yielding just under two percent.
Royal Caribbean Cruises (NYSE: RCL) - This is another play on a rebound in the consumer sector in 2013. The stock has been very sensitive to the economic outlook and should react positively to an improving economy. Royal Caribbean has climbed better than 40 percent in 2012 and is up around 20 percent over the last three months.
The stock is showing strong momentum and third-quarter revenue and income was up significantly versus the first two quarters of the year. The company enjoys a strong brand moat as a high-quality cruise provider and could be set for more gains in 2013. Shares trade at a forward P/E of 13.10 and the stock is currently yielding 1.40 percent.
Whirlpool (NYSE: WHR) - This company has seen its stock price gyrate over the last few years after being devastated during the housing crisis and subsequent market meltdown. 2012 has been very good to Whirlpool, however, as the shares have risen more than 110 percent. The trend in this name is still intact and the stock might continue to rise at the beginning of 2013 on the back of a strengthening housing market.
Despite its strong performance, WHR has a conservative forward P/E of under 11 and also is yielding around two percent at current levels. Top line growth at this company has been disappointing in recent years and analysts currently are projecting revenue growth of just 2.30 percent in 2013. Nevertheless, earnings are expected to rise 31 percent. If the company can meet these projections, the shares will likely continue to rise and could post another big year in 2013.
Posted-In: 2013Long Ideas Dividends Technicals Economics Markets Movers Trading Ideas Best of Benzinga
View Comments and Join the Discussion!