A Look Ahead: This Week's ETFs to Watch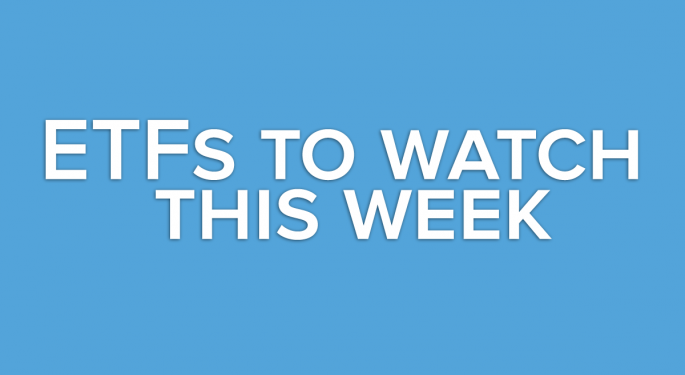 Despite significant headline risk, stocks started December on a decent note last week as the S&P 500 posted a small gain. The Dow Jones Industrial Average gain one percent while the Nasdaq finished the week lower due to the nine percent plunge endured by shares of Apple (NASDAQ: AAPL).
The bulls might be apt to say it is a positive sign that stocks moved higher last week despite Apple's wicked ways. They might also be inclined to remind us that December is historically a good month for stocks. The S&P 500 rising in 16 of the past 20 Decembers speaks to that fact.
Unfortunately, U.S. policymakers have made little headway on the fiscal cliff and the specter of higher tax rates in 2013 could spark some year-end selling by fund managers looking to cleanse their portfolios of losing positions. With those issues in mind, and the Federal Reserve meeting on Tuesday and Wednesday, these ETFs should be in play this week.
iShares Dow Jones U.S. Technology Sector Index Fund (NYSE: IYW) The iShares Dow Jones U.S. Technology Sector Index Fund is the answer to the trivia question "What ETF has the largest weight to Apple?" Clearly, that makes IYW vulnerable to Apple's whims. However, the ETF has shown the advantages of owning ETFs over single stocks in recent weeks.
Despite being home to an almost 22 percent weight in Apple, IYW was only off 1.3 percent last week while Apple dropped nine percent. Over the past month, IYW has traded higher while Apple has lost 2.5 percent. The other side of the coin is eager short-sellers might be pondering how long IYW can enjoy the high life while Apple slides.
Global X FTSE Greece 20 ETF (NYSE: GREK) These are interesting times for the Global X FTSE Greece 20 ETF. Just days after a massive Greek debt repurchase program was announced last week, Standard & Poor's said the country is in selective default. That news could hasten Greece's departure from developed market to emerging markets status, the type of demotion most countries want to avoid.
On Sunday, Reuters reported offered to buyback $38.8 worth of Greek debt, which should help the country move toward cutting its debt-to-GDP ratio by 2020, something the European Union desperately wants Greece to do. GREK is not the largest or most heavily traded ETF on the block, but these are the type of headlines that have move the fund in the past.
Also keep an eye on the CurrencyShares Euro Trust (NYSE: FXE) and the Vanguard MSCI Europe ETF (NYSE: VGK).
Energy Select Sector SPDR (NYSE: XLE) It might come as a surprise to some that the Energy Select Sector SPDR has gained nearly three percent in the past month, though it is worth noting the energy sector has a mediocre December track record. Those are not the only reasons XLE makes an appearance on this week's list.
A common criticism of XLE is its heavy focus on just two stocks – Exxon Mobil (NYSE: XOM) and Chevron (NYSE: CVX). The two largest U.S. oil companies combine for over 34 percent of XLE's weight. As for Exxon, the situation there is far more docile than it is with Chevron. Exxon appears to have found support at $88 and that bodes well for some upside in the shares through year-end.
As for Chevron, there are myriad headlines that could pressure the shares. Investors can probably tolerate continued rumors that the company is looking to make a major acquisition. Bloomberg reported last week that Cobalt Energy (NYSE: CIE) and/or Kosmos Energy (NYSE: KOS) could mak for fine candidates for California-based Chevron.
However, there is the matter of the escalating cost of Chevron's Gorgon field project in Australia. Viewed as one of the centerpieces of Chevron's global growth plans in the coming years, Chevron raised the production cost estimate to $52 billion from $37 billion, citing labor and output issues, according to the Financial Times.
Add to that on Saturday, the New York Times offered up a detailed account of Chevron's legal wranglings with an activist hedge fund related to the company's Ecuador legal woes. However flawed one may view the Ecuadorian legal system as being, the issue of the $18 billion judgment levied against Chevron there last year has not been put to bed. The more that issue remains in the mainstream press, the heavier the cap on Chevron's near-term upside and that is not good for an ETF that devotes almost 15 percent of its weight to Chevron as XLE does.
For more on ETFs, click here.
Posted-In: Long Ideas News Sector ETFs Broad U.S. Equity ETFs Short Ideas Specialty ETFs New ETFs Rumors Best of Benzinga
View Comments and Join the Discussion!