Benzinga's M&A Chatter for Monday December 3, 2012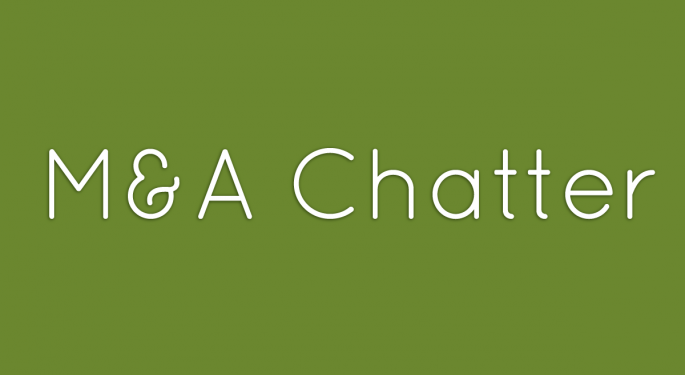 The following are the M&A deals, rumors and chatter circulating on Wall Street for Monday December 3, 2012:
Facebook May Buy WhatsApp
The Rumor:
Facebook (NASDAQ: FB) is reported to be in talks to acquire messaging app company WhatsApp, according to sources reported by TechCrunch.
Facebook shares rallied initially on the report, coming within $0.12 of $29.
Facebook closed at $27.04 Monday, a loss of 3.5% on twice average volume.
Delta Airlines Rumored to be in Talks to Acquire Singapore Airline's Virgin Atlantic Stake
The Rumor:
Delta Airlines (NYSE: DAL) is reportedly in talks with Singapore Airlines (OTC: SINGF), to acquire their 49% stake in Virgin Atlantic, according to Reuters.
A Delta spokesperson declined comment on the rumor. A Singapore Airlines spokesperson was not available for comment.
Delta Airlines closed at $9.62 Monday, a loss of 4% on average volume.
Hearing Unconfirmed Market Chatter of Chevron Interest in Southwestern Energy
The Rumor:
Chevron (NYSE: CVX) may bid for Southwestern Energy (NYSE: SWN), according to unconfirmed market chatter. A similar rumor surfaced back in April, involving the same companies.
A Chevron spokesperson declined comment on the rumor. A Southwestern Energy spokesperson was not available for comment.
Southwestern Energy closed at $34.98 Monday, a gain of $0.27 on average volume.
Genesis HealthCare Acquires Sun Healthcare for $8.50/Share
The Deal:
Genesis HealthCare announced Monday that effective December 1, 2012 it completed the acquisition of Sun Healthcare Group (NASDAQ: SUNH).
Under the terms of the agreement, Genesis acquired Sun for $8.50 per share of common stock in cash. The aggregate amount of the merger consideration was approximately $215 million, excluding closing costs and the repayment of approximately $89 million of Sun indebtedness. Genesis financed the transaction using borrowings under a term loan and available cash.
Sun Healthcare closed at $8.51 on Monday, a gain of $0.06 on about twice average volume.
Equifax to Acquire Credit Services Business of Computer Sciences Corporation for $1B
The Deal:
Equifax (NYSE: EFX) announced Monday that its subsidiary, Equifax Information Services LLC, has entered into a definitive asset purchase agreement with CSC Credit Services, Inc., a subsidiary of Computer Sciences Corporation (NYSE: CSC), to purchase certain credit services business assets and operations of CSC. The purchase price is $1.0 billion in cash.
The closing of the transaction is expected to occur by year-end.
Computer Sciences Corporation closed at $39.27 Monday, a gain of 3% on higher than average volume.
Martin Marietta Likely to Make 'Friendly' Offer for Vulcan Materials
The Rumor:
Martin Marietta (NYSE: MLM) is likely make a new offer to acquire Vulcan Materials (NYSE: VMC), according to the Wall Street Journal. Martin Marietta made a 'hostile' offer to acquire Vulcan on December 22, 2011. That offer was to exchange 0.50 shares of Martin Marietta for each share of Vulcan Materials. The offer was terminated by court order on May 14, 2012.
Vulcan Materials closed at $52.31 Monday, a loss of 1% on higher than average volume.
Hearing PE Firms Losing Interest in True Religion
The Rumor:
Private equity firms are losing interest in pursing a bid for True Religion Apparel (NASDAQ: TRLG), according to the Deal Reporter. The same publication had indicated positive private equity interest in the jeans company on November 12.
True Religion had announced a strategic review process on October 10. A spokesperson told Benzinga on Monday the company was still involved in that process, and declined comment on today's rumor.
True Religion closed at $24.39 Monday, a loss of 6.5% on twice average volume.
Posted-In: Long Ideas News Short Ideas Rumors M&A After-Hours Center Movers Trading Ideas
View Comments and Join the Discussion!