Benzinga's M&A Chatter for Wednesday November 21, 2012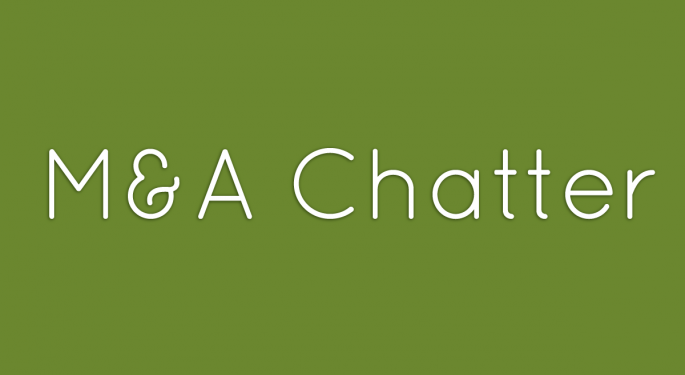 The following are the M&A deals, rumors and chatter circulating on Wall Street for Wednesday November 21, 2012:
Reckitt Benckiser to Acquire Schiff Nutrition for $42/Share in Cash
The Deal:
Reckitt Benckiser Group (OTC: RBGPF) announced Wednesday it had signed a definitive merger agreement with Schiff Nutrition International (NYSE: SHF) to acquire Schiff for $42.00 per share in cash or $1.4 billion. Reckitt Benckiser will finance the transaction with cash and existing credit facilities. The transaction is expected to be immediately accretive to earnings on an adjusted basis.
Reckitt Benckiser expects the tender offer to close before the end of calendar year 2012.
Schiff Nutrition closed at $41.90 Wednesday, a gain of 0.10% on lower than average volume.
Complete Genomics Rejects Illumina Takeover Offer
The Rejection:
The Board of Directors of Complete Genomics (NASDAQ: GNOM) rejected Illumina's (NASDAQ: ILMN) proposal to acquire Complete Genomics for $3.30 in cash for each outstanding share.
On September 17, 2012 Complete Genomics and BGI-Shenzhen announced that they had entered into a definitive merger agreement, whereby a wholly-owned U.S. subsidiary of BGI would launch a tender offer to purchase all outstanding shares of common stock of Complete for $3.15 per share in cash.
A letter from Illumina CEO Jay Flatley to the Complete Genomics Board of Directors indicated Illumina's offer was superior to BGI's saying "BGI's proposal is subject to a number of conditions including, among other things, (1) receipt of financing, (2) approval of the Committee on Foreign Investment in the United States ("CFIUS") under the Exon-Florio Act, and (3) expiration or termination of the waiting period under the Hart-Scott-Rodino (HSR) Antitrust Improvements Act."
Complete Genomics closed at $3.16 Wednesday, a gain of a 2.27% on twice average volume.
Hearing Unconfirmed Chatter of Bain/TPG Bid for Seagate Technology
The Rumor:
Bain Capital and TPG Capital are rumored to be making a $36 per share bid for Seagate Technology (NASDAQ: STX), according to unconfirmed chatter circulating.
A spokesperson for Bain Capital told Benzinga there was no truth to the rumor. Spokespersons for Seagate and TPG declined comment.
Seagate Technology closed at $26.75 Wednesday, up $0.13 on average volume.
Hearing Unconfirmed Chatter of IBM Bid for Fusion-IO
The Rumor:
IBM (NYSE: IBM) is rumored to be making a bid of $3.4 billion to acquire Fusion-IO (NYSE: FIO), according to unconfirmed chatter circulating. The company is a frequent takeover name, with EMC (NYSE: EMC), Apple (NASDAQ: AAPL) and Intel (NASDAQ: INTC) also being mentioned as potential suitors in the past.
Spokespersons for Fusion-IO and IBM were not available for comment.
Fusion-IO closed at $24.11 Wednesday, a gain of about 5% on almost twice average volume.
Report Alibaba-SINA Deal is Off
The Rumor:
On November 19, 2012, China Business News reported Alibaba Group will invest $3 billion in SINA's (NASDAQ: SINA) Weibo microblogging platform.
A report Wednesday from imeigu.com, citing Netease, appeared to indicate the deal may be off, due to disagreement on price.
Spokespersons for the two companies were not available for comment.
SINA closed at $47.30 Wednesday, a gain of $0.30 on average volume.
Pacific Drilling May be Takeover Target
The Rumor:
Pacific Drilling (NYSE: PACD) is a takeover target according to FT Alphaville.
Seadrill (NYSE: SDRL) and Ensco (NYSE: ESV) are among the interested suitors, according to the report, with a bid of $13.80 rumored from one buyer.
A spokesperson for Pacific Drilling was not available for comment.
Pacific Drilling closed at $9.85 Wednesday, a loss of $0.05 on 3 times average volume.
Posted-In: Long Ideas M&A News Short Ideas Rumors Global After-Hours Center Movers
View Comments and Join the Discussion!