This Brazil ETF Could be Headed For Disappointment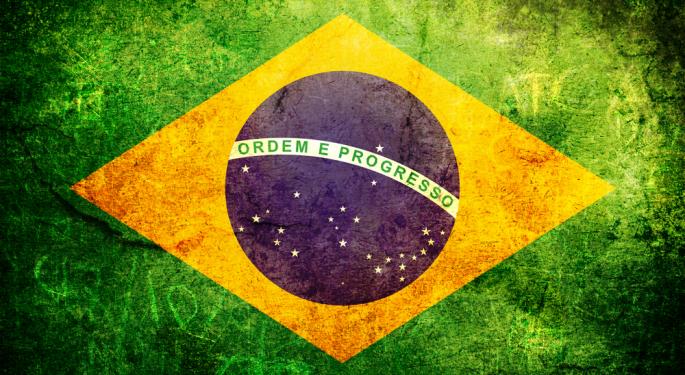 Rio de Janeiro, Brazil's sultry city in the sun, is scheduled to host the World Cup in 2014 and the Summer Olympics two years later. In theory, that should be excellent news for the EGShares Brazil Infrastructure ETF (NYSE: BRXX). In reality, the EGShares Brazil Infrastructure ETF and Rio could be poised to disappoint investors and Brazil itself.
The state of Rio de Janeiro, like so many U.S. states, is facing a cash crunch. Brazilian politicians recently voted to give $2 billion in oil royalties to the state, but Rio needs $13.5 billion for stadium and transportation (read: infrastructure) projects, according to Bloomberg.
Rio Governor Sergio Cabral told Bloomberg his state is at risk of financial collapse and if that happens, "we are going to close our doors. We won't do the Olympics, we won't do the Cup."
Such dour rhetoric could plague BRXX, which has struggled since inception. Again, in theory, BRXX should have soared since its debut in March 2010. By the time BRXX came to market, Brazil had already been awarded the World Cup and Summer Olympics. Last year, Bank of America-Merrill Lynch predicted emerging markets, including Brazil, would spend $6 trillion on infrastructure projects over the next three years.
All of those factors should have contributed to more upside for BRXX. That has not been the case. The ETF is up just 3.7 percent since its debut and is down 5.6 percent in the past year. To be fair, BRXX has outperformed the larger, more popular iShares MSCI Brazil Index Fund (NYSE: EWZ) over both time frames. In 2012, BRXX has also been the superior performer.
However, BRXX does a have a history of not responding to bullish Brazilian infrastructure news in the fashion investors hope for. Recent history indicates as much. In August, Brazilian Dilma Rousseff announced a $66 billion infrastructure stimulus program. That is the largest such program in the history of Latin America's largest economy, but since August 8, BRXX has slid almost 4.5 percent.
To be sure, BRXX should not be written off. The ETF yields almost 4.7 percent and its price-to-earnings ratio of 12.4 and price-to-book ratio 1.7 imply the fund is more favorably valued than EWZ. Plus, it is worth noting Brazil is not the first World Cup to be warn it may not be able to follow through on its hosting obligations due to infrastructure project delays.
In 2010, there was scuttlebutt that FIFA, the international governing body of the sport Americans know as soccer and the rest of the world calls football, was prepared to move the World Cup from South Africa to the 2006 host nation of Germany. Ultimately, South Africa would host tournament.
In other words, hope is not lost for Rio and BRXX, but investors would do well not to expect much until the state procures the necessary funding to move forward with the aforementioned stadium and transportation projects. Then, the ETF might be a "buy the news" trade.
For more on Brazil ETFs, click here.
Posted-In: Long Ideas News Sector ETFs Short Ideas Emerging Market ETFs Events Global Pre-Market Outlook Best of Benzinga
View Comments and Join the Discussion!