Obama Beats Romney; Futures Pare Losses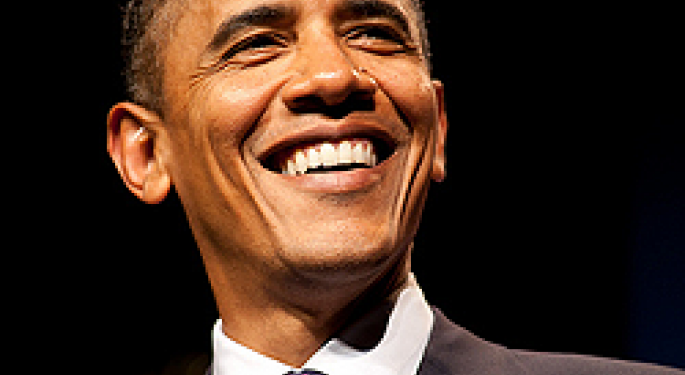 President Barack Obama won his re-election bid Tuesday night, topping Republican challenger Mitt Romney in what was a more lopsided affair than many political experts had predicted. Just after 10:30 pm EST, multiple media outlets called the election in favor of Obama, who had a lead of 275-203 in the electoral college. The required number for victory is 270.
Although there was some debate following the results that networks called the crucial swing state of Ohio in the president's favor too early, Nevada would later fall into Obama's column, giving him a lead of 281-203. Even with a winner not declared at the time of this writing in Alaska, Florida and Virginia, Romney's path to the White House is blocked.
The Democrats retained the majority in Senate while Republicans expanded their majority in the House.
Obama's proficiency in battleground states ensured his victory. Key swing states Colorado, Iowa, New Hampshire, Ohio and Wisconsin all voted in favor in the president. Ohio was seen as crucial to Romney's hopes and Republicans viewed the Buckeye State as in play. Ohio, still reeling from the last U.S. recession, has switched political allegiances between both parties in presidential elections. However, in the 2010 mid-term elections, the state elected a Republican governor and U.S. senator, buoying the party's hopes that the President would not carry the state this year.
Romney was unable to carry any of the so-called Rust Belt states, save for Indiana. Pennsylvania, thought to be in play as polls narrowed there in the days leading up to the election, went for Obama as did Michigan, Minnesota and Wisconsin.
Futures Cut Losses S&P 500 futures plunged Tuesday evening as more states started reporting results in favor of the President and as more Democrats emerged victorious in Senate races. Those losses were pared, however, following news of the Obama victory.
A few minutes before 11:00 pm EST, S&P 500 futures were 14 points below fair value; but by midnight, that loss had been cut in half. Dow Jones Industrial Average futures are off 53 points while Nasdaq futures are down 8.25 points.
The euro was modestly higher against the dollar and most Asian equity markets were higher though the Shanghai Composite and South Korea's Kospi showed small losses immediately following the U.S. election results.
Wednesday's Trades Gold rallied on Tuesday and was modestly higher in Asian trading following the election. The yellow metal could see further upside as an Obama victory was thought to be negative for the U.S. dollar. At $1,719 an ounce, gold is $76 below where it was when the Federal Reserve announced the third round of quantitative easing in early October.
Oil equities rallied on Tuesday, but that trade could unravel on Wednesday as Romney was seen as far more hospitable to traditional fuel sources. Some traders had also loaded up on coal stocks and the Market Vectors Coal ETF (NYSE: KOL) in anticipation of coal-producing states such as Ohio and Pennsylvania favoring Romney.
President Obama's victory could be supportive of alternative energy and health care stocks and ETFs, but it is his support of solar and wind power that is seen as potentially detrimental to coal and oil names in the near-term.
Posted-In: Long Ideas News Sector ETFs Short Ideas Futures Commodities Politics Forex Best of Benzinga
View Comments and Join the Discussion!