Will the Mayans Curse the Gun Trade?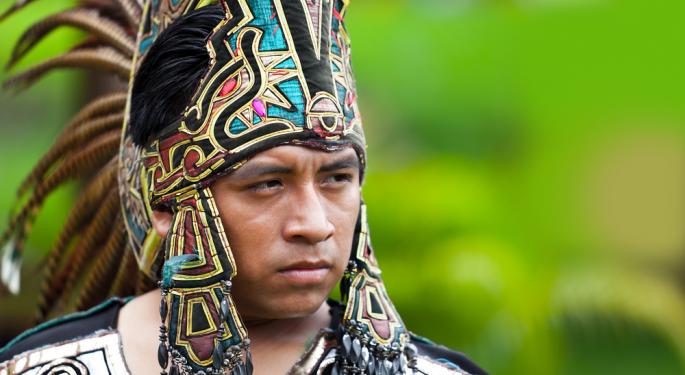 One of 2008's most popular investments, perhaps fueled by the election of Barack Obama, was the "gun trade."
There were several underlying assumptions behind this trade: Safeguarding against potential social unrest due to the recession, an expected stockpiling of arms in case Obama further restricted the sale of guns and -- probably most important -- a feeling of general uncertainty about the state of the country and the world.
The gun trade has worked well. The sale of guns and the number of firearm dealers in the U.S. are both currently sitting at levels not seen since the early 1990s. The major firearms players, Smith & Wesson (NASDAQ: SWHC) and Sturm Ruger & Co. (NYSE: RGR), are having some of their best years in recent history. Shares of Smith & Wesson are at five-year highs and Ruger shares are at an all-time high.
Can investors continue to depend on these companies as this election year winds down?
Smith & Wesson and Ruger bulls still profiting from the gun trade will point to continued increases in both earnings and sales. Smith & Wesson swung from a loss of $64 million in fiscal 2008 to a profit of $8 million by 2010. Ruger earnings were nearing $9 million at year-end 2008, and had pushed over $25 million by the end of 2010. In 2011, Smith & Wesson's profit surged by more than 200%, the company's steepest rate of growth during Obama's term. Ruger earnings also continued to jump last year, up more than 40%.
Yet, this kind of growth in a matured market like firearms -- especially considering some of the sharpest growth occurred just last year -- would make any contrarian cringe. On top of that, mainstream media outlets have gone into a feeding frenzy preying on people's appetites for the latest apocalypse piece. This brings to mind the popular Wall Street adage "when the news is on the front page, the smart money has already been made."
As December 21, 2012 approaches, many retail investors may be looking for a way to play what might be the most popular date in history. The obvious trade on the phenomenon, however, seems to have already passed.
Should investors take the other side, and consider shorting these plays? Unfortunately, that trade may be long in the tooth as well. Smith & Wesson's short interest is well over 12 percent, while Ruger's is much higher -- over 40 percent!
If a general belief in the world ending on December 21 was driving demand for guns, then these companies might begin to disappoint early next year. On the other hand, if Obama is re-elected, these companies may continue to report strong sales and earnings for the foreseeable future.
Posted-In: Long Ideas News Short Ideas Politics Trading Ideas General Best of Benzinga
View Comments and Join the Discussion!