Tapping Into Africa's Top-Performing Markets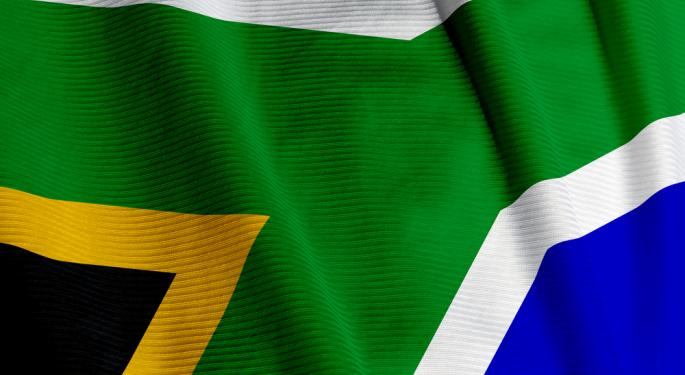 The African investment thesis is an enigma wrapped in a riddle cloaked under a veil of high risk. To some, the world's second-largest continent is the last investment frontier. Other investors know no more of Africa than the iShares MSCI South Africa Index Fund (NYSE: EZA) and maybe the Market Vectors Egypt ETF (NYSE: EGPT).
With those two ETFs, investors can gain access to two of Africa's largest economies, but the resource-rich continent is home to some other high-flying markets that some investors believe are practically inaccessible.
Two of the continent's best markets on a year-to-date basis, Kenya and Nigera, are flirting with gains of 40 percent, according to Investing In Africa. Unheralded Uganda is up 24. 5 percent.
Two Good Ideas Nigeria, an OPEC member, is Africa's top oil producer, but despite that status, a paltry amount of ETFs offer exposure to the country. Three to be exact, though ETF sponsors have filed plans of Nigeria funds that have yet to appear. For now, investors that want some Nigerian exposure can choose between the Market Vectors Africa ETF and the newly minted iShares MSCI Frontier 100 Index Fund (NYSE: FM).
Nigeria accounts for 19.5 percent of AFK's weight and 12.4 percent of FM's weight, respectively. FM does not offer much exposure to Africa beyond Nigeria, but the lower correlation of frontier stocks to developed market equivalents makes this fund compelling.
The Guggenheim Frontier Markets ETF (NYSE: FRN), which has $154.6 million in assets, has a 4.2 percent weight to Nigeria.
By Way Of Energy One thing that this made clear by the country allocations of the limited amount of ETFs that do offer exposure to Africa is that gaining exposure to the continent's sub-Saharan region without including South Africa is tricky. Most ETFs that do offer decent weights to Africa allocate those weights to South Africa and/or Egypt. Perhaps Morocco, but almost never to countries such as Ghana or Uganda.
Both of those nations are home to burgeoning oil industries, and as was mentioned earlier, Ugandan equities are soaring this year. Investors can use the iShares S&P Global Energy Sector Index Fund (NYSE: IXC) to get some exposure to Africa's new oil hot spots beyond Nigeria. The$1 billion iShares S&P Global Energy Sector Index Fund is home to Chevron (NYSE: CVX), Total (NYSE: TOT) and other major U.S.-listed integrateds with significant African footprints.
BG Group, active in Uganda, and Tullow Oil receive small weights in the ETF. Tullow has a presence in Ghana, Kenya and Uganda.
Another oil ETF to consider is the iShares Dow Jones U.S. Oil & Gas Exploration & Production Index Fund (NYSE: IEO). That fund offers one of the largest weights to Anadarko Petroleum (NYSE: APC) at almost 7.6 percent.
Texas-based Anadarko has one of the deepest African profiles of any U.S. oil firm with operations in Ivory Coast, Ghana, Liberia, Sierra Leone, Kenya and Mozambique.
For more on Africa ETFs, click here.
Posted-In: Long Ideas News Short Ideas New ETFs Emerging Market ETFs Futures Commodities Global Best of Benzinga
View Comments and Join the Discussion!