Benzinga's M&A Chatter for Thursday October 11, 2012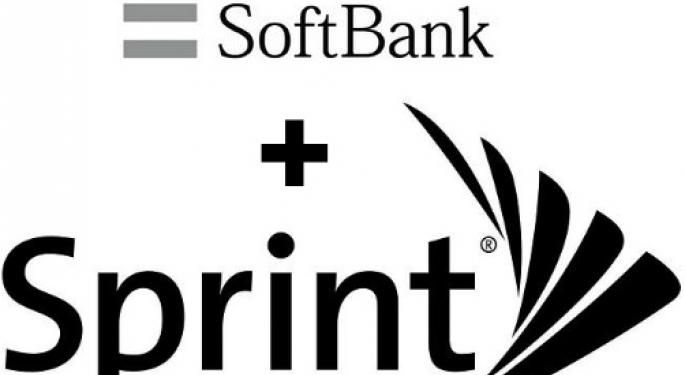 The following are the M&A deals, rumors and chatter circulating on Wall Street for Thursday October 11, 2012:
Softbank in Talks to Acquire Sprint
The Talks:
Japan's Softbank was reported by several sources early Thursday morning to be in talks to acquire two-thirds of Sprint (NYSE: S) for a reported $20 billion.
Later in the day, David Faber reported on CNBC that Softbank's share of Sprint would be 75% upon completion of a deal.
Sprint did confirm the discussions with Softbank saying "Sprint is currently engaged in discussions with Softbank regarding a potential substantial investment by Softbank in Sprint. Although there can be no assurances that these discussions will result in any transaction or on what terms any transaction may occur, such a transaction could involve a change of control of Sprint. Sprint does not intend to comment further unless and until an agreement is reached."
There were also reports that Softbank might be interested in acquiring either MetroPCS (NYSE: PCS) or the combined MetroPCS - T-Mobile (OTC: DTEGY) company. A spokesperson for MetroPCS declined comment on today's reported discussions. Regarding a possible Sprint bid, the MetroPCS spokesperson said that was for Sprint to discuss.
Meanwhile, shares of Clearwire (NASDAQ: CLWR) surged 70% on reports that Sprint would need to acquire the 4G network provider in order to complete the deal with Softbank. Clearwire confirmed it had cancelled out of the Deutsche Bank Leveraged Finance Conference, but declined comment on the reason.
Finally, shares of Leap Wireless (NASDAQ: LEAP) rose on the Sprint-Softbank talks. A Leap spokesperson declined comment on those talks and how they might impact his company.
Sprint ended the day with a gain of 14.29%, closing at $5.76. Clearwire closed at $2.22, a gain of 70.77%. MetroPCS finished with a loss of 3.32% at $11.64. Leap Wireless closed at $6.12, a gain of 3.73%.
Icahn Announces Tender Offer for Oshkosh of $32.50/Share
The Offer:
Carl Icahn announced Thursday he was commencing a tender offer for "any and all" of the outstanding common shares of Oshkosh at $32.50 per share in cash and to nominate directors to the Oshkosh Board of Directors at the Company's 2013 Annual Meeting.
Icahn also stated he had no interest in combining Oskosh with Navistar International (NYSE: NAV).
Oshkosh advised shareholders Thursday to take no action at this time pending a review of the unsolicited tender offer by the Oshkosh Board.
Oshkosh closed at $29.90 Thursday, a gain of 11.36% on 8.5 times average volume.
Posted-In: Long Ideas News Short Ideas Rumors M&A Global After-Hours Center Movers
View Comments and Join the Discussion!