Benzinga's Microcap Movers for Thursday September 27, 2012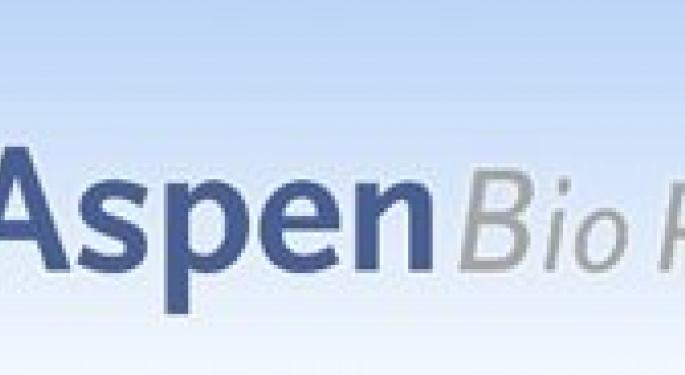 Below are highlights from Benzinga's daily coverage of small cap and microcap securities making big moves:
AspenBio Pharma
Shares of AspenBio Pharma (NASDAQ: APPY), the Castle Rock, CO biomedical diagnostic company, rose 48.9% Thursday on 17 times average volume.
AspenBio Pharma today provided its shareholders and the broader investment community with an update on its clinical and business activities. The Company announced that it plans to initiate a pivotal study in the fourth quarter of 2012 for its blood-based appendicitis test designed to assist emergency room clinicians in ruling out acute appendicitis.
The Company is moving ahead with its plans following its recent productive meeting with the U.S. Food and Drug Administration ("FDA"). In addition to seeking approval in the U.S., the Company plans to obtain CE Mark before the end of the year and to introduce the product in Europe shortly thereafter.
AspenBio Pharma closed at $2.74 on Thursday.
First Titan
Shares of First Titan (OTC: FTTN), the Bradenton, FL oil and gas exploration company, rose 66.11% Thursday on 6.5 times average volume.
First Titan announced Thursday that production is now underway at its new oil well in the Little Cedar Creek Field in Alabama.
The well is currently producing slightly more than 400 barrels of oil and 350 thousand cubic feet of gas on average per day, with no water and no hydrogen sulfide. State law limits production from a well to 400 barrels per day. The well is currently producing with a flowing tubing pressure of 440 psi on 16/64ths choke.
Located in Conecuh County, AL, it is the first producing well in which FTTN owns a working interest. Current reserve estimates range from 400,000 to 800,000 barrels of oil.
First Titan closed at $5.00 on Thursday.
Cazador Acquisition Corp
Warrants of Cazador Acquisition Corp (NASDAQ: CAZAW), the Miami, FL blank-check company, rose 55% Thursday on 474,000 shares.
Cazador Acquisition Corporation announced Thursday that it has postponed its special meeting of shareholders originally scheduled to take place on September 28, 2012. The special meeting will be adjourned until October 2, 2012 at 10:00 a.m., New York City time, at its original location. The record date for the special meeting remains August 27, 2012. Shareholders who have previously sent in proxy cards or given instructions to brokers do not need to re-cast their votes.
Cazador Acquisition Corp warrants closed at $5.50 on Thursday, common shares closed at $9.94.
The information in this article is taken from public sources, press releases, and websites that cannot always be verified. Please note that investing in microcap stocks is highly speculative. The companies mentioned here are for information purposes only. Benzinga makes no claim as to the suitability of these stocks as an investment. Neither Benzinga nor its staff recommend that you buy, sell, or hold any security. We do not offer investment advice, personalized or otherwise. Benzinga recommends that you conduct your own due diligence and consult a certified financial professional for personalized advice about your financial situation.
Posted-In: Long Ideas News Short Ideas Small Cap After-Hours Center Movers Trading Ideas
View Comments and Join the Discussion!