Exxon's Bakken Buy Could Be Just The Beginning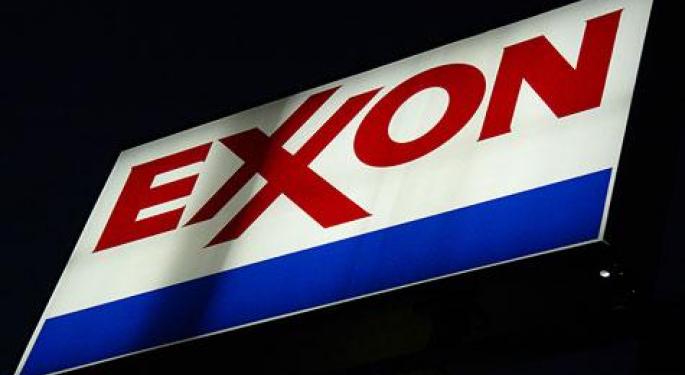 Exxon Mobil (NYSE: XOM), the largest U.S. oil company, said Thursday it will pay almost $2 billion to acquire 196,000 acres in the oil-rich Bakken Shale from Denbury Resources (NYSE: DNR). Texas-based Exxon said the Bakken buy will increase its presence there by about 50 percent to 600,000 acres. It can be said the news could not come out a better time for Exxon shareholders, who have been clamoring for the company to increase oil production. The purchase of the Bakken acres from Denbury is Exxon's largest since the $35 billion acquisition of XTO Resources in 2010. That deal now looks ill-fated because it made Exxon that largest U.S. natural gas producer. An ominous title when of that commodity have continued to slip.
Even by the admission of Exxon CEO Rex Tillerson, oil companies are "losing our shirts" on natural gas. Plunging natural gas prices and still elevated U.S. production of the commodity illustrate why, if Exxon is going to continue shopping, it must acquire oil assets to assuage apprehensive shareholders. Said differently, Exxon is in no way, shape or form a legitimate to acquire a company like Chesapeake Energy (NYSE: CHK).
Betting On The Bakken
There is good reason for Exxon, or any other company for that matter, to bet on the Bakken Shale. Bakken's bountiful reserves have catapulted North Dakota to the second spot among oil producing states behin only Texas.
Exxon is now tied with EOG Resources (NYSE: EOG) for the fifth spot among Bakken producers. The two companies trail Continental Resources (NYSE: CLR), Hess (NYSE: HES), Whiting Petroleum (NYSE: WLL) and ConocoPhillips (NYSE: COP), according to Bloomberg data.
There is nothing to suggest that Continental or Whiting are actively looking to sell themselves, but at least in the case of the latter, plenty of oil majors could swallow the company and feel no indigestion.
With market values of less than $15 billion and $6 billion, respectively, Continental and Whiting could easily be acquired with Exxon. Exxon had $19 billion in cash at the end of the first quarter, easily enough to buy Whiting twice over.
Reduced Costs, Risk
The tragedy that was the 2010 Gulf of Mexico oil spill reminded investors and oil companies of what they have long known: It is far safer to drill onshore. It is also a lot less expensive. One of, it not both of those reasons explain why Occidental Petroleum (NYSE: OXY), the fourth-largest U.S. oil company, only drills onshore.
The cost of drilling a Bakken well varies, Some companies have said it is $6 million. Others have said it is as high as $8.5 million. Hess said it epxects to spend an average of $11 million per Bakken well this year, Reuters reported.
Even at $11 million per well, that expenditure is safer and more cost-effective than deepwater drilling. Transocean's (NYSE: RIG) Deepwater Invictus rig, which will come online in 2014, is expected to have a dayrate of $595,000. Earlier this year, Transocean received an extension on a contract for the GSF Development Driller rig. The new contracted raised the dayrate to $580,000 from $522,000.
Translation: With higher risks, it would take less than three weeks of operating the Deepwater Invictus or the GSF Development Driller to burn through the cost of an expensive Bakken well.
Exxon knows this, but the rub is that many of the world's newly discovered oil-rich fields are offshore. This explains Exxon's multi-billion Russia gambit with OAO Rosneft announced earlier this year. Exxon is not going to give up the offshore game, nor should it.
What the company should do is trim its gas exposure while bolstering its Bakken profile further. That would reduce Exxon's risk profile and investor anxiety over gas exposure while perhaps leading to a higher share price.
Posted-In: Long Ideas M&A News Short Ideas Rumors Futures Commodities Asset Sales Best of Benzinga
View Comments and Join the Discussion!