Is The Coal Carnage Complete?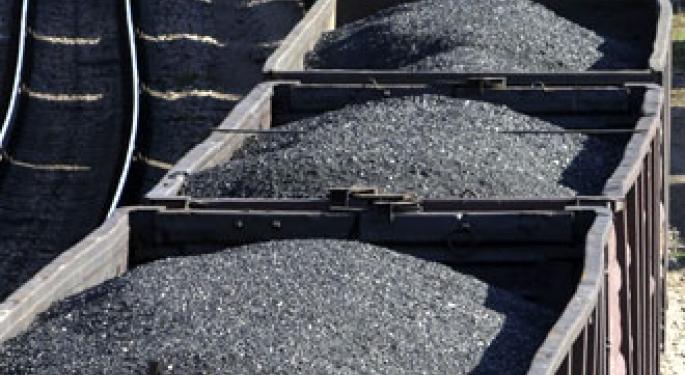 It is well known that 2012 has not been kind to coal stocks. The 30-stock Market Vectors Coal ETF (NYSE: KOL) paints the picture. Year-to-date, KOL has slid 22.4 percent as waning emerging markets demand and depressed natural gas prices have battered coal equities and prices of the commodity itself.
As a high beta, cyclical sector levered to things such as global steel demand, the coal group usually outperforms to the upside when investors view the global economy through rose-colored glasses. Conversely, the sector's downside moves can be deep when investors are skittish about the macroeconomic outlook.
The latter scenario has ruled the roost for coal stocks this year, but a fair assessment must include the fact the group has recently shown signs of life. Even before news of China's $157 billion infrastructure stimulus program crossed the wires, coal stocks were moving higher.
KOL is up 3.3 percent in the past month and now traders expect the deployment of Chinese infrastructure stimulus to deliver more upside for coal equities. The question is with names such as Alpha Natural Resources (NYSE: ANR) and Peabody Energy (NYSE: BTU) up 22.2 and 12.4 percent, respectively, in the past month, how much upside is left?
Maybe a little, though a bear case can be made. For example, Alpha Natural Resources said on Tuesday it "will reduce approximately 1,200 positions from the current workforce of 13,100 employees." Eight mines in Virginia, West Virginia and Pennsylvania will be idled. The company said by early 2013 it will reduce coal production and shipments by 16 million tons.
"Approximately 40 percent of the reduction will come from higher-cost thermal coal operations in the East that are unlikely to be competitive for the foreseeable future," Alpha Natural said in a statement.
One way of interpreting that last quote is that producing thermal coal, the type of coal used by power plants, is not the place to be when electric utilities can get their hands on cleaner, cheaper natural gas. It is possible that it would take a dramatic decline in production and subsequent spike in natural gas futures prices to send electric utilities back to thermal coal from gas.
The thermal coal situation is not much better overseas. Benchmark Australian thermal traded for $87 per ton in June, down from $142 per ton in early 2011. Goldman Sachs said 6 million tons of thermal coal production will be lost in the fourth quarter due to mine closures, another anecdote that illustrates the problems cheap natural gas is causing for coal producers.
The most dour of assessments would be that much of the lost thermal coal production is gone for good with the U.S. shale gas boom being a primary culprit. For coal stocks, this means the bulk of the recovery thesis lies with metallurgical coal demand. Metallurgical coal is the coal grade used in the production of steel. It is the coal variety China, India and other emerging markets were once addicted to.
Alpha Natural Resources is the world's third-largest producer of metallurgical coal. Peabody is major "met" coal producer as well and so is Consol Energy (NYSE: CNX). There may opportunities with met coal, but those opportunities do not come without significant hurdles. Met coal cost $225 per metric ton in July, but plunged to $160 per metric ton earlier this month, Reuters reported.
Slack steel demand prompted Consol to announce the idling of a met coal mine earlier this month. Peabody is facing headwinds in Australia in the form of the Queensland government's proposed royalties on coal production.
Add to those dour headlines is the fact that coking coal prices are falling. Recently, a contract was signed for the fourth quarter that priced coking at $170 per metric ton, well below the third-quarter price of $225 per ton and barely above the spot price of $150 per ton.
If metallurgical coal prices remain below $200 per metric for an extended time frame, that scenario will almost certainly strain the earnings power of companies such as Alpha Natural, Consol, Peabody and Walter Energy. Below $200 per metric ton, these companies will struggle to generate positive free cash flow needed to run their businesses, Bloomberg reported, citing an industry analyst.
All of this sounds bad, but the European sovereign debt crisis, China's record stockpiles of coal and Indonesia's plans to significantly boost coal exports also cannot be ignored. Combined, these factors affirm the notion that coal stocks may make for great short-term trades, but the long-term investment outlook is murky at best.
Posted-In: Long Ideas News Sector ETFs Short Ideas Futures Commodities Global Economics Best of Benzinga
View Comments and Join the Discussion!