Luxury Retailers Tumble; Is It Really China's Fault?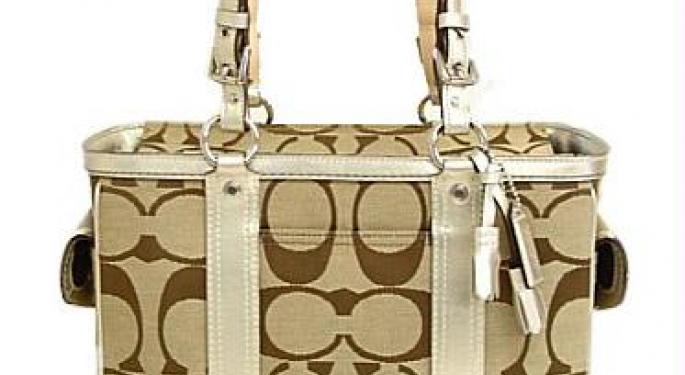 Shares of Burberry (OTC: BURBY), the British luxury goods and apparel maker, are plunging Tuesday after the company warned its pre-tax profit for the 12 months ending March 31, 2013 will fall below analyst expectations.
Burberry said second-quarter sales growth are against "historically high comparatives" and in a Bloomberg interview, CFO Stacey Cartwright said the weakness is "broad-based in all regions."
Translation: Burberry's woes cannot be blamed entirely on China. China, has become a vital part of the growth equation for luxury retailers ranging from Burberry to Coach (NYSE: COH) to Tiffany (NYSE: TIF), among others in recent years. Newly affluent Chinese have shown a voracious appetite for prestigious European and U.S. brands, stoking the thesis that the Asia-Pacific region will, at least in part, buoy top-line growth in the coming years for makers of high-end apparel, jewelry and leather goods.
Burberry's profit warning could be a sign of similarly glum news yet to come from rivals. Judging by the action in shares of other luxury goods firms, the market seems to be expecting as much. Burberry's U.S.-listed shares are down about 20 percent on volume that is already more than 20 times the daily average.
On a day when the S&P 500 is trading higher, shares of Ralph Lauren (NYSE: RL) are off 3.1 percent on volume that is close to double the daily average. Coach and Tiffany, two companies with significant China exposure, are both off more than one percent with volume above average in the former. Michael Kors (NYSE: KORS), which touched a new all-time high last week, is off two percent.
There is another signal that Burberry's comments about broad-based weakness across multiple regions may be an indicator of things to come from comparable companies. The Global X China Consumer ETF (NYSE: CHIQ) is trading higher by one percent. At $13, CHIQ is residing at levels not seen since July.
CHIQ's average daily volume is just 29,350 shares, so it is hard to call this a "bellwether" ETF. On the other hand, CHIQ is not small as it is home to $107.2 million in assets under management, according to Global X data.
China has already announced a massive infrastructure stimulus plan and should policymakers there continue to execute, CHIQ stands to be a prime beneficiary of such news.
Said differently, there is some level of noteworthy disconnect when an ETF tracking stocks heavily exposed to the Chinese consumer is rising and shares of companies that have pinned some of their future growth plans to the Chinese consumer are falling.
Another interesting point is that since December 2009 (one month after CHIQ debuted), there has been little positive correlation between the ETF and stocks such as Coach and Tiffany. The ETF is down 21.5 percent in that time while Tiffany is higher by over 50 percent. Coach has surged 69.2 percent over that time.
Perhaps the trend is set to reverse course as the likes of Burberry, Coach and Tiffany are plagued by weakness in Europe and North America and Chinese stimulus leads to near-term upside in ETFs such as CHIQ.
Posted-In: Long Ideas News Short Ideas Emerging Market ETFs Retail Sales Management Global Intraday Update Best of Benzinga
View Comments and Join the Discussion!