Trading the Charts: High-End vs Low-End Retail (COH, KORS, DG)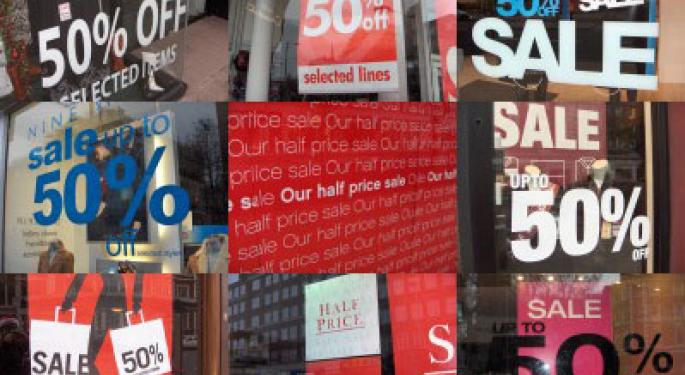 Retail is a highly cyclical sector of the stock market and can provide investors a glimpse into market sentiment and forward-looking expectations for the economy.
The S&P 500 is sitting close to its 2012 highs, but investors should consider whether the market is being driven by fundamental optimism or if other factors are at work, such as low interest rates and the upcoming Presidential election.
If the market is in an optimistic cycle, it would make sense that high-end retail stocks are driving gains in the sector. Conversely, if investors are acting out of caution, it would make sense that lower-end retail stocks would be outperforming.
High End
Tiffany & Co. (NYSE: TIF) - This stock has underperformed the S&P 500 rather dramatically in 2012, notching a loss of nearly 12 percent. At the beginning of May, shares began sliding in a sell-off which culminated in late June. Concerns over slowing growth in Asia, the European debt crisis and an uncertain domestic outlook have weighed on the stock. Nevertheless, since hitting a low of just over $50.00 at the end of June, the stock has begun a new uptrend, closing above $58.00 on Thursday. What could be a concern for investors, however, is that TIF broke a long-term support level earlier this year and the stock is now trying to rise back above that level, which is around $60.00. This support will likely become resistance, and it may be difficult for TIF to convincingly break $60.00 to the upside this year.
Michael Kors (NYSE: KORS) - By all accounts this has been a fabulous retail stock in 2012, with the shares rising almost 90 percent. KORS continues to act very strong and is sitting near new all-time high levels, having recently broken above $50.00. From a technical perspective, KORS might be the top high-end retail stock for momentum-oriented investors to own. The company only came public in December 2011, however, and as a result it does not have much of a stock market track record. Although KORS is not representative of the high-end sector as a whole, this stock is extremely attractive from a technical perspective.
Coach (NYSE: COH) - This stock chart has some similarities to Tiffany. Shares started out the year strong, but have since fallen somewhat dramatically. Currently, COH is nursing a better than 9 percent loss in 2012. A disappointing earnings report issued in late July suggests that Coach is struggling with a lackluster consumer environment for its merchandise, which could be considered at the higher-end of the consumer scale.
Saks (NYSE: SKS) - Unlike Tiffany and Coach, this stock is doing very well in 2012 and is sitting at new year-to-date highs. In 2012, SKS has risen nearly 20% and continues to look strong from a technical perspective. This stock would be even more interesting if it could break above $12.00 on heavy volume. Investors should note, however, that much of Saks strong performance can be attributed to the last month, during which shares have risen almost 17 percent. Currently, Saks appears to be riding the general strong stock market wave.
A look at 4 high-end retail stocks suggests that investors are being choosy about names. While KORS and SKS look great, TIF and COH have been struggling quite a bit. This suggests that investors need to be selective about where they allocate capital in the high-end retail space. Certainly, the current market environment is not one where you can just pick any luxury retail name and ride it to higher prices on the back of a strong cyclical uptick.
Low End
Wal-Mart (NYSE: WMT) - This has been an absolutely fabulous stock in 2012, and WMT's long-term chart looks very bullish. A look at the 10 year chart of WMT shows that in 2012 the stock has broken out of a decade long trading range. A powerful breakout from a very long consolidation period is an extremely bullish pattern. In 2012, the stock is now up almost 20 percent and is sitting near new all-time highs. Wal-Mart is an attractive stock for a number of reasons. First, it is somewhat insulated from cyclical gyrations because of its heavy exposure to the lower-end consumer. In difficult economic times, Wal-Mart has the ability to actually gain new customers as they trade down and become more conservative with regard to shopping habits. It also offers investors a high degree of safety due to its position as the largest retailer in the world and its stable business. Furthermore, shares are yielding over 2 percent at current levels, and the company should have the ability to keep raising that dividend.
Target (NYSE: TGT) - Target seems to be capitalizing on the same trends as Wal-Mart. Shares of the much-smaller Target are now up almost 23 percent in 2012 and the stock is trading at multi-year highs. Technically, Target looks very good above $60.00. It closed on Thursday at $62.99. In addition to a relatively stable business at the lower-end of the retail spectrum, Target is also yielding around 2.3 percent. Like Wal-Mart, this stock is one that investors should find attractive for its relative safety and its ability to also offer capital appreciation.
Costco (NASDAQ: COST) - Like its peers in the less cyclical area of the retail sector, COST has been a good stock to own in 2012. The shares have risen almost 14% year-to-date and are sitting near new all-time highs. In addition to its strong technical outlook in the short-term, COST also boasts a wonderful looking long-term chart. Warren Buffett's Berkshire Hathaway (NYSE: BRK.A)(NYSE: BRK.B) owns a nearly $400 million position in this low cost wholesaler. One complaint that investors might have about COST is its relatively paltry dividend yield of just over 1 percent.
Dollar General (NYSE: DG) - Just like the others, this low-cost retailer has been a wonderful stock this year. Shares have risen almost 21 percent and DG has been rising on an extremely consistent basis ever since the company went public in 2006. Shares have pulled back slightly over the last month, falling around 5 percent, and this could be an opportunity for investors to take a position. Unfortunately, DG does not offer a dividend yield, and this might be an issue for some income-oriented investors. Nevertheless, DG is an excellent way to gain exposure to the bull market that is taking place in lower-end retail.
Conclusion - A look at the charts of some prominent retailers offers a number of insights into the nature of the current market and general economic sentiment. While some high-end names have performed well, the space as a whole has been hit or miss and it is important that investors are selective with their stock picks.
In all likelihood, luxury retailers will fare worse than lower-end names if conditions continue to deteriorate in Europe. Worsening economic conditions in Asia and the United States could also cause traders to dump these stocks very quickly.
While high-end retail is showing some signs of investor jitters, the lower-end space appears to be in a real bull market, led by Wal-Mart. These stocks have an awful lot to offer in the current environment. Given the persistent difficult economic landscape, many consumers are trading down and staying there.
This benefits the publicly traded dollar stores and retailers like Wal-Mart, Costco, and Target. Furthermore, if sentiment improves, these stocks will benefit from a rising market. Conversely, if the market becomes tumultuous, conservative retail names will likely outperform as investors seek safe-havens.
Posted-In: Long Ideas Short Ideas Dividends Technicals Economics Markets Trading Ideas Best of Benzinga
View Comments and Join the Discussion!