Despite Bounce, Petrobras Still Problematic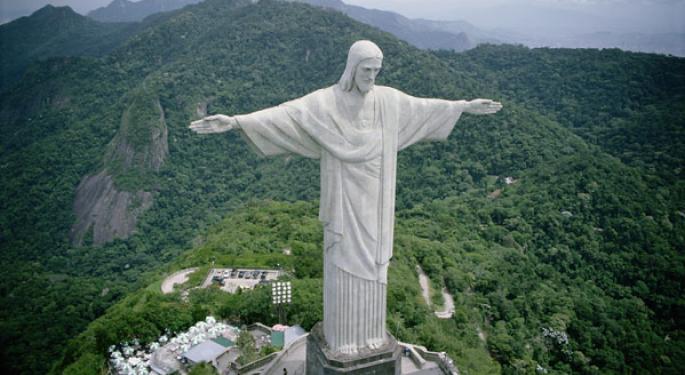 Shares of Petrobras (NYSE: PBR), Brazil's state-run oil company, have surged 14.1 percent in the past month, a performance that leaves some of the company's primary rivals in the dust. Over the same time, the average gain for Exxon Mobil (NYSE: XOM), Chevron (NYSE: CVX) and BP (NYSE: BP) is just over three percent.
Under most circumstances, a 14 percent gain in the span of a month would please investors. That is not the case with those that have been long-term holders of the stock. Over the past two years, Petrobras has been one of the worst-performing major oil stocks in the world. Since the days following the Gulf of Mexico oil spill, BP has managed to outpace Petrobras.
Part of the problem has been the fact that the Brazilian government is the biggest investor in Petrobras. However, investors are likely to have little tolerance for that excuse because Colombia's Ecopetrol (NYSE: EC) is a state-controlled oil producer. In the past five years while Petrobras has lost about 20 percent, shares of Ecopetrol have surged 117 percent.
Government Looms Large In late September 2010, Petrobras commenced a $70 billion secondary share offering that diluted investors. At the time, Mark Mobius, executive chairman of Templeton Asset Management, called the offering an "abomination".
Mobius appears to have been correct in his assessment of the Petrobras secondary, the largest share offering on record. The stock was trading around $35 in late September 2010. It closed below $22 on August 23.
Criticism of the secondary was rampant among investors with most left feeling the Brazilian government engineered the sale so Petrobras could purchase billions of dollars worth of oil from the government with the proceeds. However, the specter of government interference as it pertains to Brazil and Petrobras does not end there.
Brazilian prosecutors are seeking $20 billion in damages from Chevron and Transocean (NYSE: RIG) related to a spill off Brazil's coast in November 2011. Even Petrobras has publicly said this potential punishment is not befitting of the alleged crime.
Seventeen Chevron and Transocean employees have been charged with crimes, some carrying multi-decade jail sentences, for their roles in a spill that leaked a mere 3,000 barrels. That is less than one thousandth of BP's 2010 Deepwater Horizon fiasco in the Gulf of Mexico, according to Reuters.
An obvious reaction to the Chevron/Transocean imbroglio in Brazil has been for foreign investors to question the country's political environment. Unfortunately for Petrobras, which does need to partner with foreign companies on some of Brazil's pre-salt fields, the message has been that political risk in Brazil compares unfavorably with other South American economies.
Long-Term Outlook Murky In theory, the long-term outlook for Petrobras should be bright. By some estimates, Brazil's pre-salt fields hold up to 55 billion barrels of oil and the country is one of just a handful that is currently home to rising oil production. With demand expected to outstrip supply in the coming years, Petrobras should be sitting in the sweet spot of an oil boom that triggers higher share prices.
There are no guarantees in the financial markets, particularly in the oil patch, but even if the aforementioned scenarios work in favor of Petrobras, the stock's long-term outlook is murky. For starters, it would take years to change Brazilian politics, assuming the country even wants that type of change. Simply put, the longer the Brazilian government acts as Petrobras' de facto CEO, the longer the stock will struggle.
Petrobras is an even harder hold for long-term investors because its lack of a large dividend. The U.S. listed shares ended Thursday's session with an anemic dividend yield of 1.1 percent. By comparison, Chevron's yield is nearly triple that. BP and Total (NYSE: TOT) both sport dividend yields that are more than quadruple of what Petrobras has. Ecopetrol currently yields almost six percent.
In the essence of alliteration, perhaps passing on problematic Petrobras is plausible for long term investors.
Posted-In: Long Ideas News Short Ideas Dividends Commodities Politics Legal Events Best of Benzinga
View Comments and Join the Discussion!