Why Apple Could and Should Buy Nuance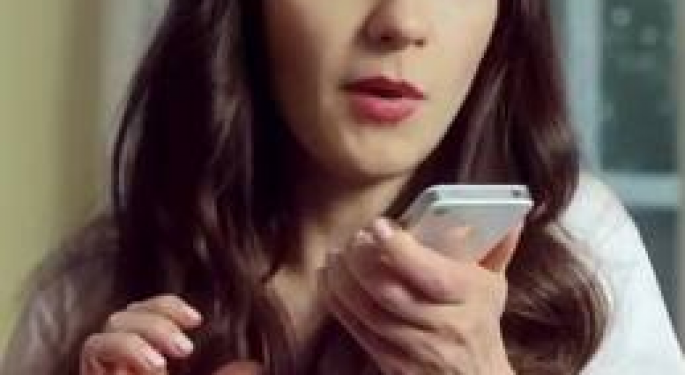 Apple could (and probably should) buy Nuance Communications (NASDAQ: NUAN) with part of its $117 billion cash stash. Acquiring Nuance would help it keep an interface technology lead over its smartphone and tablet rivals.
"Nuance's market value is $6.3 billion: Even if Apple paid twice as much, it would be a worthwhile investment," said Dealbook columnist Andrew Ross Sorkin in his latest column. He added that Nuance would be a "no brainer" purchase for Apple.
Sorkin is not the first to suggest that Apple and Nuance should hook up. That honor goes to Apple co-founder Steve Wozniak, who unintentionally said in November 2010 that Apple had purchased the speech-recognition company. He quickly clarified that he had misspoke -- he seemed to be referring to another recent Apple purchase.
Woz's comments at the time helped to capture the market's attention about a potential Apple/Nuance merger.
It's a pairing that may make even more sense given the growing importance of speech software. The divergence between the price of the two stocks makes the deal even easier for Apple to digest. Shares of Apple have rallied about a third since the start of the year, while shares of Nuance have lost over 30 percent of their value in the same period: As a result, Apple could now buy Nuance 10 times over, even with a 40% premium.
Regardless of what it had to pay, Apple can use Nuance to give it a technology edge well into the future. Apple now holds a slight lead with its Nuance-powered, Siri voice-based interface for the iPhone 4S. Yet, Samsung is catching up and making inroads with its own voice-controlled Galaxy phones, also with help from Nuance.
Samsung is already threatening to overtake Apple's lead in the global smartphone market later this year, as consumers snatch up Samsung models with their relatively larger screens. Apple cannot afford to let Samsung also beat it in voice technology.
Buying Nuance would nip that threat, helping Apple keep the best voice-recognition technology for its own hardware going forward – a competitive edge it can also leverage versus Google (NASDAQ: GOOG), Amazon (NASDAQ: AMZN) and Microsoft (NASDAQ: MSFT).
Nuance would also help Apple in its quest to enter other consumer markets. Nuance is thought to be working on an Apple TV product that would allow users to surf Apple's vast content collections through voice commands.
Already, Samsung and LG are leveraging Nuance speech software in their Internet-connected TV models. More vendors may take the plunge ahead of the holiday season.
There are potential speech-recognition applications for TV set-top boxes, gaming systems and even Blu-Ray players. Also, there is the opportunity for Apple to place more computer hardware in vehicles, using Nuance-powered voice-activated controls.
Some parts of the Nuance business would likely be divested in any deal. It is not clear if Apple would take on the software company's enterprise business.
There may be only slight interest in owning Nuance's mobile service assistant, Nina. It is expected to include a software developer kit that can be customized for different applications – say healthcare or banking. It is expected to recognize more industry-specific language than Apple's Siri, for instance. The company is expected to announce Nina in the coming days.
Yet it remains unclear how Nina could help Apple sell more hardware to enterprises.
Nuance's medical business is even more likely to be divested in any deal. Potential buyers could include a diversified hardware company such as IBM (NYSE: IBM), or perhaps a company like AllScripts (NASDAQ: MDRX) that provides medical records back-end systems. Nuance already provides voice-activated transcription for AllScripts.
A deal with Nuance could provide earnings synergies. Nuance is expected to boost EPS just 11.5% next year, short of Apple's 19% expected growth. But gross margin estimates are 69%, far higher than Apple's at 42.8%.
The enterprise value to EBITDA multiple –- the valuation multiple most often used by bankers -– would be steep, at more than 20 times even without a premium. There's little getting around that fact, even when using forward multiples, and when factoring in business line spinoffs.
Still, Apple can certainly afford it. The company is raking in about $1 billion a day.
With the advantages Nuance could provide, and the ever-increasing competition, there's an argument to be made that what Apple cannot afford is to do nothing.
Posted-In: Long Ideas News M&A Tech Trading Ideas Best of Benzinga
View Comments and Join the Discussion!