ETF Pair Trade From New Constructs (AAPL, XLK, FDN, PXN, AMZN)
New Constructs, a financial research firm, is out with an ETF Pair Trade to Navigate Shifty Tech Stocks. The main strategy employed here is a long/short, in which an investor would long a technology ETF with high-quality stocks and short one with low quality stocks, and also take advantage of expense ratio differentials. New Constructs rates stocks and ETF's on a scale from very dangerous to very attractive, based on quality of earnings and other valuation metrics.
The proposed trade, which allows traders to take advantage of this in depth research, is to go long the Technology Select Sector SPDR (NYSE: XLK) and short the PowerShares Lux Nanotech Portfolio (NYSE: PXN). The head researcher, David Trainer, admits that the ETF to be shorted is rather illiquid, and that an alternative to this ETF is the First Trust DJ Internet Index Fund (NYSE: FDN). Here is the rationale:
"XLK gets my Attractive rating because it allocates 64% of its value to Attractive-or-better rated stocks. Only 12.5% of the portfolio is in Dangerous-rated stocks and nothing is in Very Dangerous-rated stocks. XLK also has a low expense ratio of 0.18%, better than 89% of all ETFs. On the other hand, PXN and FDN charge 0.66% (higher than 70% of ETFs) or 3.5 times as much as XLK – and – they are in much lower quality stocks. PXN allocates nearly 50% of its portfolio to Dangerous-or-worse-rated stocks. FDN allocates over 40% to Dangerous-or-worse-rated stocks. Both allocate only about 27-28% to Attractive-or-better-rated stocks. PXN gets my Dangerous rating. FDN gets my Neutral rating." He concludes by adding that, "This pair trade gives investors exposure to the best that Tech ETFs offer and minimizes risk of loss by shorting the worst that Tech ETFs have to offer. Win win."
Trainer continues to like Apple (NASDAQ: AAPL) (which we covered in depth after the release of the Einhorn Quarterly Letter here and here), the largest component of the XLK, due to its Return on Invested Capital (ROIC). " A 270% ROIC means that the company generated, in 2011, $2.70 of after-tax cash flow (NOPAT) for every dollar of capital put into the business over its life. In other words, Apple generated enough cash flow to pay off its original investors 2.7 times in one year. In 2010, Apple's ROIC was 206%."
Trainer's least favorite stock held in PXN and FDN is Amazon.com (NASDAQ: AMZN); he calls it a good company but a bad stock. "By good company, I mean that it is respectably profitable and has a decent ROIC of 12% (ranks in the 2nd quintile). By bad stock, I mean that it is too expensive. The cash flow expectations embedded in $215/share for AMZN are 25% NOPAT growth compounded annually for 12 years. Those are some seriously high expectations for a company in as competitive a business as retail."
Disclosure: David Trainer owns Apple and receives no compensation to write about any specific stock, sector, or theme.
Stock chart: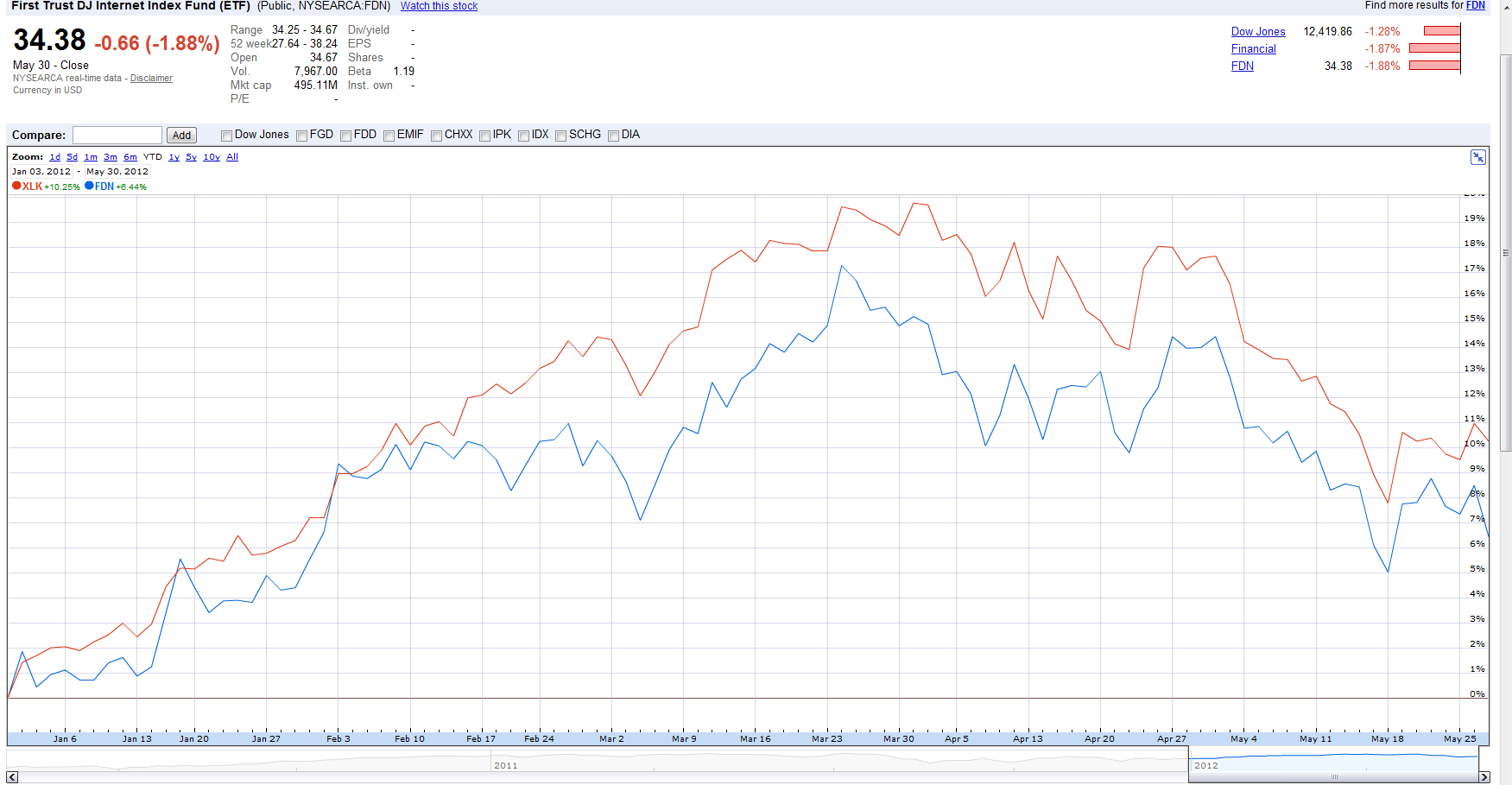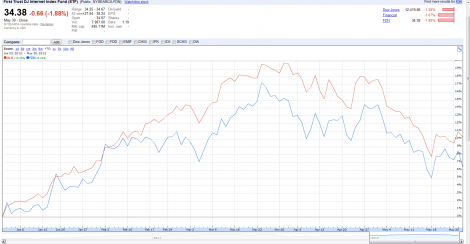 Posted-In: Long Ideas Sector ETFs Short Ideas Specialty ETFs After-Hours Center Markets Analyst Ratings Trading Ideas Best of Benzinga
View Comments and Join the Discussion!