NASDAQ Long Run Fibonacci Technical Outlook
Fibonacci numbers were developed by Leonardo Fibonacci in early 13th century. The Fibonacci sequence is a series of numbers that when you add the previous two numbers you come up with the next number in the sequence. So for example 1, 2 add up and you have 3 and then 2 plus 3 and you have 5 and so on. The first numbers in the series are:
1, 2, 3, 5, 8, 13, 21, 34, 55. Now, what is the importance of the Fibonacci series in Stock Market trading and especially how is this related to the Nasdaq Index?
The answer is actually embedded on nature itself. The ratios of the Fibonacci series appear constantly on biological settings such as branching in trees, arrangement of leaves on a stem, the fruit spouts of a pineapple,the dimensions of human body and so on. The Stock Market is nothing but a reaction to human behavior and our own decisions and a chart is in many ways the visual demonstration of this. Therefore, Fibonacci retracements are a natural setting to represent those human (biological) decisions.
In relation to the NASDAQ, the application of Fibonacci as an indicator for support and resistance levels actually works very well. Retracements in the graph shows that the level of 2900 and 2600 worked nicely during the first part of 2011 as a channeling pattern, and a Fibonacci Fan works just as well to define the depth of the correction during the October lows.
January 2011 gives a nice entry into a trending up run for the Nasdaq, which can be technically find at the 2600 Fibonacci level and the point where the MA 10, 20, 40 and 50 converged. We have experienced a pair of pulse backs on the Index during the March and April months to levels well defined by the upper part of the Fibonacci Fan, acting as support level right now.
And the future? Without considering other indicators we could argue that the Fibonacci Fan would continue working well as resistance level and the trending up would go further, first to the best levels of the year - 3120 and maybe above. Considering the big picture, we may have a totally different story. There is a clear divergence between the direction of the Index and the MACD, an indication the Index is loosing steam and the RSI indicator is below its 50 level, which normally means the run is getting low of gas.
The verdict? For purists who highly regard the almost magical properties of Fibonacci we could suggest the Nasdaq should continue trading up as long as it doesn't break down its Fan support. For those who prefer to see the broad picture, a word of precaution is advisable at this point and further correction of the Index may be next.
Stock chart: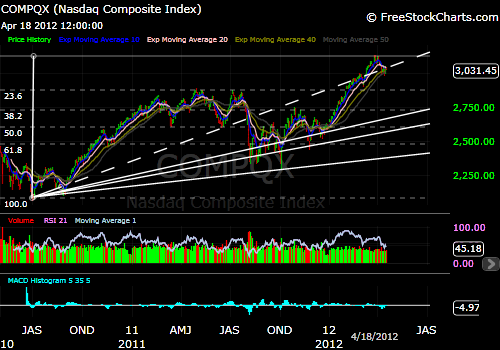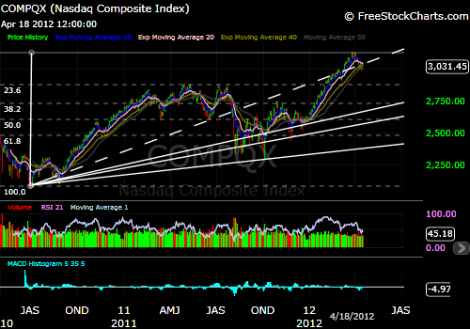 Posted-In: Long Ideas Technicals Markets Trading Ideas
View Comments and Join the Discussion!