With Weight Watchers, Oprah May Have Shed 45 Pounds, But Her Wallet's Put On A Few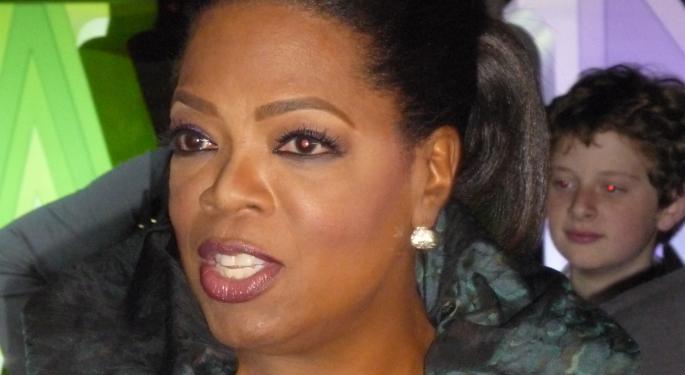 Two years ago, Oprah Winfrey joined Weight Watchers International, Inc. (NYSE: WTW) 40-some pounds heavier and $258,353,457 lighter — according to "before" and "after" photos and the SEC.
Winfrey enrolled in the program in August 2015 and, within two months, joined the board and investor base.
The philanthropist and talk show host purchased an initial 6,362,103 shares around $6.97 on Oct. 18, 2015, and was gifted varying sums each quarter thereafter to bring her total up to 6,369,893 shares, according to regulatory filings.
Today, the stock trades at $47.52, and her original investment of an estimated $44,343,857.90 is now worth $302,327,135. If she had liquidated bought and gifted shares at Wednesday's closing rate, with Weight Watchers up 582 percent, she'd have walked with a $258,353,457 profit.
Update: On November 6, Weight Watchers reported strong Q3 results and improved its outlook for 2017. Based on pre-market trading, the stock is at $50.94, meaning her investment would be worth now $324,085,527, up 631 percent.
Notably, Winfrey has the option to buy another 3,513,468 at her initial purchase price through 2025.
The Weight Watchers Story
Weight Watchers' once-$85 stock fell steadily from its 2011 peak to its 2015, $4 nadir. But once the company won Winfrey, it began loosening its belt. Winfrey propelled the stock north of $25, and it's traded above $10 ever since she got on board.
Year-to-date, it's beefed up 315 percent driven by a Winfrey-centric ad campaign, new CEO appointment and multiple earnings beats. And whenever the firm played the 'O' card or Winfrey talked weight, it feasted.
Notably, the only two analysts covering the stock maintain Hold and Sell ratings, with price targets ranging from $8 to $28.
Busting That Diet
In August, Winfrey announced a partnership with Kraft Heinz Co (NASDAQ: KHC) on a brand of soups and other comfort foods called "O, That's Good!" Investors are watching to see if the "O Effect" inspiring Weight Watchers' run can do the same for the fattier Kraft.
Related Link: Can Oprah Do For Kraft Heinz What She Did For Weight Watchers?
________ Image Credit: By Greg Hernandez from California, CA, USA (Oprah Winfrey at 2011 TCA) [CC BY 2.0 (http://creativecommons.org/licenses/by/2.0)],
Posted-In: Oprah WinfreyTrading Ideas Best of Benzinga
View Comments and Join the Discussion!