Can Oprah Do For Kraft Heinz What She Did For Weight Watchers?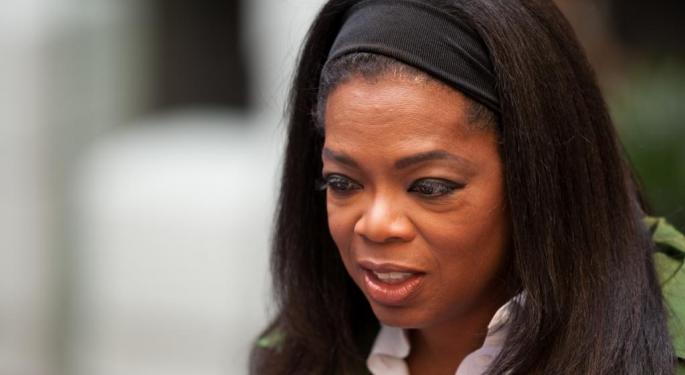 We've known for a long time that brands partnering with celebrities can often lead to an increase in product sales. One of the best examples of this has occurred over the past two years, as Oprah Winfrey shed pounds in exchange for millions of dollars of gains in Weight Watchers' stock.
In 2015, when Oprah acquired a 10 percent stake in Weight Watchers International, Inc. (NYSE: WTW) we saw the stock surge by 300 percent in a very short amount of time. But this was no flash in the pan. In fact, earlier this year we noticed that Weight Watchers was getting a strong increase in purchase intent mentions on Twitter Inc (NYSE: TWTR), a key indicator that consumers are doing more business with a company.
This social-data insight turned out to be a big winner, as the stock nearly doubled in just a few months as Wall Street woke up to the groundswell of consumer interest in joining Oprah on her Weight Watchers journey.
See Also: Investors Shoulnd't Bet Against Oprah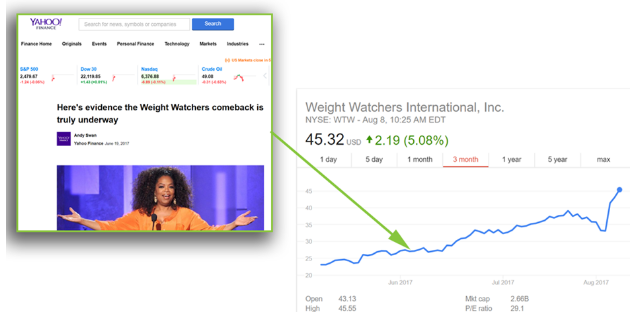 LikeFolio identified through Twitter data that consumers were flocking to join Weight watchers-- the stock has almost doubled since.
Can Oprah Do It Again?
Earlier this month, Oprah announced a blockbuster deal with Kraft Heinz Co (NASDAQ: KHC) to create a line of refrigerated comfort food called "O, That's Good!" Essentially, Oprah will become the face of a completely new line of soups and other dishes from the food maker.
Although Oprah's line will only be a small portion of the massive Kraft Heinz umbrella, the "O Effect" could still be very real, very meaningful, and very quick. When she took to Twitter during her Weight Watchers partnership, we saw purchase intent mentions soar! Below you'll see a chart of these mentions with the all-important New Year's resolution window circled.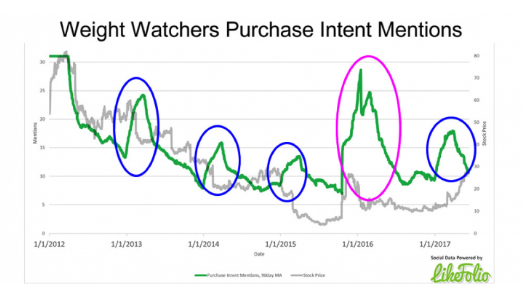 What's telling about this chart is how extreme the first year Oprah-effect was. You can see, circled in pink that purchase intent mentions skyrocketed immediately after Oprah announced her partnership and began promoting the company on Twitter. Even better for investors, the stock wasn't far behind.
Will Kraft-Heinz see the same massive benefits?
Time will tell, but like with Weight Watchers, we expect that Oprah's promotional efforts, along with consumer comments on social media, will be giving us some very strong clues as to the success of this exciting partnership.
LikeFolio monitors Twitter for shifts in consumer behavior. The LikeFolio app notifies investors of shifts in consumer behaviors, as well as providing real-time alerts when influential people like Oprah tweet about the brands and products of public companies.
Image Credit: Bill Ebbesen (Transferred from en.wikipedia) via Wikimedia Commons
View Comments and Join the Discussion!
Posted-In: LikeFolio Oprah Oprah WinfreyMovers & Shakers Top Stories Trading Ideas General Best of Benzinga