A Case For Investing In Smaller Banks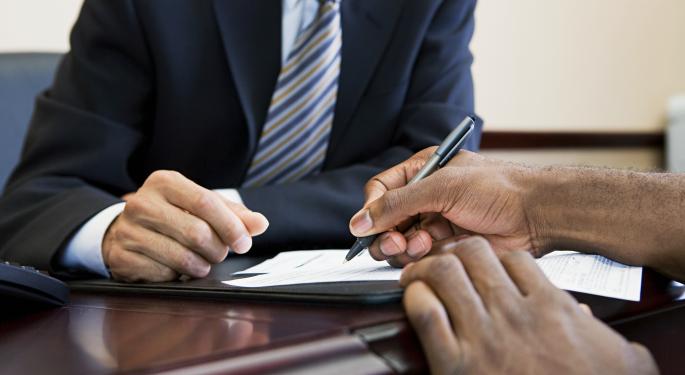 Nate Tobik likes to think small -- when it comes to banks.
"I like the regional banks over the large banks," he said.
Tobik is an investor and the founder of CompleteBankData.com. He recently joined Benzinga's #PreMarket Prep to talk about why he thinks there is more opportunity in retail banks than in banking giants like JPMorgan Chase & Co. and Wells Fargo & Co.
Related Link: What To Expect In Markets Before This Week's Unemployment Number
Tobik explained that there is a Federal rule on how much deposit market share a bank can have in any specific market.
"The Federal Reserve and the [Federal Deposit Insurance Corporation] look at each metropolitan market area, and they have this concentration index that they use," he said. "So a bank can't have more than a specific score per area."
This is why no single bank is allowed to dominate any specific market.
But Tobak said this is also exactly why smaller banks like PNC Financial Services Group Inc (NYSE: PNC) and Fifth Third Bancorp (NASDAQ: FITB) can grow more than larger banks. He explained that those smaller banks are taking advantage of the market, but aren't bumping up against the Federal rules.
Looked at a few 'revered' brands from 2004, all underperformed the market this past decade. Buying 'good' companies isn't enough

— Nate Tobik (@oddballstocks) October 17, 2014
"So they can grow by acquisition in markets where they don't have significant presence and that's something that -- you're not going to see Bank of America taking on a meaningful acquisition at any point soon," he said. "Whereas, I wouldn't be surprised to see Fifth-Third or PNC acquiring some smaller banks at some point."
He also talked about Goldman Sachs Group Inc (NYSE: GS) and bank stress tests.
Check out his full interview here:
Don't forget to tune in to Benzinga's #PreMarket Prep Monday-Friday 8-9:45 a.m. ET for all of the premarket info, news and data needed to start the trading day.
Posted-In: banks Benzinga #PreMarket Prep CompleteBankData fifth third Investing Nate TobikTrading Ideas Interview Best of Benzinga
View Comments and Join the Discussion!