Goldman Sachs And Other Top Financial Stock Picks For 2014 From Credit Suisse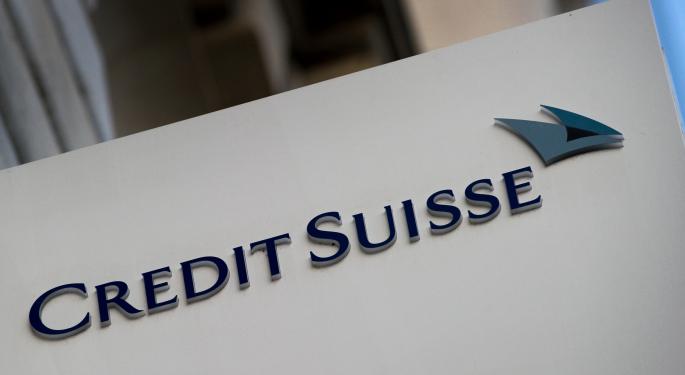 Among the financial stocks that analysts at Credit Suisse expect to flourish in the coming year are private equity firms Apollo Global Management (NYSE: APO) and Blackstone Group (NYSE: BX), as well as investment broker giant Goldman Sachs Group (NYSE: GS) and asset manager State Street (NYSE: STT).
In its research report out this past week, Credit Suisse was selective with its picks in the sector. After a strong year, many of the stocks have returned to their trading multiples from before the financial crisis. Also, the impending Volcker Rule changes are likely to have some effect on many Wall Street institutions.
Note that other financial stocks that Credit Suisse also featured in its report include Carlyle Group, FXCM, Interncontinental Exchange and Lazard.
See also: Danger Zone: Momentum Investors And The Financial Sector
Apollo Global Management
When Apollo recently exited its stake in payment processor Evertec, it saw a profit of approximately 400 percent. The firm sports a market capitalization of more than $4 billion, with a dividend yield of about 0.9 percent. Its price-to-earnings (P/E) ratio is less than the industry average, and its return on equity is about 80 percent.
All of the 15 analysts surveyed by Thomson/First Call recommend buying shares. Five of them rate the stock at Strong Buy. The mean price target, or where analysts expect the share price to go, is more than 14 percent higher than the current share price. The consensus target would be a new 52-week high.
Shares retreated about eight percent in November but have stabilized since. The share price still is more than 27 percent higher than six months ago. In that time, the stock has outperformed the broader markets and Carlyle Group, but it has underperformed Blackstone Group.
Blackstone Group
Blackstone saw what some consider a surprise profit from its successful initial public offering of Hilton Worldwide last week. Blackstone has a market cap of more than $16 billion. The dividend yield is a nice 3.4 percent, and the long-term earnings per share (EPS) growth forecast is about 16 percent.
Of the 16 analysts surveyed, 14 recommend buying shares, with four of them rating the stock at Strong Buy. But they see a little headroom for shares, as their mean price target is about six percent higher than the current share price. However, shares have not traded at that level since 2007.
The share price reached a new 52-week high last week, and it is up more than 39 percent over the past six months. In that time, Blackstone has outperformed not only the S&P 500 and Dow Jones Industrial Average, but competitors Carlyle Group and KKR as well.
Goldman Sachs
This financial services giant has been preparing for the Volcker Rule for the past few years and it still leans heavily on private equity for its revenue and profit. It has a lower P/E ratio and greater operating margin that competitor Morgan Stanley. The market cap is more than $77 billion, and the dividend yield is about 1.3 percent.
For the past three months, analysts have by and large recommended holding shares of Goldman Sachs. Their mean price target is only marginally higher than the current share price. Though overall little upside potential is indicated, the street-high target suggests 11 percent upside.
Shares reached a new multiyear high last week. The share price is more than 27 percent higher than at the beginning of the year. Goldman Sachs has underperformed peers such as Morgan Stanley and J.P. Morgan, as well as the broader markets, over the past six months.
State Street
State Street Global Advisors, the second-largest U.S. provider of exchange traded funds (ETFs) recently launched its SPDR MSCI Beyond BRIC ETF. State Street has a market cap of more than $30 billion. It offers a dividend yield near 1.5 percent, and its P/E ratio is less than the industry average. Short interest is less than one percent of the float.
The consensus recommendation of the analysts polled is to Buy State Street shares, and it has been for at least three months. They see some room for shares to run, as the current share price is around 10 percent below their mean price target. Shares have not been in the neighborhood of that consensus target since 2008.
The share price has retreated more than four percent from a recent 52-week high. The stock is up more than 44 percent year to date, and it has outperformed Northern Trust in the past six months. However, it has underperformed Bank of New York Mellon and the S&P 500 in that time.
See also: Will Dividend Stocks Be The Big Winners In The Budget Deal?
At the time of this writing, the author had no position in the mentioned equities.
Keep up with all the latest breaking news and trading ideas by following us on Twitter.
Posted-In: Bank of New York Mellon Blackstone Group Carlyle Group Credit Suisse fxcm Goldman Sachs Interncontinental ExchangeTrading Ideas Best of Benzinga
View Comments and Join the Discussion!