Social Media Chatter Surrounding Green Mountain's Q4 Results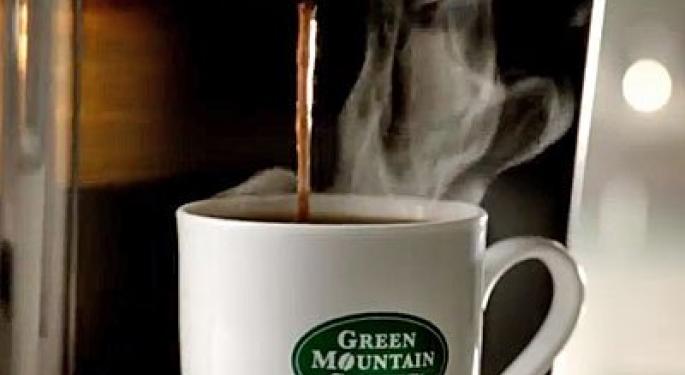 This week, Social Market Analytics (SMA) looks at Green Mountain Coffee Roasters Inc. (NASDAQ: GMCR), a specialty coffee roaster and maker of the Keurig™ single-serve brewing system. GMCR shareholders were handsomely rewarded during the week of November 26. The stock surged over 24% on November 28 after the company released its fiscal fourth-quarter results and raised its adjusted earnings per share guidance for 2013. GMCR reported Q4 earnings of $0.64 per share, easily beating street consensus estimates of $0.48 per share. The also company guided fiscal 2013 earnings per share at $2.64 to $2.74, an increase of 13-18%. Historically, the stock has had high short interest and these results were believed to have alarmed short sellers as GMCR became one of the NASDAQ's top performing stocks for November, gaining 32% for the month.
GMCR is a volatile stock with a rich and active social media signature. GMCR has been SMA's weekly focus four times previously, first in March after major product announcements from Starbucks, again in May after negative earnings guidance, in July as GMCR made unusual gains in the midst of a pessimistic market environment, and most recently in October as the stock reacted to negative commentary from a notable hedge fund manager. During the week, GMCR appeared on SMA's morning Flash Report, which identifies stocks, in the pre-market, with extreme sentiment levels that are likely to trade with high activity during the upcoming session. In the pre-market of November 28, our analytics engine identified GMCR as a stock with high positive sentiment from the universe of stocks tracked by SMA. As the week progressed, SMA's metrics provided initial indication and later confirmation of positive market sentiment for GMCR as traders integrated the company's exceptional performance and highly favorable fiscal guidance.
Beginning on November 27, SMA's S-Score and S-Mean metrics for GMCR entered a transition from neutral to strongly positive territory. In the pre-market of November 28, GMCR's S-Score surged to 2.94 (High Positive), coincident with a ten-fold spike up in S-Volume indicating unusual social media activity for the stock. GMCR opened at $34.55, a large gap up of 20.9% from the previous close. The stock continued to rally closing at $36.86, up 27.3% for the day on high volume. The behavior of SMA's S-Score measures market trading sentiment and can provide actionable signals for upcoming price movement. In the pre-market of November 29, market sentiment for GMCR maintained strong positive levels, posting an S-Score of 1.84 and continuing high social media activity as measured by S-Volume. The stock opened at $36.53, traded flat for the day to end slightly lower at $36.37 but did not experience significant levels of profit taking. On November 30, GMCR ended the week at $36.67, a small gain of 1% for the day, but at a net gain of 30.4% for the week.
Social Media data are noisy and complex. A single metric is insufficient to understand sentiment behavior over time. Our S-Factors are a family of metrics, including volatility, trend and volume measures, designed to provide a complete view of social media signature for each security tracked in SMA's databases. SMA's processing engine continuously updates our S-Factors, capturing overnight and pre-market sentiment activities. Clients receive sentiment reports prior to the U.S. market open and intra-day sentiment estimates for tracked stocks, on-demand. Clients have access to our Sentiment Alerts feature, which provides real-time notification of changes in sentiment metrics for the stocks on a client's customized watch list. We invite the reader to visit our website; investigate our market sentiment metrics for GMCR, other stocks, industry sectors, and market indices; participate in our FAQ forum; and sign up for our Flash Report and Newsletter.
The preceding article is from one of our external contributors. It does not represent the opinion of Benzinga and has not been edited.
Posted-In: Trading Ideas
View Comments and Join the Discussion!