Stocks to Help Your Portfolio Weather Hurricane Sandy (First of a Four Part Series)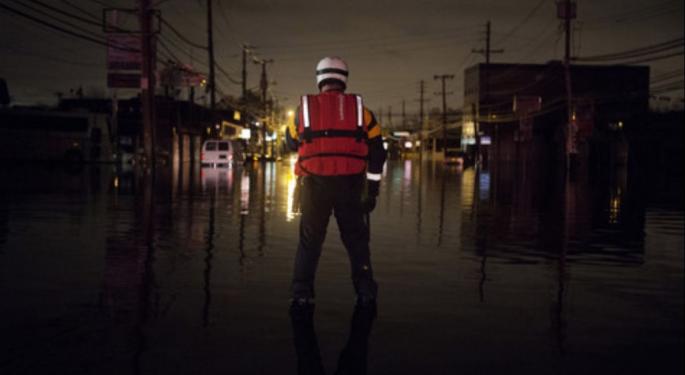 Simplicity is elegant. Straight forward catalysts that can bring investors of many varieties to an equity create greater liquidity and smoother trading. Hurricane Sandy destroyed and damaged hard real estate capital assets. Economic productivity was lost and in the fray many dislocations will occur in the marketplace as we seek to accurately price these shifts in capital flows. The complex analysis of insurers and Wall Street financials is likely to cause a large argument among the "smart money" as bankers and the like rip a part balance sheets in search of a hidden gem. This is a task best left to those who do just that for a living.
For our purposes we will keep it simple and the simple truth is that the aforementioned real estate assets need a fresh coat of paint, a few repairs in hard to reach places, and some shingles on roofs that felt quite a breeze. The following is the first of four stocks with a huge institutional investor base, strong earnings, secular catalysts and technical uptrends that will benefit from Hurricane Sandy.
1. Beacon Roofing Supply, Inc. (BECN)
Beacon distributes roofing and related building materials through 194 branches in 38 states and 6 Canadian provinces. Average weekly volume is slightly below 2 million shares. 319 funds own the stock, a 16.5% increase from this time last year, and a 27.5% increase from this time two years ago. 70% of shares outstanding are owned by these funds, clueing the observant investor in on what appears to be an institutional bull clique forming around this stock. 3% of shares outstanding are owned my management with a large number of options exercised over the last year as this fast growing company finds its way to 52-Week highs. It should be noted that over the last 6 months more than 40% of insider shares have been sold but the number of insider shares is set to grow as year end bonuses will be paid to executives and the board in stock options. Earnings have been growing in earnest over the last 4 quarters beginning with a 51% increase in the quarter ending September 30, 2011, followed by 77%, 154%, and 22% rises in the subsequent 3 quarters. Sales have seen marked growth as well, although not at the same incline indicating that the operators of Beacon have found ways to make the company more efficient at cash management as the companies continues to expand, with 19%, 21%, 33%, and 4% increases over the last 4 quarters. These jumps have brought annual sales just beyond the 2 billion mark. Return on equity sits at 11%, not a striking ratio but in line with the industry and the growth profile of this company.
Price action in Beacon has been in a strong updraft beginning with a stage 1 breakout from a 26 week long, 38% deep, cup with handle pattern in the first week of January 2012 with a pivot point at $20.98. This better than average volume breakout coincided with the 20 day SMA crossing the 50 day SMA and the 50 day SMA crossing the 200 day SMA, this bowtie relative strength pop was a strong indicator that the bulls were beginning to circle in earnest. Beacon has offered 5 additional scale in points since it's initial breakout with a stage 2 flat base, stage 3 consolidation and 3 tight patterns of price action. The up/down volume ratio is currently at 1.3, as the bulls continue to pierce through bids in this equity with improvements in the construction and housing markets. In regards to whale watching screeners, Beacon scores an 8 out 9 on the William J. O'Neil checklist, an 8 out of 16 on the Buffet list, a 10 out of 13 for Benjamin Graham and a 5 out of 5 on the James P. O'Shaughnessy criteria.
For further details on the contents of these checklists please feel free to reach out.
For the second part of this four part series we will cover Home Depot (HD).
The preceding article is from one of our external contributors. It does not represent the opinion of Benzinga and has not been edited.
Posted-In: Trading Ideas
View Comments and Join the Discussion!