Using Micro Charts For Trend Clues
The following is an excerpt form the mid day update by All About Trends. Premium members receive daily market commentary, stock picks, and a concise trading plan. I personally recommend their service. Try it here at a significant discount.
"So where to from here? What do we need to see to say higher from here? Simple just look at the short term index charts below and you'll see that after an up up and away day we are now overbought in micro time frequencies. That needs to be worked off to get us comfortable from here with regards to adding to our holdings via the new names on the long side watch list."  ~yesterday's report
One look at the micro index charts that have been serving us well shows us exactly why we use them per our notes from yesterday and here we are pulling back. What we said yesterday was exactly why you didn't see us jumping in on the long side to any great degree. We talk a lot about not chasing buses around here so consider the recent push up off the lows over the last few days as being a chasing a bus in micro time frequency.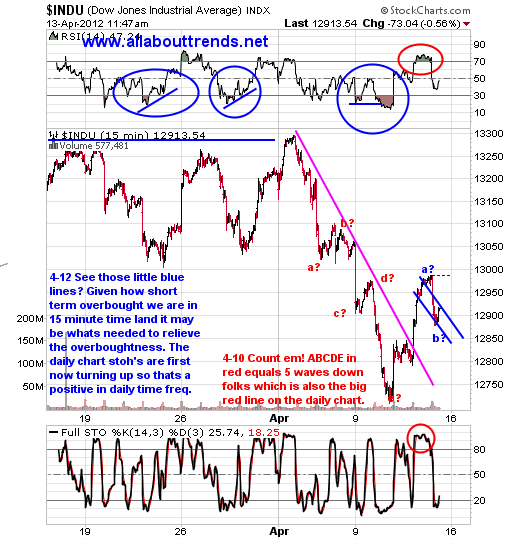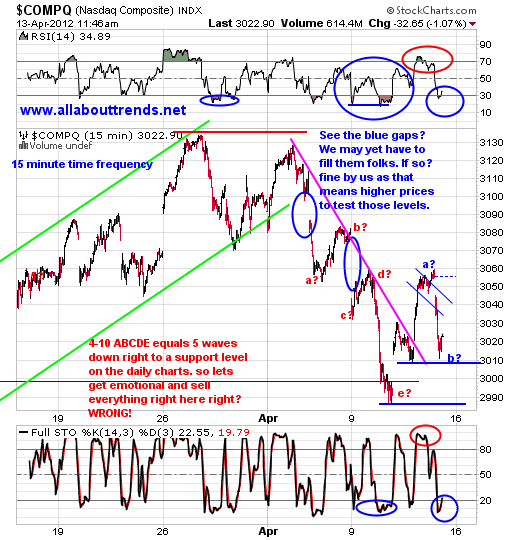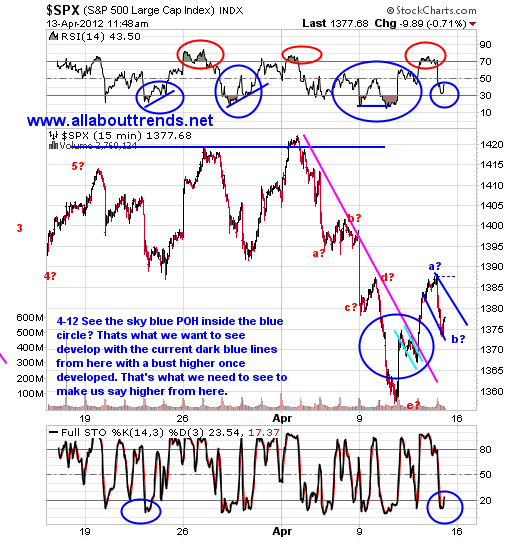 Today we want you to key in on the small thick blue lines and the POTENTIAL blue A B with C up yet to occur. This is the bull count if we are going higher from here. As you can see after today's downswing the Full Stohcatics and the RSI are in oversold territory which is a positive for those looking to nibble on the long side, at least in micro time frequency.
The bear count is that the whole red ABCDE down was a bigger A wave and the swing we just saw up may be the B wave of a bigger ABC down which would mean a retest of the recent lows or even a lower low. We'll touch upon that this weekend via the daily charts of the indexes.
So you see the jury is still out as to direction but even though at this moment in time we see some decent structure that we can work with with the daily charts showing still in oversold.
Yesterday we also said:
"So from here should we see the indexes build out micro bull channels (little blue lines) over the next day or so then get some strength we want to be prepared for that. That is where some of the new names on our long side watch list come into play."
And that is exactly where we find ourselves and what we see building out currently. Its the weekend and taxes are on everyone's mind so let's take it easy here the rest of the day. If one wants to nibble on some things from our watch list with structure then the highest names on our list are (no particular order mind you): subscribe to see watchlist.
The preceding article is from one of our external contributors. It does not represent the opinion of Benzinga and has not been edited.
Posted-In: Trading Ideas
View Comments and Join the Discussion!