The Synergies DisneyNature, Disney Studios Could Enjoy With Nat Geo, 20th Century Fox Acquisitions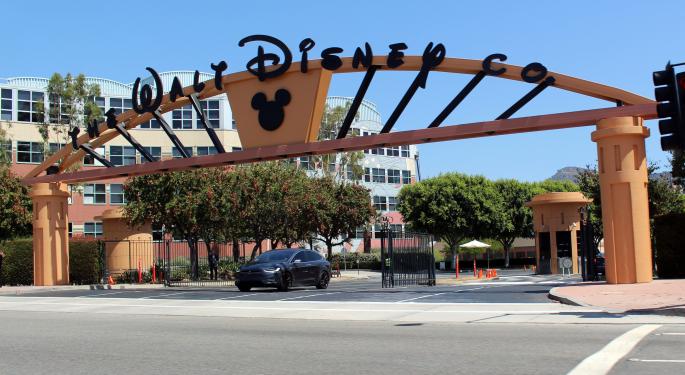 Walt Disney Co (NYSE: DIS) and Twenty-First Century Fox Inc (NASDAQ: FOXA) are reportedly in late talks that could lead to a $60 billion asset transfer as soon as next week.
The deal would infuse Disney with super production powers worthy of its Marvel monopoly and smartly blend similar content.
How A Fox Enticed A Mouse
Between Disney Pictures, Touchstone Pictures, Pixar and Disney Animation Studios, Lucasfilm and Marvel Studios, the Disney production arm can hold its own. But Fox studios lend a special kind of Hollywood clout.
Combined with Fox, Disney can dilute its G-rated slate with the family franchises of "Ice Age," "Night at the Museum" and "How To Train Your Dragon."
It can package its latest "Star Wars" trilogy with Fox's original two.
It can rebuild the power-packed Marvel team, uniting "Avengers" and "Guardians of the Galaxy" with Fox's "Deadpool," "X-Men" and "Fantastic Four."
It can leverage the creative genius behind blockbusters "Avatar" and "Titanic" and critically acclaimed "Hidden Figures" and "The Revenant."
Fox's 20th Century Fox subsidiary, alone, generated more than $1.19 billion in theaters between January and the end of November, according to Box Office Mojo. With Disney's Buena Vista, which controls 18 percent of the market with more than $1.75 billion in 2017 revenue, the entity would claim 30.4 percent of the industry, far surpassing Warner's 20.3 percent.
Nature Versus Nation(al Geographic)
On top of high-value fiction, a Fox-Disney pair would largely control the nature documentary domain, in which DisneyNature has built quite a repertoire.
Its "Bears," "Chimpanzee," "Monkey Kingdom," "Born in China," "Oceans" and "Earth" averaged about $21.4 million in theatrical showings on budgets between $5 million and $10 million each.
Fox's National Geographic would expand the animal series with the $77.4 million-grossing "March of the Penguins," along with "Meerkats," "Pandas: The Journey Home," "Sea Monsters" and "Flying Monsters."
And it would bring the DisneyNature story full circle. Disney CEO Bob Iger once cited "March of the Penguins" as the impetus for DisneyNature, which has also gleaned inspiration from Discovery Communications Inc. (NASDAQ: DISCA) productions and could use like creativity in-house.
In consolidating the assets of National Geographic and DisneyNature, the resulting entity would expand not only its library but its marketing and distribution opportunities.
The wildlife productions could also lay a foundation for Disney's documentary dominance. Its ESPN division recently produced the Oscar-winning "O.J.: Made In America," while National Geographic produced James Cameron's "Deepsea Challenge" and Sundance-winning "Restrepo."
Related Links:
Discovery, Scripps Merger Could Create Specialty Brand For Food, Animal Lovers
21st Century Fox Beset With Suitors As Comcast, Verizon Said To Make Approaches
Media Analyst: Fox Wants To Shed Assets Because It Can't Compete Anymore
Photo by Coolcaesar/Wikimedia.
Posted-In: Disney Pictures Lucasfilm Marvel Studios National Geographic Pixar and Disney Animation StudiosTop Stories Media Trading Ideas Best of Benzinga
View Comments and Join the Discussion!