Are You Part Of The 'Sandwich Generation'? If These Financial Frustrations Look Familiar, You Might Be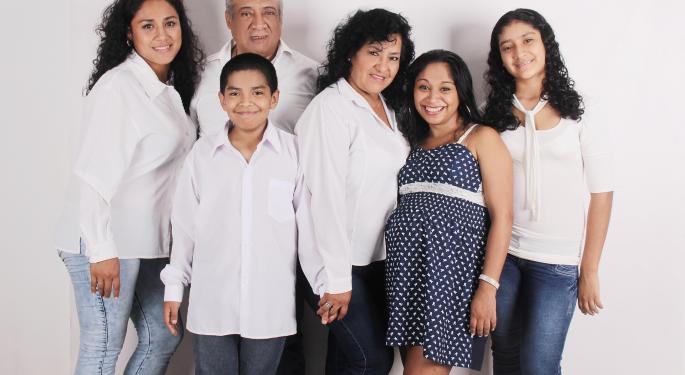 As a demographic firmly situated between aging parents and increasingly independent children, members of the Sandwich Generation frequently feel the financial squeeze from both ends of the equation.
Although middle age is often glamorized as an age of freedom, with the apron strings severed and the fledglings leaving the nest spaciously empty and nothing but time and money to spend, many Baby Boomers and Gen Xers are finding their 40s, 50s and 60s more stressful, not less.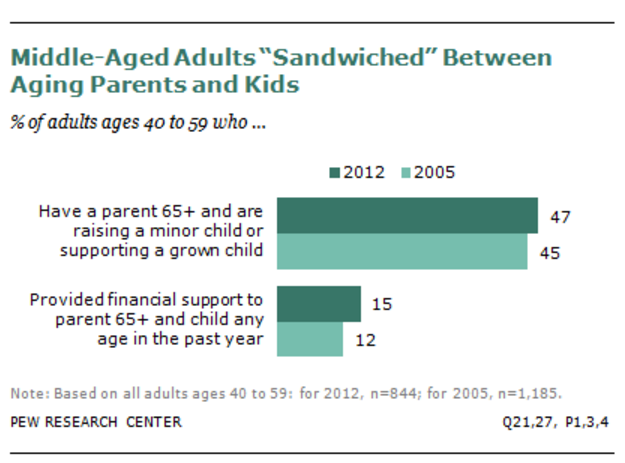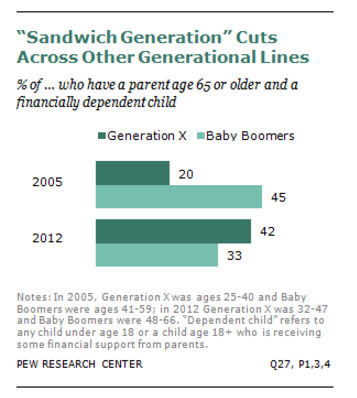 Stuck In The Middle
The older generation, the parents of Sandwichers, are experiencing an exponentially increased lifespan, but with their longevity comes financial difficulties. Social Security cannot keep up with the aging population, so many elderly are struggling to support themselves. Add to the lack of government-funded financial support the cost of healthcare and elderly care, and many late-retirees find themselves looking toward their children for help.
The younger generation, the children of Sandwichers, are gaining independence. Unfortunately, financial independence is not always the smooth journey young graduates anticipate. Combine inexperience and naivety with the still struggling employment environment, and many Millennials end up "boomeranging," bouncing back to the security of their parents.
Therefore, instead of enjoying the care-free midlife years, Sandwichers are finding themselves more financially strained than they were before; worse still, the prevailing notion of what middle age looks like remains highly ignorant of this increasingly frequent experience.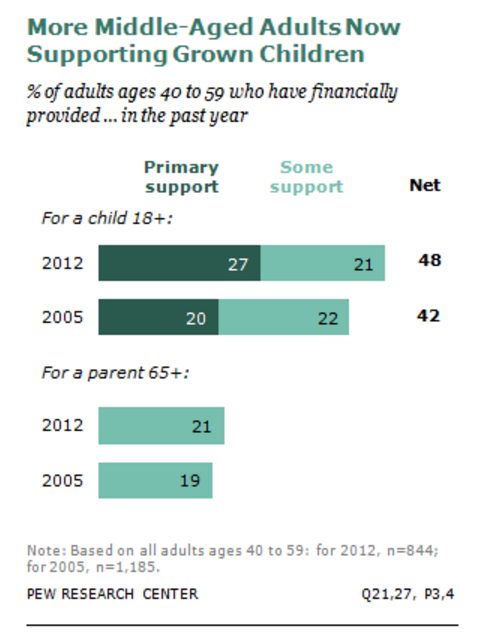 Financial Stress And The Sandwichers
According to the most recent Pew Research on the Sandwich Generation, financial stress among 40-59 year olds is likely to increase the more people they help financially. "For members of the sandwich generation who not only have an aging parent but have also provided financial assistance to a parent, the strain of supporting multiple family members can have an impact on financial well-being," the research organization says.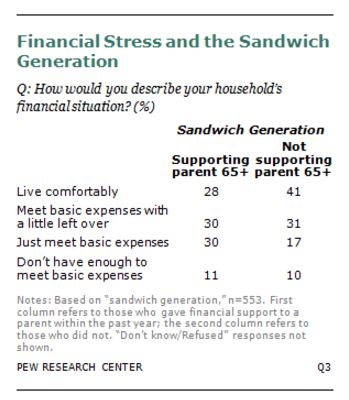 Common Stressors And Some Coping Techniques
Being financially strung between two generations may leave Sandwichers feeling isolated; however, with the Sandwicher phenomenon being so widespread, there are others experiencing the same thing, struggling with the same obstacles and coping with the same limitations.
Below are just three common stressful situations and a few coping techniques you can use to maintain sanity and financial security.
Concern: I make enough money to support my current household, but supporting my parents and my children stretches our bank accounts spider web thin.
Coping Suggestions: Keep the lines of communication open. Instead of trying to be Super Parent and Super Kid all at once, make sure to talk with your parents and children about the financial constraints you are under and that they are bringing to the table. Make sure to be respectful and reassuring, but be honest about the joint financial implications supporting multiple generations have on your situation.
Concern: I spend a full work week at work and then another 40 or so hours taking care of my aging parents. I don't know what to do, but I'm exhausted. I can't leave Mom or Dad to their own devices, but I can't cut back on my hours at work.
Coping Suggestions: Network and lean on your friends and family. Do you have siblings or cousins or independent aunts or uncles or neighbors or even older children who could help ease the burden? Even if they don't have the flexibility to sit with your aging parents for hours, can they help in other ways? Laundry, food prep, doctors visits and church are all areas that other people can give you a hand with, even if they just have an hour a week to help.
Concern: I have been saving aggressively for my retirement, and have just about/already reached my goal. However, I feel pressured to dip into my savings or divert my future savings in lieu of providing for my parents/children.
Coping Suggestion: It is important to remember to take care of yourself first. If you are not financially secure, you cannot expect to take care of yourself and others. If you are secure and able, there is no harm in helping financially. Know that you can provide support in non-monetary ways, which will often help ease the burden of your parents and children. While money is sometimes the only support they need, writing a blank check is not always the most practical or financially smart solution.
Remember: No matter how alone and isolated you feel, financial difficulties are common experiences. Others have gone through the same frustrations, and many are struggling right alongside you. If you find yourself feeling lost or out of control financially, go back to the basics. Keep your lines of communication open. Revisit your evolving budget. Call upon those around you who can lend support – whether they are your extended family, community members or professional financial advisors.
Image Credit: Public Domain
Posted-In: baby boomers Boomerangs Budgeting Gen Xers millennials sandwich generation USAAPersonal Finance
View Comments and Join the Discussion!