Meet The Man Looking To Change The Face Of The Detroit Startup Scene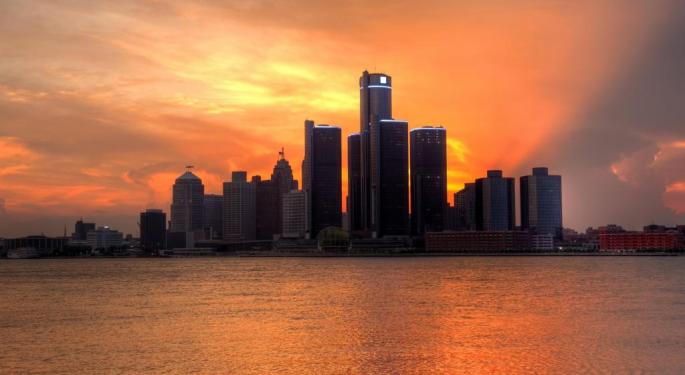 Mark Alhermizi has always followed his passion to be an entrepreneur. He graduated from both the University of Michigan Business and Law Schools, founded and sold Gas Station TV and is already working on his next chapter.
"I'm the same person I was nine years ago [when I founded Gas Station TV]," Alhermizi told Benzinga. "I'm aggressive, I'm hands-on and I put my money where my mouth is. That's what I did with GSTV."
Alhermizi said he is doing the same with his new firm, IZI Ventures.
"I'm not the best private equity investor, where, to look around, find a company that's generating $10 million in EBITDA, pay a 10 or 15 multiple on it, support the management team, sit on the board and hope they go to $25 million in EBITDA and sell it in three years," he continued. "That's not what I do. To quote a great book I recently read ['Zero to One' by Peter Thiel], I take businesses and concepts from zero to one and build things from scratch. That's what I did with GSTV and that's what I continue to do at IZI Ventures."
Related Link: Amplitude Analytics Raises $9 Million To Help Nokia, MapQuest & Others Pinpoint Their Path To User Growth
Nontraditional
Alhermizi doesn't think of IZI Ventures as a "traditional" venture capital firm.
"I'm an aggressive investor, I make high-risk bets," said Alhermizi. "In my case, that usually means very early-stage. Often it's just an idea, a concept. But at my core I'm really an entrepreneur. What I'm really good at is building businesses from scratch. What makes me a little different from your typical early-stage entrepreneur is that I have significant capital to deploy."
IZI Ventures is Alhermizi's opportunity to use his funds, his team and his time "to build my ideas into large-scale businesses."
"I'm personally, deeply involved in everything that I'm putting real, big money into," he said. "I invest my personal capital into businesses that will scale. My focus is on, for lack of a better term today, businesses that can be digitally enabled (at a minimum), if not through and through digital."
Alhermizi does not think that Metro Detroit startups have embraced this idea.
"Here in Detroit you see a lot of hard product-based innovation, automotive-based innovation," he explained. "There's so much opportunity in digital media that's not happening here in Metro Detroit. I think there's a big opportunity to create businesses and brands that make a mark nationally and globally."
There are some exceptions, however.
"You have examples like Shinola, which is a tremendous success out of Detroit and I think that is an exception," said Alhermizi. "But again, not in the digital space, they're a watchmaker. They did an amazing job branding it. I hope to be half as good a brander as them. But everything we do has that potential."
No matter what, Alhermizi said if a startup can't become a billion-dollar company, "Then we just don't pursue it."
Disclosure: At the time of this writing, Louis Bedigian had no position in the equities mentioned in this report.
Posted-In: Gas Station TV IZI Ventures Mark AlhermiziTop Stories Success Stories Startups Exclusives Tech Best of Benzinga
View Comments and Join the Discussion!