EXCLUSIVE: LoopPay CEO Talks Samsung Acquisition, Apple Pay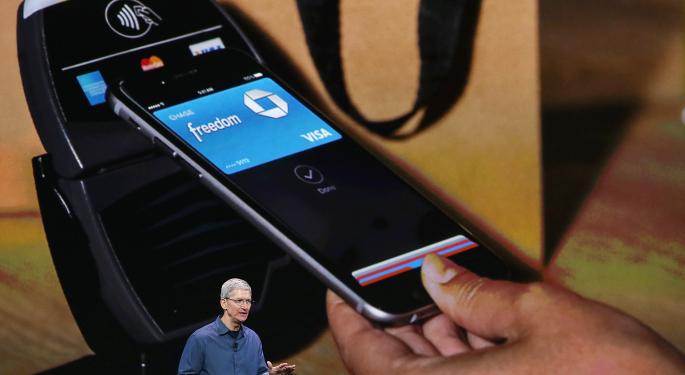 Two years ago, LoopPay (previously known as The Loop) was a clever concept on Kickstarter. Today it might be the most important acquisition that SAMSUNG ELECT LTD(F) (OTC: SSNLF) has ever made to compete with Apple Inc. (NASDAQ: AAPL).
"We solved a very tough problem, which was, 'How do you get the phone to talk with the existing point of sale without having to change the point of sales out there?'" Will Graylin, co-founder and CEO of LoopPay, told Benzinga in October 2013.
Unlike Apple Pay and most other mobile payment solutions, LoopPay works with virtually any POS (point of sale) terminal. This allows more than 10 million merchants to accept LoopPay.
Graylin and his co-founder, George Wallner, are industry veterans. Graylin founded WAY Systems (the world's first pocket POS solution), which was acquired by VeriFone Systems Inc (NYSE: PAY). He also started ROAM Data, a mobile payments company that supplied all of Square's competitors -- PayAnywhere, Intuit Inc. (NASDAQ: INTU), PayPal, etc. -- and was acquired by Ingenico.
Wallner founded Hypercom, which became one of the top three POS firms before it was acquired by VeriFone. He was also one of the pioneers of the modern-day mag stripe POS terminal.
"We're very excited about the acquisition," Graylin told Benzinga about its merger with Samsung. "I think this is really the next big stage for us to play on. Exciting times ahead for us."
Related Link: New Mobile Payment Startup Takes On Coin And Plastic - But Not Apple Pay
Kickstarter Led The Way
Samsung discovered LoopPay after the company launched its Kickstarter campaign.
"They found us," said Graylin. "I think they started to see the merits."
This is not the first time that Kickstarter helped a startup meet a major corporation. The crowdsourced platform has become somewhat of a matchmaker for M&As, leading to a surprising merger between Facebook Inc (NASDAQ: FB) and Oculus VR.
More M&As? Not Likely
Graylin doesn't expect the LoopPay/Samsung deal to lead to more mergers in the mobile payment space.
"That I don't necessarily see," he said. "We're an interesting solution because we really had this breakthrough patented solution that differentiates and helps solve a fundamental problem, which is: how do you get your mobile device to actually talk to a point of sale? [How do you] create a consumer experience that comes even close to matching your wallet? Because fundamentally you're talking about replacing your wallet. That's the big hurdle."
Disclosure: At the time of this writing, Louis Bedigian had no position in the equities mentioned in this report.
Posted-In: Apple Pay Kickstarter LoopPay SamsungTop Stories Exclusives Tech Interview Best of Benzinga
View Comments and Join the Discussion!