Spotify's 60 Million Users Could Make It Hard For Others To Catch Up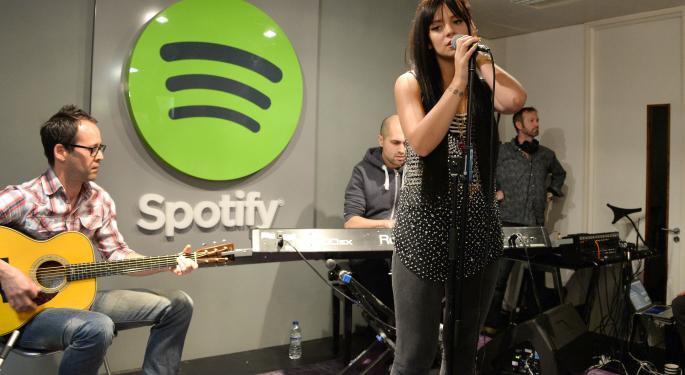 Microsoft Corporation (NASDAQ: MSFT), Apple Inc. (NASDAQ: AAPL) and Google Inc (NASDAQ: GOOG) are among the major corporations that have invested millions (and billions) in music streaming technology.
For better or worse, streaming is expected to be the future of music distribution. Consumers will likely be able to download their favorite albums from iTunes, but all other music may be enjoyed via free or low-cost streaming services.
Spotify might be the king of this approach. The company recently announced that it had acquired 60 million users. Twenty-five percent (15 million) of those users pay $9.99 a month for Spotify Premium.
Related Link: Is Beats Developing Apple's Next Groundbreaking Device?
This news followed a report that Deezer had acquired Muve Music from Cricket Wireless. Deezer hopes the acquisition will improve its competitive position in the United States, one of the industry's most crowded markets.
"There can always be a new, disruptive, innovative company," Sean Udall, CIO of Quantum Trading Strategies and author of The TechStrat Report, told Benzinga. "Spotify is either No. 1 or the de facto No. 1. You have Sirius XM, which is a little different animal. They could easily buy their way into the [streaming music] space. I think they're a long-term survivor in the delivery of radio-type content."
Beyond that, Udall isn't sure which firms will survive without an M&A deal.
"Long-term, Deezer solo is a tough deal," he said. He also said the Pandora Media Inc (NASDAQ: P) "as its own solo operation is a tough deal, I think. Who are you going to have? You're going to have Spotify. You're going to have Apple. You might have one other player."
'Insignificant' Announcement
Global Equities Research analyst Trip Chowdhry was not overly impressed with Deezer's acquisition.
"I would say this is a little insignificant," Chowdhry told Benzinga. "It's just another icon on your iPhone."
Chowdhry didn't discuss the opportunity for other M&As, but Udall shared one he would like to see.
"Google could make a big, disruptive buy in streaming music," said Udall. "The easy way they could come in and be a player is to buy Pandora."
Disclosure: At the time of this writing, Louis Bedigian had no position in the equities mentioned in this report.
View Comments and Join the Discussion!
Posted-In: Beats Deezer Muve Music Sean Udall SpotifyTop Stories Exclusives Tech Best of Benzinga