How To Budget For Last-Minute Holiday Gifts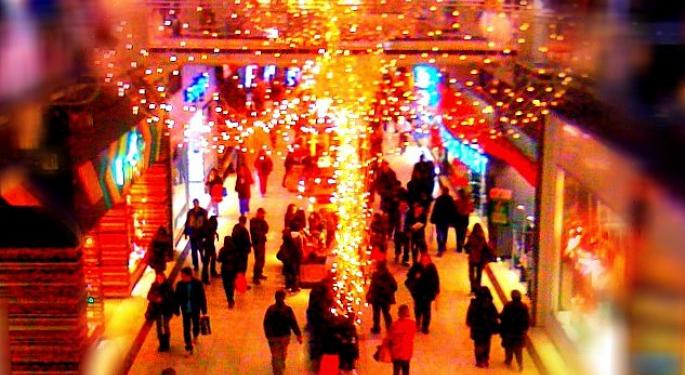 Without fail, holiday shopping seems to sneak up and smack shoppers directly where it hurts the worst. Whether the December pocket punches are due to ill-planned budgeting, lack of budgeting altogether or just losing sight of how much holidays cost on a yearly basis (a recent Gallup Poll projected an average of over $700 per person will be spent this season), many people find themselves plummeting precariously to January 1, dumbfoundedly clutching a shopping to-do list longer than Santa's beard.
Step 1: Determine What Gifts Are Left
Who is still on your naughty or nice list? Draft a list of gift ideas.
Related Link: An Early Holiday Gift? 'Extended' Tax Breaks Head To Obama's Desk
Step 2: Look For Online Deals
Take advantage of online retailers who are trying to secure those last deals before the end of the year. Sites such as Target and L.L.Bean have free shipping this holiday season.
Step 3: Consider Bulk Deals
Bulk shopping can become a life saver for gifts such as baked goods, Mason jar kits (dry soups, dry baking kits) or gift baskets. Just by preparing ahead of time, you can knock out many people on your list with heartfelt DIY gifts.
Step 4: Don't Forget To Comparison Shop!
In this day and age, there are countless resources to help take the stress out of guessing which stores carry better deals on specific items.
These retailers often have fantastic deals on economical gift-wrap, gift bags, mason jars, wicker baskets, cards and even stocking stuffers.
Step 6: Do A Second Check-In With The Checkbook
Consider the consequences of quick, impulsive shopping stimulated by procrastination anxiety and stick to your list. If you are shopping in person (as opposed to online), prudently follow your list of gifts.
Related Link: 3 Reasons Why You Shouldn't Overlook Checkbook Balancing
Step 7: Resist The Urge To Impulse Buy
"Shoppers who wait until the last minute are often more vulnerable to making poor shopping decisions, and should exercise extra caution," Gail Cunningham of the National Foundation of Credit Counseling said.
Step 8: Be Realistic
Are you going to see the gift recipient on or before December 25? If not, consider delaying shopping for those people until December 26, when retailers rush to rid themselves of their holiday inventory and drastically reduce prices.
Step 9: Stay The Course
Even the most well-thought-out plan is only as good as its execution. In order to efficiently benefit from last-minute budgeting strategies, following shopping lists and planning the spending excursion are essential.
While no plan is truly fail-proof, drafting a detailed agenda can make side-stepping budgeting woes possible. Take the extra time before leaving the house or pulling out the credit card to logically think through these final festivity-laden finances.
Image credit: David Porter, Flickr
Posted-In: Gail Cunningham Gallup Poll holiday shopping season L.L. Bean National Foundation of Credit CounselingEntrepreneurship Top Stories Personal Finance Best of Benzinga
View Comments and Join the Discussion!