Amazon Break-Up Hype Continues, But Analysts Don't Buy It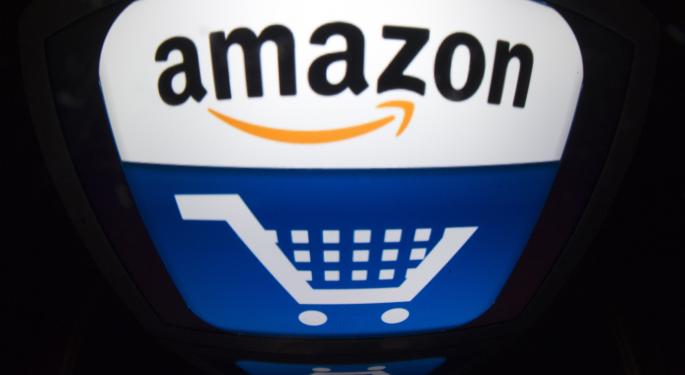 Amazon.com, Inc. (NASDAQ: AMZN) has given no indication that it will separate AWS from its dot-com business, but some continue to push for a break-up. Researchers at The Edge Consulting Group have suggested that Amazon should spinoff AWS at least two times this year. The company's first report was largely ignored, but Edge's latest comments are picking up steam.
"I think Amazon has got to be all in on these types of supporting businesses or break everything apart and just focus on e-tailing," Patrick Moorhead, president and principal analyst at Moor Insights & Strategy, told Benzinga. "If you look at this, whether it's Kindles, whether it's Fires, robots or drones, they all have a tie to that business. The belief is those investments will give them a leg up on every other retailer out there."
Moorhead said that he doesn't think it makes any sense to spin off any part of the business. "I don't think they'll do it as long as [Jeff] Bezos is at the helm," he added. "And I also don't think it's good for them strategically to do that."
"Then you have to ask: what really differentiates them? And I think, as we saw by the Black Friday numbers, the traditional retailers (who have e-tail sites) did proportionately better than Amazon. For instance, BestBuy.com, Macys.com -- on a percentage basis, they got stronger."
Related Link: Should Amazon Use RadioShack to Enter Brick And Mortar?
Tech industry expert and analyst Jeff Kagan has doubts about a spinoff as well, but Global Equities Research analyst Trip Chowdhry thinks it could happen within the next three years.
Banking On New Tech Products
Part of Amazon's current strategy involves the launch of new products that inspire consumers to shop more often. The latest is Echo, a voice-activated personal assistant.
"Maybe at some point they want to get further into home automation," Needham analyst Kerry Rice told Benzinga. "Maybe this is their first foray into that."
Rice said the Kindle products have been "pretty successful," adding that the Fire Phone was Amazon's "biggest miss."
"I think they want to build an Echo system and they're looking for ways to do that and go into different solutions, whether it be for something for the home or something personal, a personal device," Rice added. "I think they will continue to try to create products that they think consumers will want. Not all of them are going to be hits, but some of them might."
Brick-And-Mortar Future
Amazon is largely a dot-com enterprise, but the company's future might include one or more physical retail locations.
"That is something that Amazon hasn't done before," Zach Goldstein, founder and CEO of Thanx (a loyalty and retention marketing company), told Benzinga. "It signals that brick-and-mortar, offline retail, is going to be around for a very long time."
Goldstein isn't an analyst, but he knows the retail space fairly well. His company was the first to develop a rewards program that was compatible with Apple Pay.
"The much heralded end of offline retail -- the swallowing by e-commerce -- doesn't seem to be happening," he added. "What I would speculate is going to happen is, instead, we'll see offline retail remain the vast, vast majority of commerce. But it [will] take some of the tools from e-commerce -- the data-driven, personalization that we've seen online -- and brings that into the brick-and-mortar world."
Amazon could take full advantage of that, but it is not yet known if the company intends to do so with AWS on board.
Disclosure: At the time of this writing, Louis Bedigian had no position in the equities mentioned in this report.
Posted-In: AWS Jeff Bezos Kerry Rice Needham Patrick MoorheadTop Stories Exclusives Tech Best of Benzinga
View Comments and Join the Discussion!