5 Companies Finding Different Ways To Monetize Journalism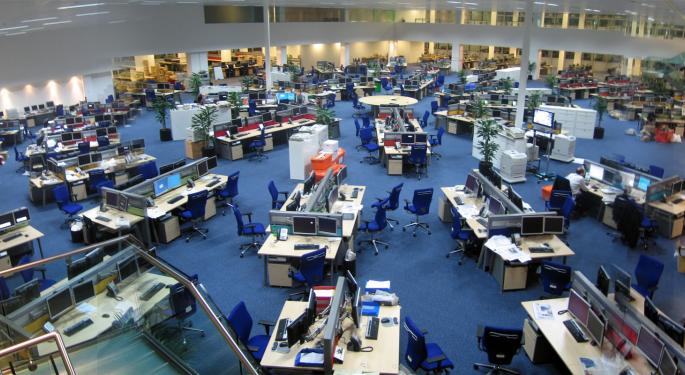 It's no secret: The traditional newspaper revenue model of relying mostly on advertising dollars has been fading from the picture for at least the past decade.
In 2013 alone, total newspaper media revenue decline 2.6 percent, according to the Newspaper Association of America, with revenue specifically from print down a whopping 8.6 percent.
But the fourth estate doesn't seem to be going down without a fight. Here are five outlets trying to monetize journalism in new and innovative ways:
1. The New York Times
Along with European publishing group Axel Springer, The New York Times has invested in news startup Blendle. It's a digital kiosk that sells individual articles from media outlets over the Internet, according to its website. Blendle "hates paywalls," and has created a way to charge users only for the content they choose to consume.
Related Link: AP Using Robots For Journalism Starting In July
Users can browse through the available content for free, but only pay for what they actually read. Blendle even says that readers can get an instant refund if they didn't like what they read.
The Wall Street Journal said that the app calls itself the "iTunes for journalism," but did not specify how the New York Times is going to move forward with the service.
2. Tribune Media
Tribune Media is the owner of myriad of television and radio stations, as well as prominent newspapers including The Chicago Tribune and The Los Angeles Times. Earlier this month, Tribune Media led the most recent round of funding for the personalized newscast startup Watchup, according to Variety.
Watchup collects news from various sources to create a personalized newscast for each user. The app also has agreements with The Wall Street Journal, The Washington Post and PBS NewsHour, according to the Nieman Journalism Lab. Tribune Media President of Broadcasting Larry Wert said in a statement that Watchup "extends our vision of expanding the reach of quality local news content."
3. Podcasts
Another emerging trend is crowdfunded startups. First, there's the wildly-popular "Serial" podcast from the producer's of This American Life. The weekly podcast falls into the genre of true crime and examines the 1999 murder of a Baltimore high school senior.
While the majority of the first season of the podcast was funded by This American Life, "Serial" was able to raise enough money for a second season through donations and sponsorships, according to The Wall Street Journal.
Then there's Gimlet Media: a new media outlet that was founded by two other public radio veterans. They are documenting their experiences starting a media company through a titular podcast called "Startup."
Related Link: 5 Economists Explain What's Happening In Japan Right Now
In the seventh episode of the podcast, Gimlet offers its listeners the opportunity to invest in the company. But the investment ended up not being needed by the time the podcast aired.
The founders were able to raise $200,000 in an equity crowdfunding campaign, according to The Wall Street Journal, and now investors include a Tumblr developer, Groupon founder and New York Times reporter.
4. Latterly
This journalism startup is based in Thailand, and seems to be an experiment in quality over quantity. Latterly won't rely on number of clicks or the size of its monthly traffic.
Instead, Latterly plans to survive on donations and subscriptions -- $3 per month or $8 for three months. This will grant users access to the four in-depth works of narrative journalism that Latterly will publish each month, in addition to a subscribers-only community page.
Latterly is the brainchild of a former New York Times and Newsweek contributor and his fiance, a human rights lawyer. Their effort is dedicated to narrative journalism and examining "what it is to be human," according to the website, and will omit all sensationalism and advertisements.
5. WBUR: Boston Public Radio
The last media outlet on this list hasn't quite figured out how to find other sources of revenue, but it's working on it.
WBUR, a Boston public radio station, recognizes that the traditional public media fundraising model of simply asking listeners for donations may not work in a work of transforming media that features an increasing digital presence.
Earlier this year, WBUR used a $250,000 grant from the Knight Foundation to dedicated an entire project to this kind of research, according to the Nieman Journalism Lab.
The venture is called Bizlab and will work as a strategy and technology incubator. Its team will focus entirely on discovering new revenue streams for WBUR.
Image credit: David Sim, Flickr
Posted-In: advertising Axel Springer Bizlab journalismTop Stories Startups Tech Media Best of Benzinga
View Comments and Join the Discussion!