Tony Robbins On His New Book: 'Money Is Just A Game'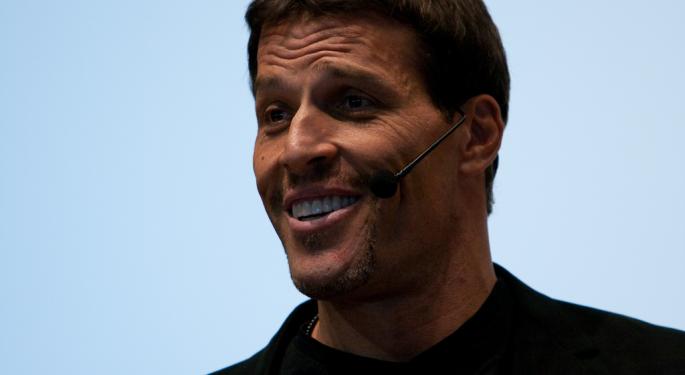 Tony Robbins released a new book this week, titled "MONEY Master the Game: 7 Simple Steps to Financial Freedom." It's currently the No. 1 best-seller in the Amazon store.
Robbins was on Benzinga partner James Altucher's radio show to discuss the project, and more broadly, what he's been up to since his last full-length book was released in 1991.
"I wrote this because, when I saw 2008 happen... when I saw people suffering at a level that was just crazy... it just made me sick," he told The James Altucher Show. "And I thought: This system's gotta change."
Related Link: Nassim Taleb In Rare Interview With James Altucher
He detailed the process behind the creation of the new book: "I'm going to go to 50 of the smartest people in the world, financially... and say: 'How did they get there, what did they do, what turned it around?'
"In finance, everything is made more complex than it needs to be... I wanted to provide something I could hand anybody if they were just beginning the journey," Tony Robbins said.
He also chatted, quite passionately, about financial inequity with James Altucher.
"I want to give you a reality check: The people that talk about 'rich people' usually have very small incomes. Maybe $30,000 a year... [that] makes you the 1 percent. You can't say 'those 1 percent over there' and go out there and drink your Starbucks and type on your Apple computer... when in reality two-thirds of the planet lives on $2.50 a day.
"What you're spending on one damn Starbucks is more than they have for their whole family. So isn't it convenient to go 'those rich people.' If you really care... you better think about all the other people on the planet... you are the 1 percent, not the 99 percent," Robbins explained.
"If you spend all of your time doing that, you're missing your capacity to build what's within you. And you're living in the greatest time to be alive to really add value."
Robbins also discussed what it was like to be called by President Bill Clinton, his story of visiting Carl Icahn on the day he made $2 billion and the seven steps to financial freedom.
Hear The Full Podcast

Image credit: Randy Stewart, Flickr
View Comments and Join the Discussion!
Posted-In: 7 Simple Steps To Financial Freedom James Altucher Money Is Just A Game Money Master The GameEntrepreneurship Top Stories Media Interview Best of Benzinga