Step 1 Of Budgeting: Taking An Inventory Of Your Expenses
Budgeting may seem like an easy task: You look at what you make and then make sure what you spend is not more than that amount.
You may have a few snares that need to be planned for -- bills appearing at odd times, that emergency car repair, a special trip to the salon for a friend's wedding -- but budgeting could not possibly be more complicated than just making sure all the bills get paid and nobody in the house goes on exorbitant shopping sprees.
Yet how often does the end of the month roll around and the bank statement looks much thinner than anticipated? How frequently does the account balance startle, even when you keep up with your expenses?
Related Link: Be R.E.A.D.Y.: How To Draft Financial Plans
The benefit of having a well-laid budget is an unmatched security for your personal financial well-being. A budget is only as good as its elements -- without an accurate and exhaustive inventory of what daily, monthly, seasonally and yearly expenses are, you cannot expect a budget to work flawlessly or to even come easily.
Therefore, the first step to maintaining a budget is to note and catalog all expenses. Unfortunately, many basic budgeting tools or expense organizers are incomplete.
Regular expenses and large ticket expenses are not typical culprits for budget bombing; it's the scouting fees, toilet paper costs and wrapping paper purchases that sneak into bank accounts and stealthily bombard our deceptively well thought-out plans.
Below is a reliable, three-step approach for taking inventory of your expenses so that you can go on to creating a comprehensive budget based on your unique spending habits. The purpose of these check lists is to help jog your memory about your own financial habits.
There might be items that are not applicable to your situation, just as there might be items that are not listed that you may encounter.
1. Look At The Numbers
When looking at budgets, it is a logical start to pull out old bank statements and highlight recurring expenses. Be sure not to overlook longer-term trends and the expenses you accrue using cash.
Last month's bank statement is a great place to start, but realize that while last month's expenses may be a typical representation of spending habits and expenses, it is incomplete. By looking at each of the last 12 months' bank statements, you can remind yourself of those automatic billing expenses, quarterly auto insurance bills and annual dues.

2. Home Inspection: Room Check
Go through your home room by room, cabinet by cabinet and closet by closet to take an inventory of what you have, what you use and what you buy on any sort of basis.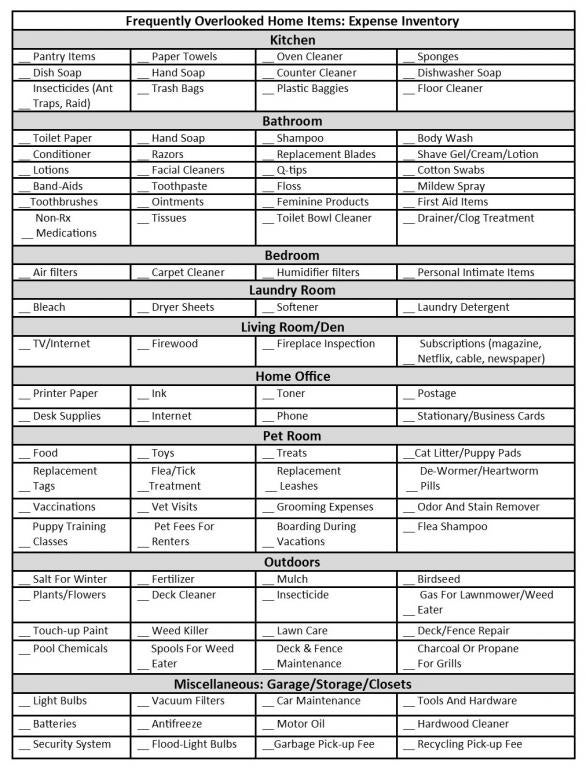 3. Calendar Check-Up
Look at your calendar to help you think of expenses not already accounted for: Do you go on holiday vacations? How many birthdays do you acknowledge? Do you send out holiday cards?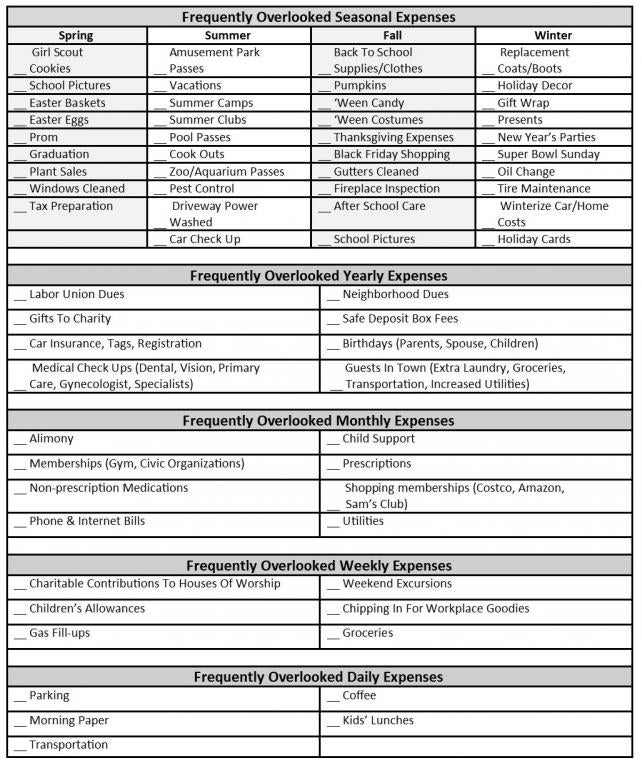 As personal finance guru Dave Ramsey has said, "It took a lot of work to get this far, so don't let a few financial hiccups knock you down. Outsmart once-in-a-while expenses by looking at the big picture before you budget. Then, plan each month smarter. Your ridiculously good-looking cash flow plan will thank you."
Posted-In: Budgeting Dave Ramsey personal financeTop Stories Personal Finance Best of Benzinga
View Comments and Join the Discussion!