BlackBerry Ltd's New Strategy Has Nothing To Do With Beating Apple Inc.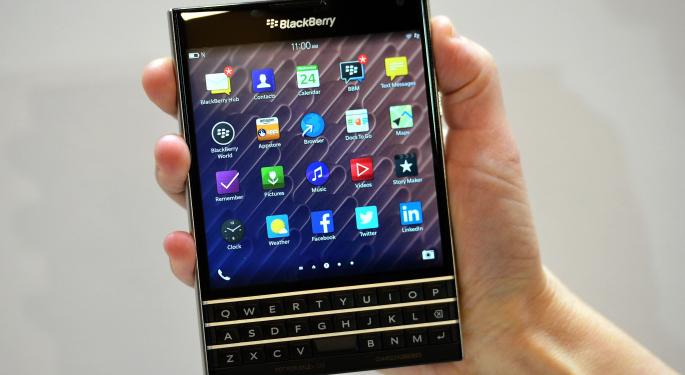 BlackBerry Ltd (NASDAQ: BBRY) released a new phablet-sized phone this week, but analysts don't think its strategy has anything to do with the competition.
"Apple's going more and more mainstream, gaining more and more market share," IHS Technology Senior Analyst Daniel Gleeson told Benzinga. "BlackBerry, however, is losing market share but is now very much wanting to focus on the enterprise niche. It's not really trying to make a device that will necessarily appeal to everyone."
Rob Enderle, principal analyst at Enderle Group, thinks that BlackBerry is undervalued.
"They're in the market where they're uniquely differentiated," Enderle told Benzinga. "Right now you've got Apple and you've got the Apple clones. BlackBerry is really the only company that's well differentiated. They've got a strong proposition on security at a time when cell phones are being pounded by attacks. All it's gonna take is one big, successful [attack against other smartphones] and they could be in the best position ever."
Related Link: Apple Inc.'s Record-Breaking iPhone 6 Sales The Result Of 'Pent-Up Demand'
A 'Viable Market'
Sean Udall, CIO of Quantum Trading Strategies and author of The TechStrat Report, is cautiously optimistic about BlackBerry.
"They have a guy at the helm that's proven he can turn around companies," Udall told Benzinga. "They have a balance sheet that's relatively secure. They have quite a bit of cash. They're now focusing on the business they think they can grow and sustain, which is their network operation. It's sort of a software/security management play for mobility. That's a viable market."
That said, Udall warned that BlackBerry is competing against a "very powerful, very resurgent Apple that is absolutely back at the top of its game."
"BlackBerry's a tough deal," he added. "I'm not really a short on it and I'm not really a long on it."
Still A Long Shot?
BlackBerry may be unique, but not everyone is convinced that it can be turned around.
"It's like the local restaurant that keeps going out of business and they keep opening up in the same location, and that location is tarnished," Brett Golden, president and co-founder of The Chart Lab, told Benzinga. "People don't want to own it, they don't want to buy the product. The name is tarnished. It's un-cool. Unless a corporation has an enterprise contract and they give the phone to their employees, I don't get it."
Golden said that he has no hopes whatsoever for BlackBerry.
"The fact is, they couldn't even get a suitor to buy that company over the last couple of years," he added. "It means to me that no one is putting any value on that company. I just don't see how it could be turned around at this point. There are just too many good companies to own right now. I wouldn't touch it."
Related Link: The Apple Inc. Watch Versus Competitors: What Do Analysts Think?
End Of Days
Patrick Moorhead, president and principal analyst at Moor Insights & Strategy, thinks that BlackBerry's hardware days are over.
"They don't have the scale and they don't have the differentiation that they used to have," Moorhead told Benzinga. "I see them as a software and services company, a very small one, but I do not see them playing in hardware anymore. There's too many different potential replacements. Even the federal government is approving iPhones and Android devices."
Moorhead said that the security advantages are minimal on the device side.
"Even on the services side, while I still think they have the advantage, it's nowhere near where it used to be," Moorhead added. "I also believe that Microsoft is going to make a move into business phones within the next year. As soon as they have unification with their operating systems -- merging Windows Phone and Windows RT -- [it will] decimate whatever advantage BlackBerry had on the device side."
Disclosure: At the time of this writing, Louis Bedigian had no position in the equities mentioned in this report.
Posted-In: Blackberry Brett Golden comments Daniel Gleeson IHS Technology Patrick MoorheadTop Stories Tech Best of Benzinga
View Comments and Join the Discussion!