Nassim Taleb In Rare Interview: 'Controlling Variability Has Never Been A Good Idea, In Any Domain'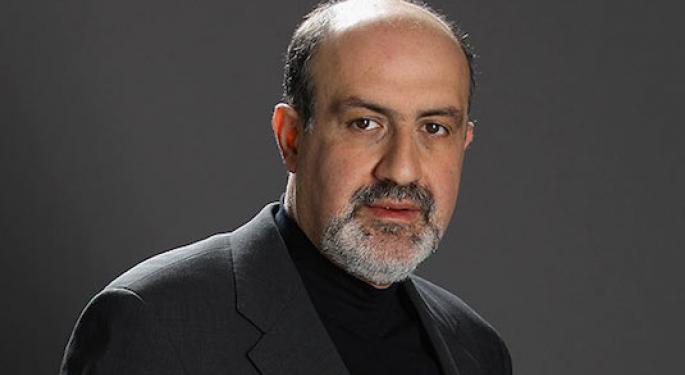 Nassim Taleb, one of the world's most influential thought leaders in the area of statistics, spoke with Benzinga partner James Altucher on Tuesday.
Only the second interview he's given in 2014, Taleb is the author of "Fooled By Randomness," "The Black Swan" and "Antifragile."
Nassim Taleb spoke with James Altucher on the subject of risk and variability.
"Now it's very important to realize: Risk is not variability," he said. "But our instincts mix the two of them. In finance, people think that risk is something that moves -- no, risk is something that makes you go bust."
Risk of loss for each person is different, he told Altucher.
Taleb also explored the mistake that many people make when they attempt to manage variations. It's better to allow for the phenomenon to happen, he said. "Controlling variability has never been a good idea, in any domain. You have to have some element of variation for things that are alive."
Taleb cites everything from the present disorder in Syria, to central banking failures of the past few decades as examples of this mistake at work. Each, it can be argued, is ultimately the result of a lack of variability.
Whether it's politics, monetary policy or something else altogether, this idea applies to many areas, but what's next?
Taleb has one prediction: "The next one is Saudi Arabia... it will be the next shoe to drop. They have had zero political variability, so the minute there's something... nobody knows how deep it can get."
Listen To The Full Podcast
The full podcast with James Altucher includes Taleb's thoughts on "The Black Swan," his latest paper and how some people are fooled by randomness.
Posted-In: Antifragile Black Swan fooled by randomness James Altucher Nassim TalebTop Stories Interview Best of Benzinga
View Comments and Join the Discussion!