iPhone 6 Pre-Order Record Points To 'Several Years' Of Ongoing Growth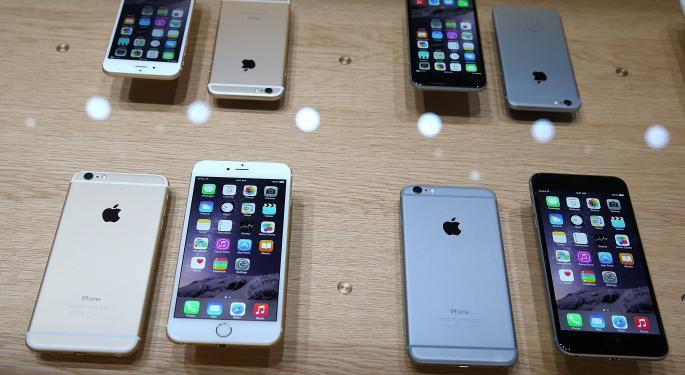 Apple Inc. (NASDAQ: AAPL) surprised investors Mondauy morning when the company announced that it had pre-sold more than four million new iPhones.
"[It's] double the number of pre-orders the iPhone 5 generated, so that's clearly a good sign for sales that are going to help the current quarter as well as the December quarter," BTIG analyst Walter Piecyk told Benzinga.
"I see a lot of operators in the U.S. pushing the product, which I think might have been different than last year and the year before, when they were more restrictive in their upgrade policies. Now with these new payment plans, I think they've been a lot more aggressive in pushing the product. I think that has helped."
BGC Partners analyst Colin Gillis told Benzinga that it's a "good number" for Apple.
"It's about 10 percent of what they need to sell for the quarter," said Gillis. "It's also supply-constrained."
Related Link: 3 Competitor Reactions To Apple Inc.'s iPhone 6
Growth Spurt Ahead
Apple.com currently reports a three- to four-week delay for all iPhone 6 Plus models across all carriers. The 4.7-inch iPhone 6 is expected to ship in seven to 10 business days.
"It's more success for Apple," tech industry expert and analyst Jeff Kagan told Benzinga. "Apple has done better and better every time they launch a new iPhone. That seems to be continuing."
Kagan once expected iPhone sales to decline if Apple didn't continue to offer game-changing upgrades.
"I was wrong," said Kagan. "Year after year I was wrong. At this point I've thrown in the towel and I've decided that every time Apple comes out with a new iPhone, the Apple customer base is going to be there stronger than ever. They're in a growth mode and they're continuing to be in a growth mode, and it's longer than other companies typically are in a growth mode."
Kagan doesn't expect Apple to be in this mode forever.
"Will they slow down at some point? Probably, yes," he added. "But I don't see when. For the next several years or longer, I see them continuing to grow."
Related Link: How Much Will The iPhone 6 Cost?
When Will It End?
If Apple's growth can't last forever, when should investors expect the company to take a hit?
"I think we'll have to worry about next year, next year," said Piecyk. "Clearly there's an opportunity for the company to add additional products and services that will aid in earnings growth. It's always key to figure out a way to show earnings growth because the swoon in Apple's stock, historically, also came with a decline in earnings. So this product, the current product, can help Apple deliver on the return to earnings growth."
Piecyk said that when investors look to the next iPhone (which is due in 2015), they're also looking at 2016 as well. Sales of the device will extend beyond the fall 2015 quarter.
"While the iPhone is always going to be a critical component on the company's ability to deliver growth, there's now an increasing expectation of what new products and services the company can deliver to help with the earnings growth trajectory that the company has returned to," he added.
Disclosure: At the time of this writing, Louis Bedigian had no position in the equities mentioned in this report.
View Comments and Join the Discussion!
Posted-In: Apple bgc partners btig Colin Gillis comments iPhone 6Top Stories Tech Best of Benzinga