Is The World Cup Making U.S. Soccer More Popular Than Ever Before?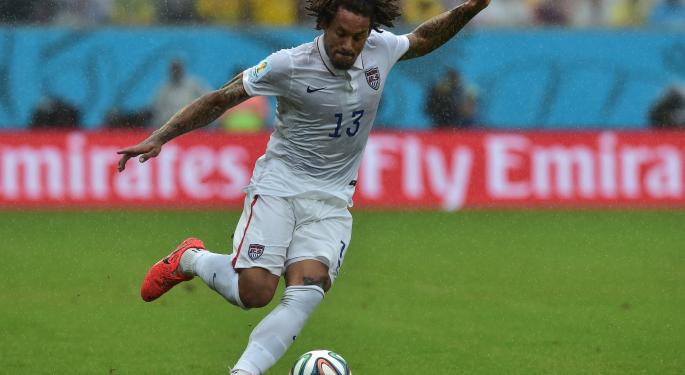 The United States is in the midst one of the most important games in its World Cup history. If recent trends hold they may come out on top -- win or lose.
The U.S. national team takes on Germany in the final game of group play. A win or a draw and they're in the rest of the tournament. Germany is considered the best team left standing.
This isn't quite Joe Louis vs. Max Schmeling, but If the American's hair-raising 2-2 draw with Portugal on Sunday is any indication, the U.S. team perhaps has more support than ever.
Played every four years, the World Cup is more similar to the Olympics than mainstream U.S. sports. Soccer is the world's most popular sport, but that has never quite translated in the United States. Could that be changing?
Twenty-five million viewers may say so.
"The growing popularity of soccer, the marketing expertise of ESPN, a more competitive U.S. soccer team are a few of the reasons for the strong [rating]," Horizon Media's Brad Adgate told Benzinga of Sunday's game, a record soccer audience for American television.
The game's rating certainly benefited from its time slot -- 6 p.m. ET Sunday evening -- Adgate said. It didn't reach the status of the Super Bowl or NFL playoffs, but it did surpass the 2014 NBA Finals average viewership, along with a host of other events this year.
Related Link: How 6 Companies Have Turned To Music For The World Cup
"Soccer is the national pastime in so many countries," continued Adgate "and to have it become a growing interest in the U.S. benefits the World Cup which is the second biggest global sporting event after The Olympics."
Money manager: "No business will be done on Wall Street on Thursday between noon & 2pm...guaranteed" #WorldCup

— Darren Heitner (@DarrenHeitner) June 23, 2014
Viewership is up 50 percent (4.3 million from 2.8 million) from 2010, according to The New York Times. Games so far have been broadcast at 12 p.m., 2 p.m. and 6 p.m. across the Disney-owned networks of ESPN, ESPN2 and ABC. It should be noted that increased viewership did not have an incredibly lasting affect on U.S. soccer. ESPN and other networks have also been able to show live games at more opportune times.
The social media world, however, has grown since 2010.
The increasing popularity of Twitter (NYSE: TWTR) over the last four years may be a contributing factor. Twitter said there were eight million tweets sent about the U.S./Portugal game. By comparison, this year's Super Bowl garnered almost 25 million tweets.
The World Cup, however, has much more reach outside of the United States, leading CNN to describe this year's games as "becoming the biggest social-media event in the medium's short history." Some firms have even mentioned the World Cup when reviewing Twitter; Evercore noted how the social media site's user growth will benefit due to incremental engagement from the World Cup.
Thursday's noon game versus Germany should be interesting, both for viewership and social interaction.
"I think there will be a lot of viewing but it won't be picked up by Nielsen," said Adgate. "The game in the East Coast will be played during lunch so I think a lot of bars and restaurants will be packed. The real number we will never know but it will be significantly larger than what Nielsen reports. Also similar to 2010 World Cup there will be a lot of streaming video, maybe a few networks will be slowed in offices."
Could U.S. economic activity actually be affected? Adgate said, "It's possible, but if it does slow down it'll pick up by 2 p.m., so it shouldn't be too bad."
Benzinga reached out to the U.S. Bureau of Economic Analysis; a spokeswoman said the BEA does not make economic forecasts.
Posted-In: Brad Adgate cnn comments Horizon Media New York Times nielsenTop Stories Economics Best of Benzinga
View Comments and Join the Discussion!