Diamond Dallas Page - From Pro Wrestler To Yoga Entrepreneur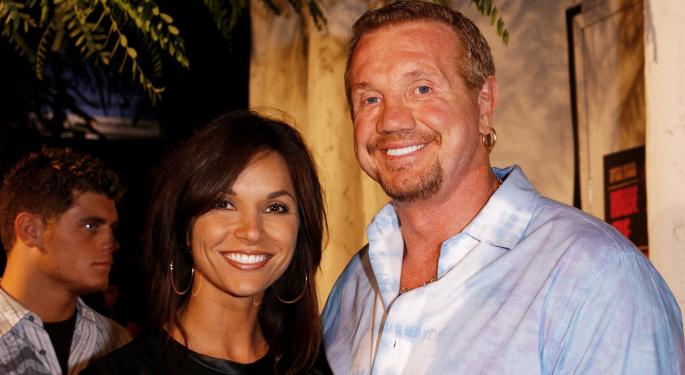 During his appearance on the Shark Tank television program, Diamond Dallas Page pitched a five percent stake in DDP Yoga, his fitness system, in exchange for $200,000.
His partner explained that they were seeking to raise additional capital to expand with a mobile application.
Some of the show's investors passed, as they felt the company was done growing. Mark Cuban declined, saying he'd be building a new company with DDP Yoga entering the mobile space.
That app is currently in the works. It is to be available on Apple's iPad and Google Android. Page said the hope is to have testers out by the fall, with contests on Twitter and Facebook for people to try it out.
Related: What Led To WWE's Smackdown?
Page said the app, at some point, will be able to work standalone for the workout regimen. "That's something we're giving out as part of the program," he told Benzinga. "It'll be a free app, but if you want the real app, you'll pay the subscription."
Life-Saver
Aside from Arthur Boorman, the biggest factors for the success of DDP Yoga are two of Page's closest friends, Jake Roberts and Scott Hall.
Roberts and Hall were two of the most popular pro wrestlers in the 1980s and 1990s, but years of alcohol and drug abuse wrecked their lives. Roberts joined Page in his Atlanta home in November 2012. Hall joined sometime in 2013.
Both men were inducted into the WWE Hall Of Fame in April of this year, with Roberts losing over 60 pounds in the process.
"Jake and Scott both do amazing - it can't get any more rewarding than that," an excited Page said. "We have a lot of really awesome stuff happening with the company. So many amazing stories. Changing people's lives -- how many people really do that?"
A documentary film on the "resurrection" of Roberts is also in the works.
Former Employ
As mentioned in part one of this article, Page worked for WCW -- which was purchased by WWE (NYSE: WWE) for about $7 million in 2001, amid the Time Warner/AOL merger. Page performed for two years with the company before moving on -- and says  he has had some contacts with WWE regarding DDP Yoga, but that it's not working out the way he planned.
He isn't very concerned with WWE's stock woes in recent months, however.
"When [WWE Network] goes worldwide, it's gonna be insane," he added. "It's gonna give people like me a whole 'nother life."
WWE Chairman Vince McMahon has lost $750 million in two months, according to Forbes. This just after re-joining Forbes' list of billionaires.
But Page isn't concerned. "They're gonna bounce back stronger than ever," he said. "There's always a drop after Wrestlemania. Buy in November -- by April it'll be through the roof."
This is the second of a two-part series. Read about the origins of the DDP Yoga business here.
View Comments and Join the Discussion!
Posted-In: Android DDP Yoga Diamond Dallas PageEntrepreneurship Crowdsourcing Top Stories Success Stories General Best of Benzinga