Will Bank Stocks Continue To Move Lower On Bad News?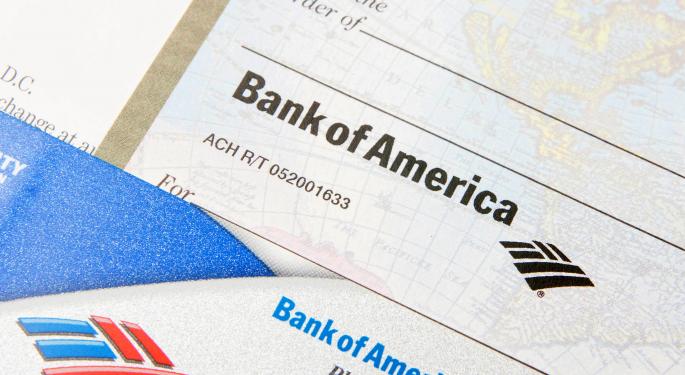 Over the past week, both Bank Of America (NYSE: BAC) and JP Morgan (NYSE: JPM) have surprised the Street with bad news, resulting in significant sell offs.
Since two of the largest US banks issued words of caution, it begs the question: when with others follow suit?
On April 28, Bank of America suspended its 2014 capital plan. That included the planned dividend increase from $0.01 to $0.05/share announced just after its latest stress test results.
Obviously, the Street is not waiting to find out the reason. From the moment the news was announced, Bank of America has been under steady selling pressure. The strongest reaction took place immediately in premarket trading that day.
Once the news hit the tape, Bank of America shares collapsed. As of 8:30 am on April 28, Bank of America was trading at $16.00 and within minutes following the announcement, shares were down to $15.50. The damage was not limited to the initial reaction. In fact, Bank of America ended the trading session under $15.00 (at $14.91) on monster volume of nearly 350 million shares (compared with its average daily volume of 100 million shares).
See also: What Sector Does Doug Kass Hate?
Also, the average daily range of $0.30 was almost double that day within a $0.56 range. If the premarket trading action is included, the shares had a $1.22 range. In most instances, a large move on heavy volume in an expanded range conveys a change of trend for any trading instrument. Since Bank of America has had a sustained uptrend from its March 2009 low ($2.53), this could be a signal that the five year rally has come to an end.
Interestingly, Bank of America managed a rebound rally to $15.30 the following day, but is now revisiting the lows from April 28 in Tuesday's trading. A breach of this support level may take Bank of America to its series of lows in November 2013 in the $14.20 area and beyond.
On Friday after the close, JP Morgan's 10-Q filing revealed that it is expecting Q2 sales in Market Segments to be down 20 percent year over year and that it has notes exposure to Russia of $4.7 billion as of March 31.
Since the JP Morgan news hit the tape after most of Wall Street had left for the weekend, the reaction was muted, despite the decline from its close on Friday of $55.58 to $54.77 on light volume. However, when traders realized what had transpired on Friday, they blasted the issue for another point in premarket trading Monday on much heavier volume.
JP Morgan did manage to recover some of the losses during Monday's session, as it bottomed out at $53.70 and rallied to $54.74 before ending the session at $54.22.
In contrast to Bank of America, which managed to rebound the day after the bad news was delivered, JP Morgan has already breached Monday's low and may be heading for its November 13 low of $53.15 or lower.
It should be noted that well respected hedge fund manager Doug Kass of Seabreeze Capital Partners told Benzinga on Thursday, May 1, that he is short Bank of America, JP Morgan and Wells Fargo (NYSE: WFC) in order to capitalize on his bearish thesis for the market.
So what does this recent trend in large banks portend for holders of related stocks, such as Goldman Sachs (NYSE: GS) or Morgan Stanley (NYSE: MS)?
Answer: That it is important to re-evaluate positions in this sector as the market sentiment changes.
Posted-In: Doug KassTechnicals Top Stories Trading Ideas Best of Benzinga
View Comments and Join the Discussion!