Tesla Releases $2,000 Acceleration Boost Upgrade For AWD Model Y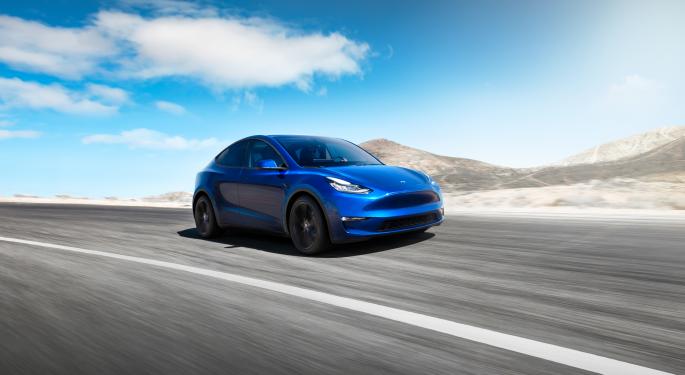 Last year, Tesla Inc. (NASDAQ: TSLA) released a paid acceleration boost upgrade for the Model 3 that brought its 0-60 mph time down to 3.9 seconds from 4.4 seconds. Now it looks like Tesla is doing the same for the Model Y.
Owners of the dual motor AWD Model Y can pay $2,000 and instantly lower their 0-60 time to 4.3 seconds from 4.8 seconds. Owners must be on software update 2020.36, which is a pretty recent version. In testing the Model 3, people found the new 0-60 was lower than advertised.
See Also: Tesla Readies For Cybertruck With Larger Supercharger Stalls
If Model Y buyers want the fastest Y available, they would have to pay an additional $10,000 over the dual motor price. This $2,000 option gives a middle-ground option. Tesla has given small, free performance upgrades for the Model 3 in the past as it learned more about the hardware and software running the car.
Benzinga's Take: It's the end of the third quarter, and Tesla may be looking to pull in some additional cash. Although this isn't a surprising offering considering it's also available on the Model 3, the timing is still interesting as Tesla also offers the $4,000 Enhanced Autopilot upgrade for a limited time.
View Comments and Join the Discussion!
Posted-In: electric vehicles Model YTech