Big Surprise? 'Fortnite' Was Most Popular Gaming Topic On Reddit This Year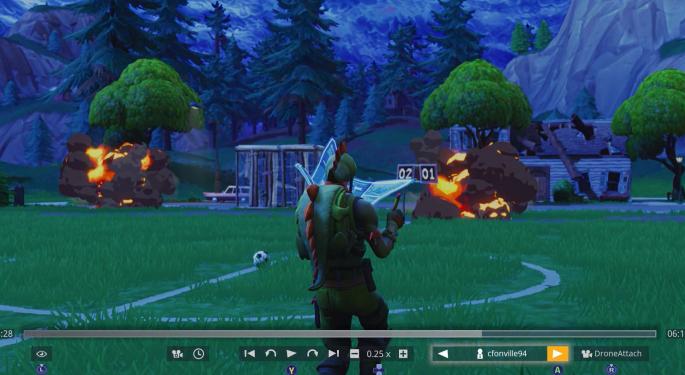 If what gamers are talking about on Reddit is an indication, "Fortnite" was the biggest game story of 2019.
According to Reddit's 2019 Year in Review, r/fortnitebr was the top overall game community on Reddit, with two other "Fortnite"-related communities also making the top 100.
After the "Fortnite" community, the top five gaming communities on the platform were rounded out by r/leagueoflegends, on the multiplayer "League of Legends" game from Tencent Holding ADR (OTC: TCEHY)-owned Riot Games; r/DestinyTheGame, for discussion of another mutliplayer shooter game, "Destiny"; r/minecraft for discussion of the building game "Minecraft," the best-selling video game of all time; and r/classicwow, for fans of Activision Blizzard, Inc. (NASDAQ: ATVI)'s "World of Warcraft: Classic."
Gaming Communities Seeing Big Growth
Reddit said its top 50 gaming discussion board communities grew by 42% over a year ago.
Throwback games also were popular among Reddit's gaming communities. Games you remember from back in the day were the main topic of Reddit Top 20 discussion groups r/classicwow, which was the seventh most popular gaming group and r/pokemon, which was No. 20. Also in the top 25 was r/mortalkombat.
The top sports video game, if Reddit group popularity is the metric, was Electronic Arts Inc. (NASDAQ: EA)'s "Fifa."
Major esports events get plenty of discussion on Reddit as well. Blizzard's Blizzcon was the most talked-about one.
The most discussed esports figure: Finnish player Topias "Topson" Taavitsainen of Team OG, who plays the game "Dota 2."
Related Links:
Reddit Users Are Growing Fast: How Does It Compare To Facebook And Twitter?
Who Profits From The Incredible Success Of 'Fortnite'?
"Fortnite" screenshot courtesy of Epic Games.
View Comments and Join the Discussion!
Posted-In: BlizzCon Destiny DotA 2 eSports Fortnite League of Legends MinecraftTech Best of Benzinga