What 1 Expert Is Watching At Tesla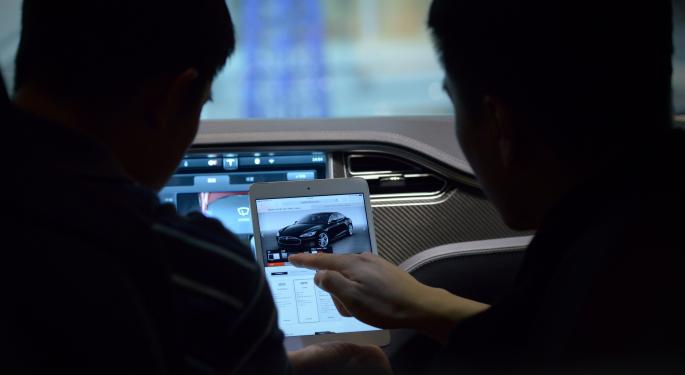 TheStreet.com's technology editor, Chris Ciaccia, thinks the Tesla Motors Inc (NASDAQ: TSLA) Model S is a great car. He's both driven and reviewed it, and even attended the automaker's unveiling of the Model D, an all-wheel drive version of the flagship car.
That doesn't mean he'll be buying one any time soon, though.
"It's still incredibly expensive, and by adding a dual motor [in the Model D], that actually made it even more expensive," he said.
Related Link: Mixing Politics And Trading Is A No-No, This Analyst Says
After the electric-vehicle maker reported earnings earlier this week, Ciaccia joined Benzinga's #PreMarket Prep to talk about why Tesla will be an important company to watch over the next couple of years.
Ciaccia explained that Tesla's earnings came in a little better than expected on both the top and bottom lines, but the key focus was that production levels still aren't where they need to be.
Tesla cut its forecasts for 2014 by 2,000 cars, he said, because it had a slowdown from retooling the plant to produce both the Model D and Model X prototypes.
The automaker still seems very confident that it will produce 50,000 cars in 2015, Ciaccia said, and grow revenue by 50 percent per year.
While Tesla currently only has one factory, Ciaccia said that its earnings call revealed the company is slightly ahead of its expectations for producing a joint battery pack with Panasonic.
"If they can come out with that in 2016, where the The Street has been expecting 2017, that potentially means we could see a little bit more volume in the back half of 2016 and 2017 as well," he added.
Check out his full interview here:
Tune in to Benzinga's #PreMarket Prep Monday-Friday 8-9:45 a.m. ET for all of the premarket info, news and data needed to start the trading day.
Posted-In: Benzinga #PreMarket Prep Chris Ciaccia Tesla tesla motors Tesla Motors IncTech Trading Ideas Interview Best of Benzinga
View Comments and Join the Discussion!