The Woman Who Revolutionized 'Star Wars' Is Now Looking At Virtual Reality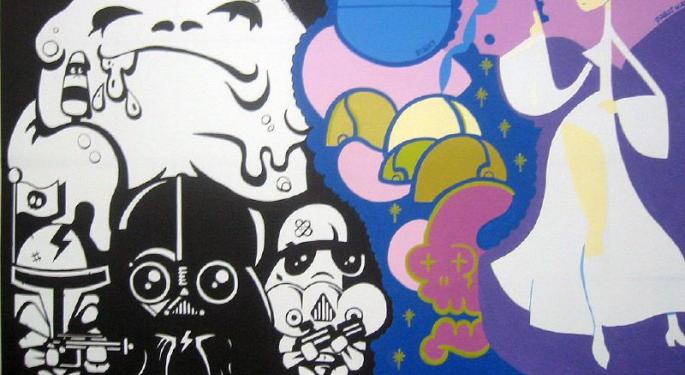 Virtual reality is still in its infancy, but Next Galaxy Corp's (OTC: NXGA) founder has big plans for near-term growth.
"I think definitely, five years from now, we're going to have mainstream adoption of virtual reality," Mary Spio, founder, president, chairman and CEO of Next Galaxy Corp, told Benzinga. "We're definitely going to make sure of that! I'm very excited about it."
'This Is Not My First Time'
Spio's confidence is backed by her own experience in pioneering new technology.
She previously helped Boeing Co develop a way to distribute films digitally via satellite. That technology allowed Lucasfilm to bring "Star Wars: Episode II - Attack of the Clones" to theaters that had implemented digital projectors.
"This is not my first time around pioneering some kind of technology," said Spio. "I did that with digital cinema, and the technology we came up with is now a widely accepted mechanism for the distribution of content."
Spio also helped the online video industry.
"When we started with the online video platform [at Gen2Media], very few companies had video on their websites," she said.
Meet CEEK
Next Galaxy Corp is currently developing CEEK, a virtual reality platform, as well as a VR audio headset called Ceekars.
"The frequency that we're picking up has a more dynamic range," said Spio. "A lot of content for virtual reality is still paired with 2D audio, or the only way you can listen to it is with speakers that provide 2D. With Ceekars, you're able to pick up a whole lot more."
For example, users will be able to hear things more clearly as they walk through an environment and move closer to the source of the audio. "The experience of what you're going to hear is different if you're on the [virtual] stage or in the back," Spio added.
"Interaction with VR content is a major problem. As far as I'm aware, this is the first VR audio headphone, which also comes with a haptic touch pad for users to be able to navigate through the content, and to be able to do this not just from a gaming console but any computer or any mobile phone."
In its current form, virtual reality might seem like a solitary experience. Spio, though, expects VR domes and projectors to crop up, allowing multiple individuals to enjoy virtual reality together.
There is already a hint of this coming to Marvel's touring event, which will feature a 360-degree, 3D stereoscopic projection dome.
Related Link: Former Goldman Sachs Exec Wants To Revolutionize An Industry Silicon Valley Ignored
A New Realm For Sporting Events
Next Galaxy recently announced that it had teamed up with Syracuse University basketball coach Jim Boeheim to produce a virtual reality experience for Oculus Rift and other VR devices.
"We think sports is a great vertical in terms of VR because it gives the fans the ultimate experience, whether it's going backstage or into the locker room or peaking into your favorite athlete's locker or whatever it is," Spio explained.
"It's also a great opportunity for merchandising. As you're looking at somebody's shoes or jersey, you could be prompted to buy that. It also lends itself for bringing valuable messaging from advertisers in the environment itself in a very non-intrusive way."
Spio said that for the first time, fans and coaches will get to see a whole different perspective while viewing a sporting event. "Currently you only have one angle," she explained, referring to traditional TV broadcasts.
"Here you have multiple angles. You can decide where you want to watch the game -- whether you want to watch it on the court, from the owner's box, wherever you want to watch the game."
Spio also believes this will be the perfect way for coaches to prepare for a game. "It's a game prep tool that athletes can use in watching their opponents," she added.
"Athletes watch a lot of video content as they prepare for different games. That's [one of the reasons] why we're focusing on creating some of this sports content."
International fans could also benefit. "A lot of professional teams have fans around the globe," she said. "Those fans can't always fly just to come to a game. Now they can have the game experience without actually being there, from anywhere."
Related Link: Is Facebook's Oculus VR Purchase A 'Stretch' Without A Proven 'Path to Monetization'?
What's The Future Hold?
The future of VR may be around the corner, but it's not here yet.
"A lot of [the technology] is forthcoming," said Spio. "We're at the early days of it. Our platform, if you want to simplify it... it's really the gateway to the virtual Web. We're starting with sports, but we're also going to go into retail. There are a few companies out there that are currently creating 360 or VR content and we are one of them.
"We also have the platform for distributing it. It's happening -- there are more cameras that are coming out everyday that allow for 360 recording of content. A lot of the technology is now coming, but we're still in the infancy."
Disclosure: At the time of this writing, Louis Bedigian had no position in the equities mentioned in this report.
Image credit: Star Wars Blog, Flickr.
Posted-In: Jim Boeheim Mary Spio Next Galaxy Corp Oculus Rift Oculus VR Syracuse UniversityTech Best of Benzinga
View Comments and Join the Discussion!