How Goldman Sachs Group Inc And 13 Wall Street Stalwarts Plan To Change Communication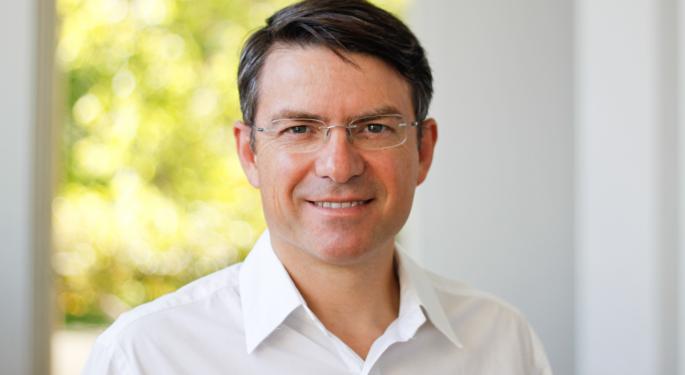 Goldman Sachs Group Inc (NYSE: GS) is among several financial institutions that have poured $66 million into Symphony, a new communications and workflow tech company. The firm was built with the acquisition of Perzo, a private communications tool from David Gurle.
Gurle was appointed CEO of Symphony upon the company's official debut on October 1.
The full list of partners includes Bank of America Corp, The Bank of New York Mellon Corporation, BlackRock, Inc., Citadel, Citigroup Inc, Credit Suisse Group AG, Deutsche Bank AG, Jefferies, JPMorgan Chase & Co., Maverick, Morgan Stanley, Nomura Holdings, Inc. and Wells Fargo & Co.
"We decided that the most important attribute is to make sure that all of our users, [whether] they're paid or free users, have the same experience," Gurle told Benzinga.
That experience involved the use of compliant standards and end-to-end encryption. "When you do cloud, you must take super care of the data integrity and data privacy and the security of that data," Gurle explained.
"We have this end-to-end encryption model where the data is encrypted before it leaves your computer or mobile phone."
Related Link: Two-Man Startup Attracts JPMorgan And Goldman Sachs, Other Clients
Symphony also enables integration with any third-party application, allowing those apps to be integrated into Symphony and vice versa. The platform is also open source.
"Any third-party application can take a piece or whole of Symphony and integrate it in their own application," Gurle added.
"When you build a technology like Symphony and you claim to have security, naturally people ask questions about the transparency of the security model. The best way to guarantee transparency and show you are true to your words -- and there are no backdoors in the code -- is to show the system to all of the world's experts [and] anybody who wants to see it. Therefore they can vouch for that claim of openness -- the transparency, security that we have implemented in our system."
Interest Rising
Symphony has already received more than 5,000 inquiries from individuals who are interested in using the service.
As a startup that only recently came out of stealth mode -- and is still months away from its public release -- Symphony is already a success story.
"Anybody can sign up," said Gurle. "There are no restrictions for this."
Thus, consumers will be able to use Symphony for work, personal conversations and any other chat experience they desire. This makes it a direct competitor to many other messaging services, including Skype -- one of Gurle's former employers.
Disclosure: At the time of this writing, Louis Bedigian had no position in the equities mentioned in this report.
Posted-In: David Gurle Goldman Sachs Skype SymphonyTech Interview Best of Benzinga
View Comments and Join the Discussion!